Keys to the Kingdom – The Stu Tinker Interview
March 7, 2019

Stu Tinker has been a friend of the King family for several decades. You may know him from his days running Betts Bookstore, or perhaps you've taken one of his Stephen King Tours. I recently had the pleasure of visiting Bangor, and decided to book myself one of his famous bus rides through town. What I expected from Stu was a tour guide familiar enough with King's work to entertain us with stories of how King arrived at his ideas through the years; the kind of stories some of us have heard several times over. You get that with Stu Tinker, of course, but you also get much more.
When you board a bus with Stu Tinker, you are boarding with a friend of Stephen King's. Stu doesn't just take you to the locations that inspired King, he tells behind-the-scenes stories that even I, in my long history as a Constant Reader, had never once heard. Stories only those closest with the King family would know.
I've also been told that no two SK Tours are alike. Stu tells different stories, and sometimes visits different locations on every tour. Thankfully, we got him to step out of the bus for a few moments to tell us a couple of those stories, and to talk to us about his long history as a Stephen King reader and friend.
---
JS: What was the first Stephen King book you read? When did you discover him?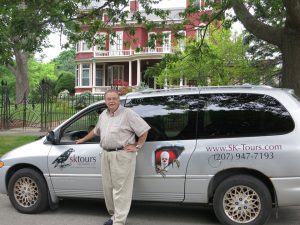 ST: My first was Carrie. My wife saw an article in the paper about a local teacher writing a book, and it took off from there!
JS: That's amazing. You started right at the very beginning. I know at one time you were the owner of Betts Books. I'm curious, what were you doing before that?
ST: I worked a number of jobs before we bought Betts! Mostly in the automotive industry. The last one was for a manufacturer that required a weekly commute to New Jersey and covered all the Northeast.
JS: How exactly did you come to be the Proprietor of Betts Books?
ST: Because of all the traveling and being away 5 days a week, I decided that I'd had enough of working for other people. I started looking for my own business. Betts Bookstore was the oldest bookstore in Bangor — and it happened to be for sale!
JS: Perfect timing! How many years did you run the bookstore?
ST: We had the store on Main Street for 11 years as a full line bookstore, but always featured Stephen King. When Borders announced they were coming to Bangor, we sold off the inventory, moved to a smaller location on Hammond Street and for 9 years we were exclusively Stephen King.
JS: What is one of your most memorable experiences of running the store?
ST: My favorite story is about a newlywed couple who were visiting the Hammond Street location. I saw Steve walk into the store across the street and told the new bride that if she waited until he came out, he might sign a book for her. She ran across the street and waited. When Steve came out, he signed the book. She got so excited that when she came back to the store, she just got in her car and drove away, leaving her new Husband standing there with the most shocked look on his face!
JS: Oh wow! That's hilarious! Do you ever miss those days of running Betts?
ST: I don't miss the store, but I do miss the daily contact with customers who really became friends over the years. And I especially miss the fun of tracking down a collection or rare Stephen King book.
JS: Are you personally a Stephen King collector?
ST: I do have my own collection. Most have been signed. Some were given to me by Steve, and a few (very few) limited editions. I was instructed by Penney when we bought the store that I "could not fall in love with the inventory." So most of the really rare ones were sold. At one time, we had them all! Asbestos Firestarter, 1st State 'Salem's Lot, the Whitney Museum's My Pretty Pony, and all the signed limited editions.
JS: Penney is your wife?
ST: Yes, Penney has been my wife for almost 45 years. She has kept me on the straight and narrow with not only the bookstore, but life in general!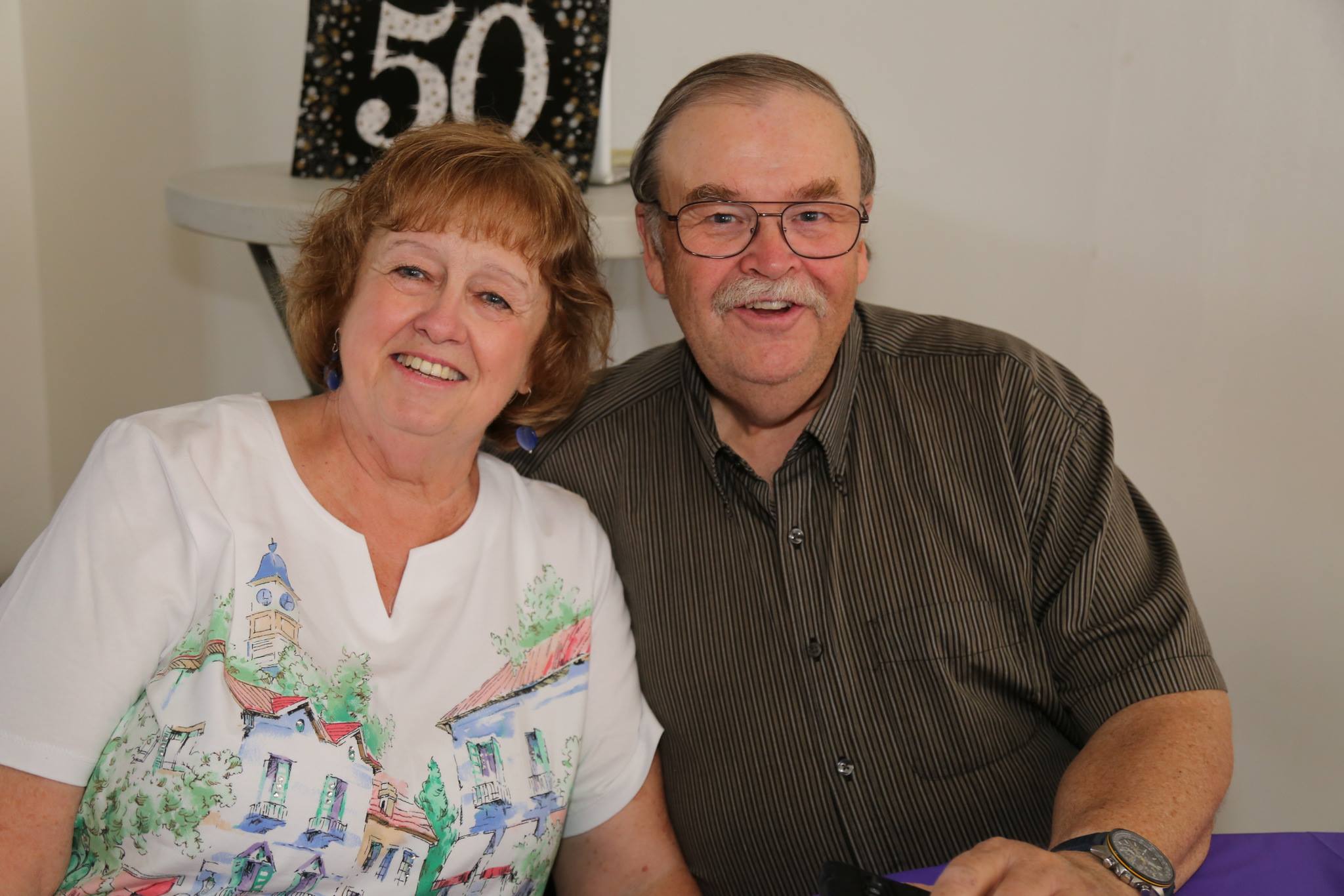 JS: Do you feel there are fewer "Super Collectors" today than say 20 years ago?
ST: Yes, natural attrition has taken a few. I think the value of Steve's books has had a decidedly negative impact on new collectors getting into the field.
JS: In your years of selling Stephen King books, which book was the most difficult for you to let go of and why?
ST: I had the hand written manuscript to an unpublished (and unfinished) novel that was signed by Steve. That's the one that got away.
JS: No way! Can you tell us a little about that?
ST: When Steve returned from Colorado after writing The Shining, the King's settled in Bridgton, Maine, where he wrote The Mist, for a few months. Then, for some reason Steve decided that he would like to live in England for a couple of years. He started writing what was to be a spy mystery novel, titled Wimsey, set during WWII in England. It was all written by hand and started off pretty well. The main character was driving home in a Bentley. It's been a long time so I don't remember if he was driving or he had a chauffeur, but I do remember that Steve had written that the driver had his left arm out the window. In England, Bentleys would be a right hand drive so he would have had his right arm out the window! Anyway, they came to a bridge and discovered that there were explosives attached to it. It didn't go much further than this.
Oh, and by the way, they only lasted 6 1/2 weeks. Homesickness brought them back to Maine.
JS: Wow, what a story. How did you come to start SK Tours?
ST: Well, when we sold Betts, we thought it would remain here in Bangor, and that I would work part time there when needed. But as you may know, the store was moved to Connecticut. So, I was at a loss on what to do. We had done tours off and on for 20 years, and Penney suggested doing it as a business. I expected we might do one a week, but it has exploded! From late March until the second week of November, we do 2 tours per day, 7 days a week. The rest of the year, we do at least one and sometime two per week.
JS: Can you tell us some of the locations folks can expect to visit on the tour?
ST: We stop at 20 to 30 different King related sites here in the area. They include the Barrens, the Standpipe and birdbath, the canals, and the Paul Bunyan statue — all from IT. There are some movie sites, Steve's Radio Station (WKIT FM), and of course his home.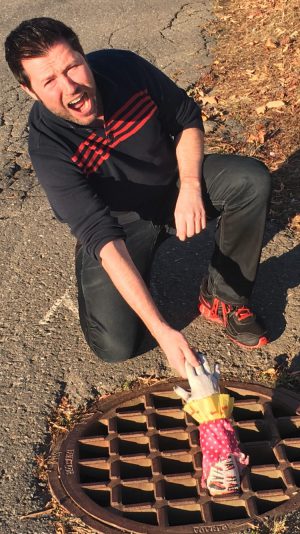 JS: Which locale do people seem to enjoy stopping at the most, besides his home of course?
ST: We tend to have the most fun at the sewer grate on the corner of Jackson and Union Streets! That, of course, became Jackson and Witcham for King's novel It, and Bangor became Derry.
JS: I took the tour myself recently, and I have to say that some of the stories you tell are ones that even I, in my long history of King fandom, have never heard. Where does this deep well of knowledge come from?
ST: Most from Steve, over the years. Some are just local knowledge gleaned from his writings, and local Bangor history.
JS: Some of your stories are ones that only those close with the King family would know, too. Is it safe to say that you are a friend of the Kings, and for how many years?
ST: If it had not been for Steve and Tabitha's help the first 5 years that we owned Betts Bookstore, we would not have made it. I can never repay them for what they have done for us.
JS: What was the strangest thing to happen on one of your legendary tours?
ST: Steve has come out from the house a few times and talked to everyone. That makes for a VERY SPECIAL tour!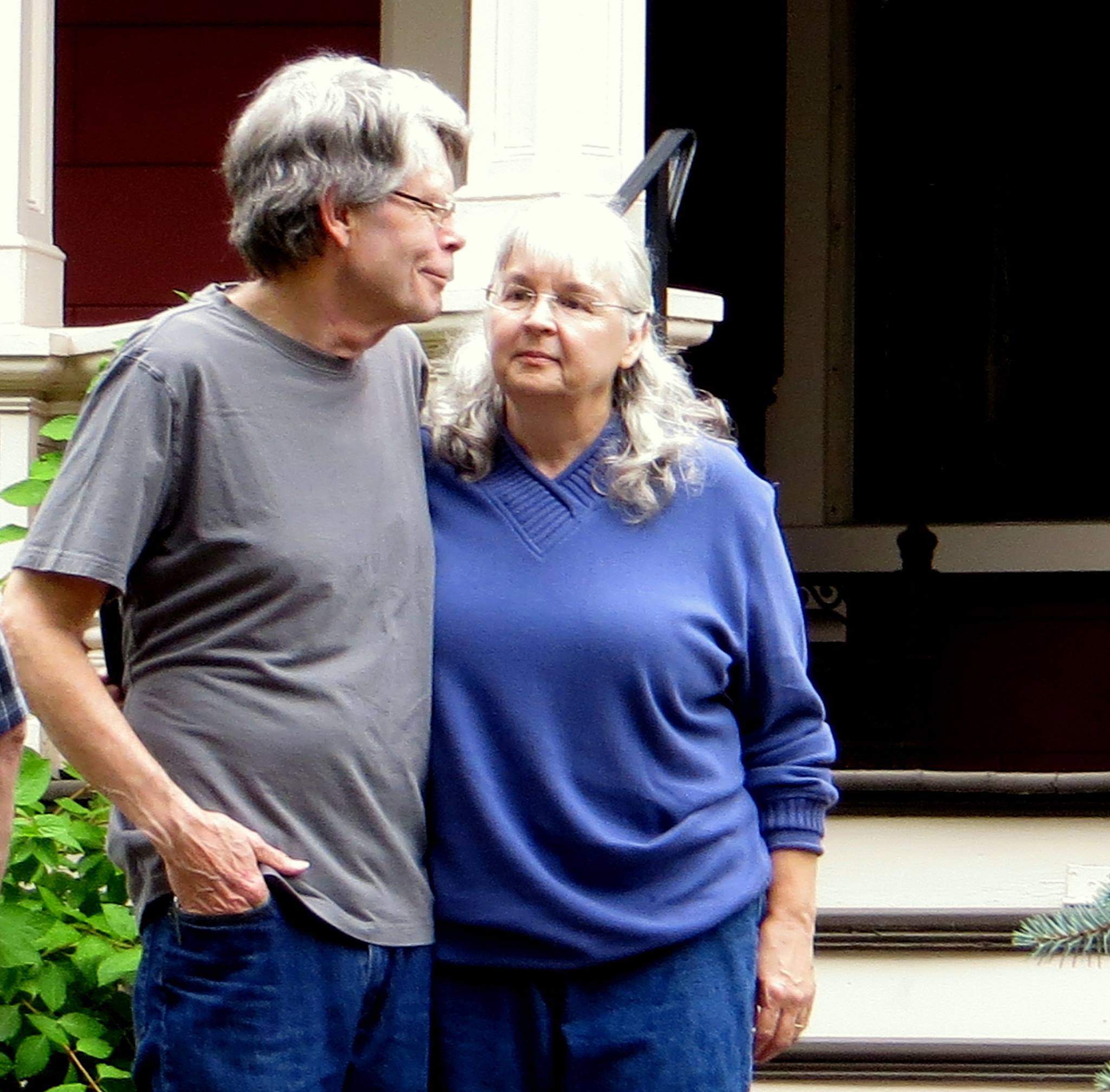 JS: While I was on a tour with you, you talked about a woman who was the inspiration for Margaret White. Can you tell us a little about that?
ST: She was an actual woman who lived in Hampden, Maine. She was the mother of a student where Steve taught. She was pretty much a religious zealot and she scared everyone in the town with her Bible and street side rantings.
JS: If someone would like to book a tour with you, what should they do?
ST: We have a web site at SK-Tours.com. They can get more information and book the day they'd like to join us on a tour there.
JS: Have you ever been inside Stephen's famous house in Bangor?

ST: I have. It is beautiful inside, as well as outside. My favorite room is the Library, dark wooden shelves from floor to ceiling with library ladders on both walls.
JS: Last but not least, I would be remiss if I did not ask: What is your personal favorite Stephen King book?
ST: My favorite is IT, followed by The Talisman, 11/22/63, Bag of Bones, and Christine.