I have long admired the beautiful productions of Charnel House, and was excited to have had an opportunity to interview the founder, Joe Stefko. Joe had some interesting things to say about fine limited edition books, and his work on Stephen King's special edition of The Regulators.
Joe Stefko came to public awareness in 1976 when he walked off a stage in Croyden, England after John Cale decapitated a chicken during one of their concerts. The vegetarian drummer became hot print, making the rounds of the music magazines in London—rather they came to him as he sat behind a desk in The Who's Track Records Carnaby Street office and gave interview after interview before flying home to New York to put the original 'Bat Out of Hell' band together for Meat Loaf and songwriter Jim Steinman. Meat Loaf read the Rolling Stone article about the chicken escapade and wanted to see Joe regarding the world tour that would follow the release of Bat Out of Hell, a record which has become the third largest selling record in rock history.
In 1988 Joe decided to try his hand at designing and publishing a limited edition book of The Stress of Her Regard by Tim Powers. Thirty years and forty-eight books later, his Charnel House imprint is still publishing Tim as well as Dean Koontz and Harlan Ellison, giving their books some of the most unique designs the genre has ever seen.
---
PS: You have the most wonderful story about how you became a publisher of finely crafted books. Can you share that with us, and how it all ties into your career as a musician.
JS: I became a publisher because as a collector I was disgusted with what was being passed off as "deluxe limited editions" by the modern presses of the eighties. A calamity that is still with us today. My music career has little to do with my publishing other than the down time you have on the road which was spent reading and collecting. It helped being in big bands when I would want to talk to an author because there was a mutual admiration between us. Meat Loaf was a huge success and everyone was so impressed. It didn't always work, though, because I feel that I have been looked at as an elitist, a rock star throwing money around, because my editions are small and my prices are high and I tell people to go to hell.
I became a publisher because as a collector I was disgusted with what was being passed off as "deluxe limited editions" by the modern presses.
Being in The Turtles helped win Tim Powers over after inviting him to a show and talking him in to letting me do The Stress of Her Regard. I don't think I could have pulled that off at the time without the clout of the band. To be fair, I hadn't published before, Stress was my first book, and it and Tim defined the press. I met Harlan Ellison because I was in The Turtles. Harlan has a bit of a history with the band. We have been close friends for thirty years and that has been worth everything.
It didn't mean shit to Keith Reid. It was the book work I had done that cemented that franchise. He's like Bob Dylan—you can't impress these guys.
PS: Tell us about the name "Charnel House" and how that came about.
JS: Charnel House is a play on Random House. A charnel house is where bodies were stored in times of plague. House being a publishing firm. I thought it was a cool idea. Robert Bloch, who couldn't believe that it wasn't used until I came along, told me at a convention, "Well, I'm glad someone around here has a sense of humor!"
PS: I like how you incorporate elements of the story into the design of the book. I can see that you put a lot of thought into that. How does that process work for you? I imagine you read the book, and then come up with ideas as you go along.
JS: Yes, I read a manuscript and make notes. Usually after reading a manuscript I see the book in my head and then I have to flesh it out in the real world. Sometimes it takes a couple of reads, but this part of designing has always been second nature to me. It is a challenge to take the book I see in my mind and make it real. In some cases compromises make it difficult to appreciate a book knowing what I set out to do.
PS: You have incorporated some very interesting objects into your book designs. Things one would not typically associate with book making. Tell us about some of these.
JS: I incorporate key elements of the story into the design no matter how ridiculous: Bullets protruding through the cover, bullet holes through covers and book blocks, shaping the book like a church and putting a stained glass window through the cover, using uncut money for endleaves (illegally), lizard skin, diamond quilted stainless steel diner back splashes, elevator gears, coins, mirrors, fangs, sterling silver inlays, circus tents, grommets, gold wedding rings, morgue toe tags, poker chips, wasps, roses, and a carpenter's level that glows in the dark. I want my books to be unique. If I didn't care then I wouldn't be doing it because there's not a lot of money here if you are doing it right.
PS: Your productions stand on their own as art objects, and for me, this is really how a limited edition book should be done. A beautifully crafted edition that pays attention to all elements, like the binding, the printing process, the design and typography. Do you feel there is an appreciation for books of this nature within the genre in which we operate?
Most modern limited editions are poorly made trade editions with an autograph and a slipcase.
JS: Very little to none, and thank you. The operative word in your question is genre. This is a very commercial genre. The collecting mentality in modern fiction has been stunted by the modern presses. Most modern limited editions are poorly made trade editions with an autograph and a slipcase. Modern book collectors are after autographs not fine books. They don't want a fine book because fine books are expensive, nor have they the knowledge to appreciate a fine book. This is not a put down. With all due respect, you can't have an appreciation for fine books if you've never seen one.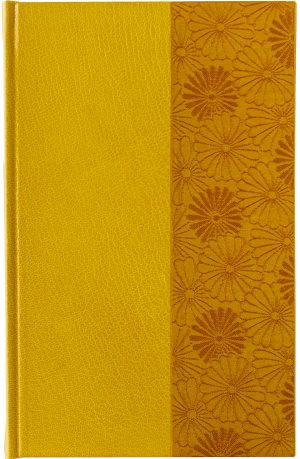 The book is secondary, I know this by the amount of complaints I get that my books aren't signed. Of course they are signed, but the signature is in the back of the book. They are used to seeing it in the front of the book because the signature is all the publisher is selling. It tells me that they aren't looking at the work throughout the book. They are opening the front cover to see the autograph then closing it.
I also get a lot of, "How can a book cost so much!" That says it all, doesn't it? Everybody wants a Rolls Royce but they want it for the price of a Ford Pinto. It reminds me of the time in the seventies when you could put a fake Rolls Royce grille on a VW Rabbit.
I believe it is this attitude that has turned some collectors, as well as some authors, off my press. It is the elitist thing. A major publisher once asked if I would create a limited edition for a book he was putting out by Bruce Springsteen, but Bruce squashed it because he didn't want an elitist edition—he used that word—he wanted everyone to be able to have it. But what is a limited edition? Something of a limited amount that is of higher regard.
PS: How many books have you published to date?
JS: I am starting my 48th book, The Collected Short Stories of Tim Powers.
PS: When it comes to your bindings, do you generally have a preference as to whether to use leather, or cloth, or does the novel determine that.
JS: The story determines a lot of that, but I want to use the finest materials: Moroccan leather, Japanese silk, handmade papers.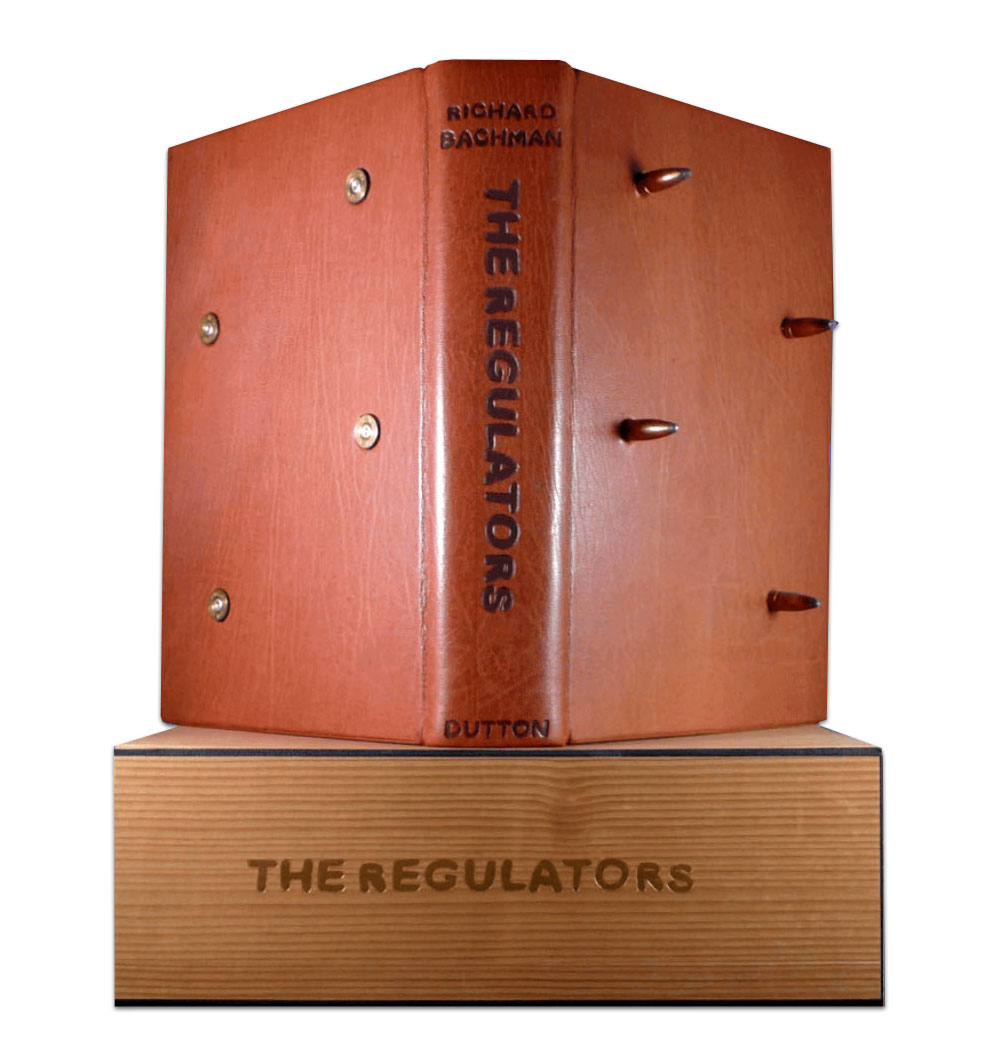 PS: You designed the signed limited edition of Stephen King's The Regulators for Dutton. The Lettered edition of which has become what collectors call their "Holy Grail", and it is certainly one of the finest, most highly-regarded editions of a King limited. Please share some details about that project, how you came up with the idea, the concept of using cancelled checks for the Bachman signature.
JS: This is a loaded question, Paul, so many landmines. I go in to detail in my book, The Books of Charnel House. Peter Schneider brought me in to design The Regulators for Dutton. Peter wanted to prove to a major author that a major publisher could produce a fine limited edition, but commerce will always win over art in the big houses. Peter has exceptional knowledge of the fine book but he ultimately lost the battle when they amortized the electric bill in to his edition. I swear, I was there.
The real problems started because the author just didn't want to sign their edition. As a matter of fact, he said that he wouldn't. His reasoning was that the fictitious author (Richard Bachman) was dead so how can he sign? (The premise in the introduction was that Richard Bachman died and his widow found this manuscript in the attic and brought it to his publisher. King was merely killing off his pseudonym.)
So I came in with a posthumously signed Philip K. Dick book in which the publisher bought canceled checks from Dick's estate, cut out the signature, and glued them in the book. I said that if the fictitious wife of the fictitious author can find the manuscript in the fictitious attic, then she can find cancelled checks as well. I will manufacture them. King liked the idea but said he would only sign 500 checks. The edition was supposed to be 2,000 copies so the company's profit got chopped down by three quarters and they freaked out, but production was not told to cease so we went ahead with it. When the bean counters came to town heads rolled despite the fact that they made money on the truncated edition.
Somewhere along the way they cried poverty and made the author feel sorry for them (blaming me) and he agreed to a lettered edition. Hence, the bullet book. Everyone in the story was shot with a Winchester .30-.30, so I took the idea to the mat and bought a lot of bullets.
PS: There were three checks that were signed as "Stephen King" and not Richard Bachman, and which were never included in any of the books. There was also a single copy, where the check was also signed as "Stephen King". Do you know the story behind this?
JS: He signed a few in his real name by mistake. I think I used one in the three bullet prototype.
PS: There was a single prototype produced with three bullets placed diagonally across the boards, referred to as the "Three Bullet Prototype". Can you tell us more about that?
JS: That was one of the design ideas I had for the bullets. I need to see these ideas fleshed out to really know what will work best. I made a copy of the three and the four bullet book and picked the four bullet design.
PS: Were there any other prototype designs done, or other version that collectors may not know about? Maybe something gathering dust in a draw in a dark room in Charnel House?
JS: There was a copy in purple leather with no bullets which was my reading copy.
PS: Do you produce proof copies of your books? Advance reader copies?
JS: I only produce what needs to be produced for me to choose the best idea, so there have been some one offs. My proof copies are soft bound and come from the printer of which there is one copy produced, for me. I do not produce advance reader copies.
PS: What are some of the books you have published that you are most proud of?
JS: My Own Choice by Keith Reid, The Moonlit Mind and The Book of Counted Sorrows by Dean Koontz, 'A Time To Cast Away Stones' and Poems by Tim Powers, and Coffin Nails by Harlan Ellison, because these are books that would not have been produced if I didn't publish them. They were, in each case, books that I either invented or initiated the idea for. These are the books that made me feel that I was a book publisher. These were all born of original origin, not by buying sub-rights to existing books. The Moonlit Mind was only going to be an e-book.
PS: You recently published a letterpress print of the lyrics from Procol Harum's A Whiter Shade of Pale, as well as Keith Reid's book My Own Choice, which you have described as two of the highest points in your publishing life. Can you tell us more about that?
JS: With pleasure. Procol Harum is a band that was extremely important to me while growing up. The writing and the playing is phenomenal, the drummer, BJ Wilson was a huge influence on me, and Keith Reid's lyrics are far and away above anyone else. Keith is my generation's Lord Byron. He laughed like hell when I told him so.
It means absolutely nothing to some but to me it is everything because it shows me that you really can do anything you want. I feel that way every time I see it on the wall in my office, it is an inspiration.
I wanted to own this book so bad that I had to make it myself. Going through the process of production—which I invited Keith to be a part of (we picked the lyrics making deals along the way—I'll print this song if you let me print that song) through to publication was the most exciting, exhilarating moments of my publishing life. The lyric book started life at a concert in an arena in Belgium where I found myself with The Turtles sharing a bill with Procol Harum, Slade, The Troggs and The Monkees. It all came together for me there. It was pure synchronicity.
The lyric print was the second publication that Keith and I produced. For me the signed lyrics of 'A Whiter Shade of Pale' is monumental, like having the Bill of Rights on my wall. It means absolutely nothing to some but to me it is everything because it shows me that you really can do anything you want. I feel that way every time I see it on the wall in my office, it is an inspiration. I get choked up every time I talk about these experiences. They, to me, are what it is all about, not money.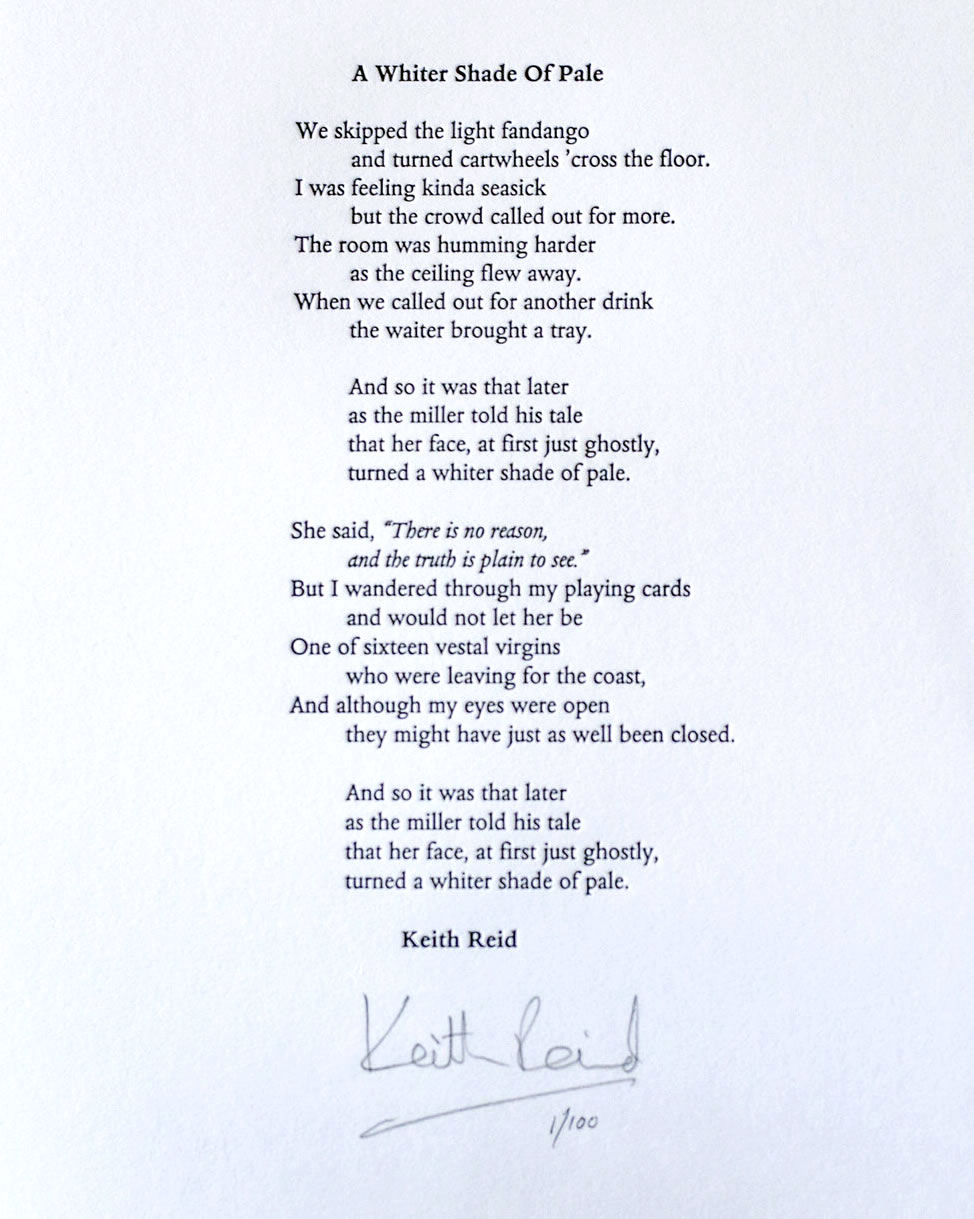 PS: Is there anything else you would like to add that I have not asked?
JS: I would like to say that I know I have very hard and firm definitions of what a "fine book" is. They are not mine, they are shared with those who have this passion. An objet d'art should be expensive and it should be worth the cost. Art is not made to be affordable to everyone, it should be the best of the best with no compromise to commerce. If this is an elitist attitude—so be it. A true collector will understand this. Taste can not be bought, it comes with the passion. If you don't believe me go visit The Jungle Room in Graceland on Elvis Presley Boulevard.
---
Charnel House was founded in 1989 by Joe Stefko with the commitment to produce state of the art limited edition books. Joe believes that book craftsmanship is an art form and the limited edition is a work of art, a luxurious read and a tactile experience, as well as being a highly collectible piece of art. Joe imports the finest materials from all over the globe from fine Japanese silks to the finest quality Moroccan leather and handcrafted in to Charnel House Limited Editions.
Joe in Janis Joplin's car
Joe and his dog Bobby
Joe Stefko and Harlan Ellison
---