I very much enjoyed this interview with Charles Ardai, founder and editor of Hard Case Crime. We talked about the origin of the series, the beautiful artwork that grace the covers, and of his two Stephen King publications, The Colorado Kid and Joyland.
Charles Ardai is a writer, editor, entrepreneur, and television producer, best known as the founder and editor of Hard Case Crime, a line of pulp-style crime novels by authors ranging from Stephen King and Michael Crichton to James M. Cain and Gore Vidal (not to mention Lawrence Block, Ed McBain, Donald E. Westlake, Erle Stanley Gardner, and Mickey Spillane). His own writing includes fiction and non-fiction published in dozens of magazines and anthologies, as well as five novels, among them the Shamus Award-winning SONGS OF INNOCENCE, which the Washington Post called "an instant classic." In addition to the Shamus, Ardai has received the Edgar Allan Poe and Ellery Queen Awards. He was a writer and producer for six years on the TV series HAVEN, and in 2016 produced the acclaimed all-female production in Central Park of William Shakespeare's THE TEMPEST, celebrating the 400th anniversary of Shakespeare's death. A summa cum laude graduate of Columbia University, Ardai lives in New York.
---
PS: So tell us about how Hard Case Crime got started.
CA: In the winter of 2001, Max Phillips and I went out to the Algonquin Hotel for drinks, and as one generally does at the Algonquin, we wound up talking about books. We'd both grown up reading the paperback crime novels of the 1940s, 50s, and 60s, but we'd been born too late to write for the great imprints of the time, such as Gold Medal or Graphic or Popular Library. By the time we grew up and became writers, they were gone, and no one was publishing slim, thrilling, high-velocity novels with sexy painted covers anymore.
Well, after enough alcohol had passed from glass to gullet, one of us said to the other, "Why don't we do it? Why don't we start our own line of books that look and read like those old books?" It's the sort of idea that ought to fade when sobriety returns. But what happened instead was that Max, who in addition to being a very fine novelist is also a gifted graphic designer, dummied up some sample covers to show me just how good our books could look. And they looked so good that I couldn't chicken out anymore – I had to find a way to publish those books. It took three years, but finally I succeeded in getting it off the ground, and we've been at it ever since.
PS: How do you go about selecting the books to be included in the series?
CA: It's simple. If I love a book, I buy it; if not, I don't. For the reprint side of our line, I go to my personal collection of old paperbacks and find books I remember reading and I reread them. If they still hold up as well as I remembered, I begin the work of tracking down the rights, which works out maybe half the time. That gives us all the reprints we need.

For the original side of our line, where we're publishing new books, we began with Max and I each writing a book of our own – Max wrote FADE TO BLONDE, which won the Shamus Award, and I wrote LITTLE GIRL LOST, which was a finalist for both the Shamus and the Edgar Award. Fortunately (since Max and I couldn't write every new book), we also get about one thousand submissions each year from other authors, ranging from first-time authors to well-known novelists. Again, I pick my favorites, that's what we publish.
PS: Your covers are particularly striking and they evoke the old-style pulp crime novels many of us are familiar with. I think you have done an amazing job of finding artists who can capture the mood perfectly. Can you tell us a little more about the covers of your books, and the artists?
CA: Absolutely. Although the books are a mix of original novels and reprints, essentially all our covers (with only a tiny handful of exceptions) are brand new and painted specifically for us. Our goal is to match the look of old-time cover art so perfectly that even a knowledgeable observer might think he's looking at a painting from the 50s. That's why it felt so good when Donald Hamilton, the creator of Matt Helm, said, "The art perfectly captures the era—if I didn't know better, I would have sworn it was from one of the old publishing houses."
We assign covers to a very small number of painters — people who paint with actual paint on actual canvas, not digitally – and we work closely with them to get the look we want. Of course, when we're working with a painter like Robert McGinnis, who is now in his 90s and painted more than a thousand paperback covers back in the day, he can tell us far more about how to get the look we want than we could ever tell him! But working with the artists to craft the covers, and then with Max to get the type just right, is one of the great pleasures in editing Hard Case Crime.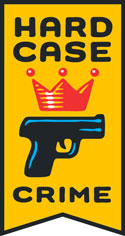 PS: Who came up with the HCC logo?
CA: That was Max. Initially, we were going to call the line "Kingpin," which is why the logo features a crown over the gun. But the day before we went to register the trademark, TV producer Aaron Spelling beat us to the punch, registering it for a TV miniseries about a drug kingpin. So we scrapped the name and came up with "Hard Case Crime" instead. But the logo felt so good and so right that we kept it, even though the crown no longer made any sense.
PS: Many of the books are published as small format paperbacks. I notice that several are now coming out as trade paperback, and even hardcover. Are all releases published in both paperback formats, and what about the hardcovers?
CA: Our first 66 titles were published in collaboration with the late, much-missed Dorchester Publishing, which until 2010 was one of the last two independent paperback publishers in America. All the books we did with them were published exclusively in the old-fashioned, pocket-sized "mass-market" format. When Dorchester went out of business, however, and we had to find a different publishing company to work with to get our books printed and distributed, we found that the pocket-sized format was really no longer viable – the only books that work in that format these days (and in the distribution channels that carry that format) are mega-bestsellers that move far more copies than our average title does.
Out of 124 total books we've acquired to date, 70 have been re-issues.
If you're publishing the new Dan Brown, or Dale Brown, or Sandra Brown (or, you know, Grisham, Patterson, or King), you can put it out in mass-market and make the economics of that market work for you. But not if you're reissuing, say, a forgotten 1953 paperback by Wade Miller or Charles Williams or Day Keene, or publishing a first novel by an author who has no following yet.
So we switched from mass-market to trade paperback (which had the silver lining of larger covers on which to display our paintings!) and have dabbled in the occasional hardcover as well, when we have a new title that feels especially important in some way. With only a few exceptions (such as movie or TV tie-ins), the titles we've published since 2010 have either come out as trade paperback originals or debuted in hardcover and then come out in trade paperback the following year. We publish almost no titles in the smaller mass-market format anymore.
PS: Am I correct in saying that most of the books are re-issues of titles that were published back in the day, and have been out of print for some time. And then others are brand new works from emerging, or established authors.
CA: It's actually pretty close to 50/50: out of 124 total books we've acquired to date, 70 have been re-issues. So, 56% re-issues. But some cases are a bit funny. We've published original novels by writers like James M. Cain and Erle Stanley Gardner, even though they died decades before Hard Case Crime came into existence, since those authors left behind unpublished manuscripts that we found, edited, and gave their first publication. On the other hand, a book like Jack Clark's NOBODY'S ANGEL is technically a re-issue because he printed 500 copies on his own and hand-sold them to passengers in his taxi years before submitting the book to us.
PS: Tell us how The Colorado Kid came about.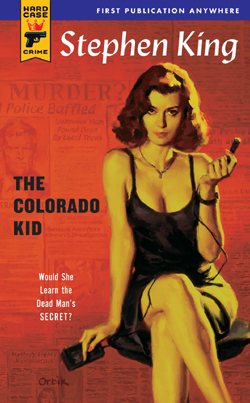 CA: Early on in our existence, we realized that the audience of readers who knew and cared about the work of authors like Wade Miller or Charles Williams or Day Keene was pretty limited, even though the books were truly wonderful. In order to get a larger readership to pick up one of our books and take a chance on a writer they'd never heard of, we thought it would help to get a living writer – someone today's readers would know and respect – to say something in support of our mission, even if it were as short and sweet as "These guys know what they're doing." And of all the current writers we might reach out to, one stood out: Stephen King, because he'd affirmed publicly his passion for exactly the sort of book Hard Case Crime existed to revive.
So I decided I'd reach out to Stephen King, describe what we were up to, and ask if he might consider providing a blurb that we could run on our books' covers. Of course, I had no idea how to reach him, so I poked around on the Internet, and eventually I found the name of his accountant, who conveniently had an office not far from where I lived, so one day I dropped by with a package and asked if he might be kind enough to get it to Stephen King. He agreed.
That book was THE COLORADO KID, and it very much put us on the map. If it weren't for that book, I doubt Hard Case Crime would ever have published more than a dozen titles. But because of it, we're still here today.
Then months went by with no response, and I can't say I was disappointed; realistically, I knew that would be the most likely outcome. But then, after a few months had passed, I got a phone call from a man who said, "I'm Stephen King's agent. Steve got your package, and he asked me to tell you he does not want to write you a blurb." To which, of course, I politely said, "I understand, thank you for letting me know…" But he wasn't finished. "He doesn't want to write you a blurb because he'd like to write you a book instead." I was floored. That book was THE COLORADO KID, and it very much put us on the map. If it weren't for that book, I doubt Hard Case Crime would ever have published more than a dozen titles. But because of it, we're still here today.
PS: This was followed some years later by Joyland. Can you tell us more about that publication.
CA: Yes. Eight years after we published THE COLORADO KID, I got another phone call from Steve's agent saying, "Steve just finished writing another book he thinks might be right for Hard Case Crime. Would you like to see it?" I was floored again. That Stephen King would be so generous as to write a book for us once was an act of profound generosity and kindness. That he'd do it again was simply beyond comprehension. But he did. And that second book was JOYLAND. It's one of my favorites of all the books we've ever published. It's one of the few that has made me cry.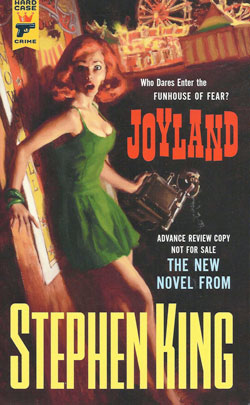 PS: That is a wonderful story. The Advance Review Copy for Joyland is very sought after by proof collectors, and it usually commands a high price when one shows up. Do you happen to remember how many copies of the ARC were produced?
CA: I don't remember the exact number, but probably somewhere between 200 and 500. We generally produce around 250, but we would have sent more around of that book, since there was so much interest among the press.
PS: Was there ever an ARC for The Colorado Kid?
CA: No. We worked hard to keep that one under wraps, so I only hand-printed copies of the typeset pages and hand-delivered them to the media. Even so, one of the copies (the one we gave to Newsweek, if I remember correctly) wound up on eBay. We did include a short section from THE COLORADO KID in a free sampler we printed up and sent to bookstores to promote our 2005-2006 list; the sampler also included chapters from books by Lawrence Block and Ed McBain. We probably printed 300 or 400 copies of that, and they're rare as hens' teeth now.
PS: So how does Titan Books come into play?
CA: Titan stepped into Dorchester's role after Dorchester went out of business. We do all the editorial work and the art, and get each book to the stage of being ready to print, and then Titan does everything from that point forward: printing, shipping, warehousing, sales and marketing, accounting. And they get involved on the creative end as well – I discuss new book ideas with them, and the people who run Titan help us choose among cover sketches. They've been a pleasure to work with.
PS: What can you share about the Limited and Lettered editions of Joyland? The Lettered is another highly sought-after edition, that commands premium prices.
CA: At Steve's request, we initially published JOYLAND only in paperback – no hardcover, no e-book – the way books like this were often published when he was a kid haunting the paperback spinner racks at his local drugstore. But after that initial paperback edition had been out for a while, Steve agreed to let us do a set of hardcover editions for collectors. There were 26 copies of the lettered edition, 724 of the numbered, and 1,500 of the unsigned edition. All three editions featured cover and interior art by Robert McGinnis and a map of the Joyland amusement park by Susan Hunt Yule (drawn in the old Dell mapback style). The lettered and numbered editions were signed by Stephen King and were identical other than that the lettered came in a handsome clamshell box.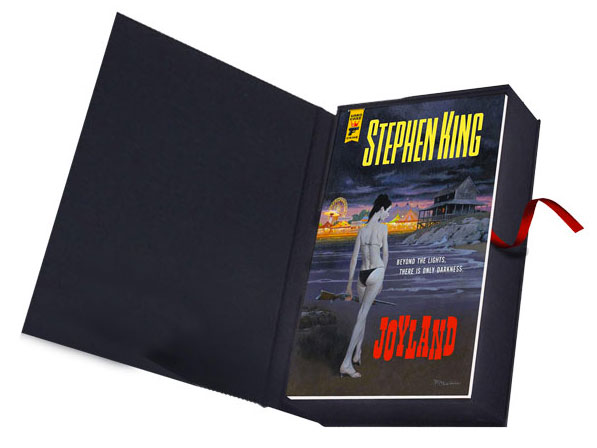 The Lettered edition of Joyland
PS: How many books do you now publish a year?
CA: The number varies from year to year – it depends on what books happen to catch my fancy – but it's generally around half a dozen. That's down from 12-13/year at our peak with Dorchester. I reduced it because I'm a one-man operation, and selecting, editing, laying out, proofreading, and creating a cover for a new book every 4 weeks was just too punishing a schedule.
PS: Do you ever reprint, or issue a 2nd printing of the HCC titles, or are they all 1st printings, and once sold, are then out of print?
CA: Yes, we reprint our books, if demand warrants it. There have been numerous printings of JOYLAND, for instance. Many of our smaller titles only have a single printing for the simple reason that the initial print run is plenty to satisfy all the readers who want a copy. But we've wound up reprinting some smaller titles that might surprise you. Unfortunately for collectors, we don't distinguish first editions in any obvious way, although in a few cases there are clues.
PS: It's interesting that you don't typically distinguish between later printings. Why is that, and in the case where you do, since it's not in any obvious way, how would a collector identify a later printing?
CA: It's mostly an artifact of the arrangement we had with Dorchester and currently have with Titan: Once we hand off a ready-to-print file to them, they can't alter it. So if we wanted to make some change to the pages of the book later, I'd have to manually produce a new, changed ready-to-print file and get it to Titan. But Titan and Dorchester make the printing and reprinting decisions on their own without consulting me. It would have been a hassle for them to have to contact me before reprinting and have to wait for me to produce a new file to print, and it would have been a hassle for me to have to produce that new file. It was simpler on both them and me to just let them reprint whenever they wanted, without any change to the interior pages.
So, if there was no change to the interior pages, how can a collector identify a later printing? Well, often they can't. But sometimes there were changes made. The biggest one came when we switched from Dorchester to Titan – at that point, we did supply new print-ready files for every book, and those new files have Titan's name and address on the copyright page rather than Dorchester's. So if you get a copy of one of our first 66 titles (the ones in mass-market format) but Titan's name is on the copyright page, it's not a first printing.
Then, too, there were some books that won awards, or got nominated for them, and for later printings we changed the front cover to say so – if you get a copy of FADE TO BLONDE, LITTLE GIRL LOST, or THE CONFESSION by Domenic Stansberry that mentions an award on the front cover, it's not a first printing.
And in some cases we did tweak the interior pages slightly for other reasons. For instance, when we initially printed our first 4 titles (I believe), the "OTHER BOOKS YOU MIGHT ENJOY" page opposite the title page listed some upcoming titles with an asterisk saying "Coming Soon." Once those books had been published, we changed the "OTHER BOOKS" page for later printings so that the "Coming Soon" designation was removed.
And starting in October 2005 – when we published THE COLORADO KID, our 13th title – we launched a subscription service (the "Hard Case Crime Book Club," I believe it was called), which was advertised by means of a stiff advertising card tipped into the book between signatures. If you get a copy of one of our first 12 titles that has such a card bound in, it must have been produced after October 2005, and thus is can't be a first edition.
So those are some clues a collector can look for. But they're only present in some cases, not all. And that means that identifying a true first printing of one of our books is a bit of a hit or miss proposition.
Tawdry, inexpensive, and impossible to put down – that's what these books were, and they were the best entertainment a quarter ever bought.
PS: How many titles have you published at this point, and about how many authors are represented.
CA: We have acquired 124 titles, but they haven't all been published yet; we're probably around 112 published. There have been around 60 authors, depending on how you count. Are Donald E. Westlake and Richard Stark separate authors? How about Charles Ardai and Richard Aleas?
PS: Anything else you'd like to share that I haven't covered?
CA: Just that we're very grateful to collectors for being such an important part of our readership. Of course we're delighted when a book like JOYLAND reaches a million readers. But the vast majority of our books are exciting not to the masses but to a select cadre of aficionados, people like Max and me who harbor a powerful affection for this sort of storytelling and also for the physical artifact that was the mid-century paperback novel. Tawdry, inexpensive, and impossible to put down – that's what these books were, and they were the best entertainment a quarter ever bought.
We can't sell our books for a quarter, alas – but in every other way we're out to revive the pleasures of those old books, and we're grateful to all the collectors out there who eagerly await each title we publish and take them to heart when they arrive in stores. Max and I had no idea, when we kicked off this crazy adventure, that we'd still be doing it a dozen years later. And it's because of passionate fans like you and your readers – and, god bless him, Stephen King – that we still are.



Learn more at HardCaseCrime.com.
---
A few of the Robert McGinnis covers
---
Hard Case Crime books.
© Winterfall LLC.