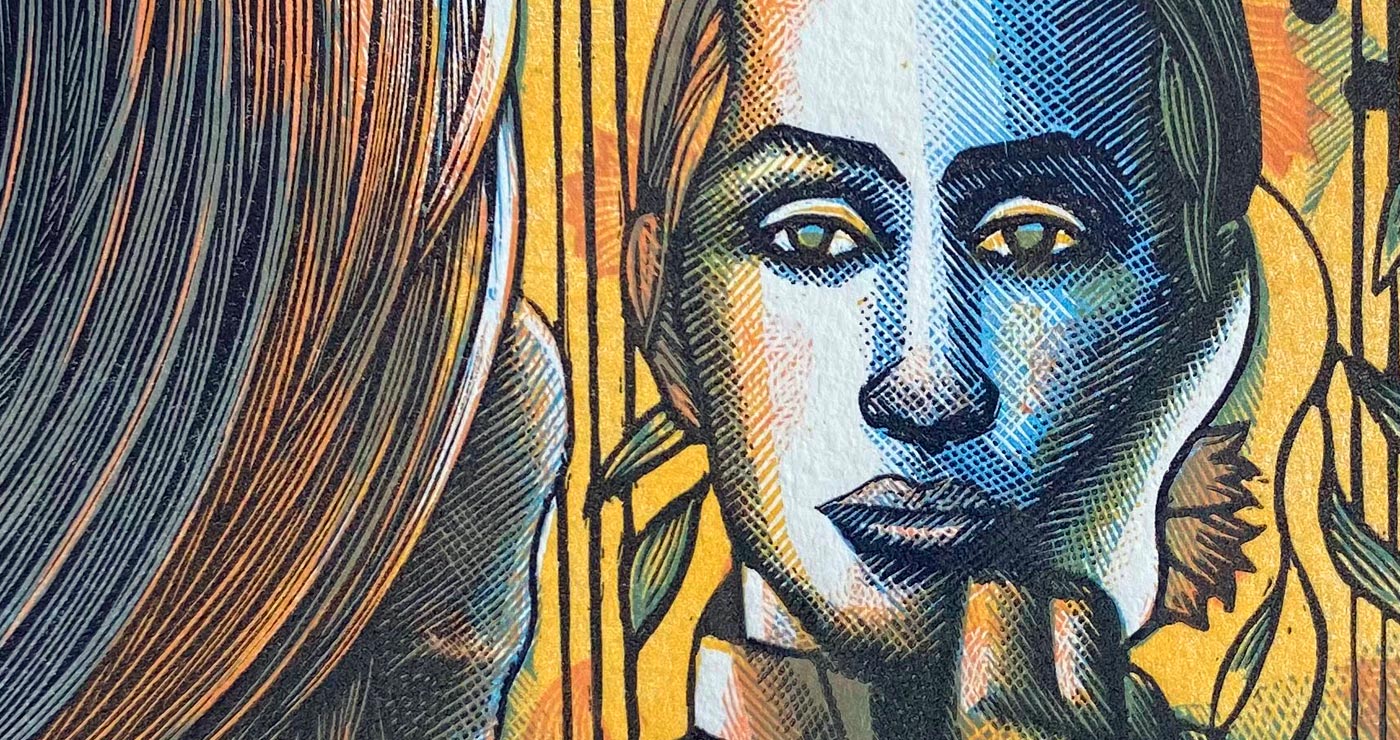 The Yellow Wall-Paper
Charlotte Perkins Gilman
Wood Engravings by Chris Daunt
Afterword by Alice Walker
"The Yellow Wall-Paper" by Charlotte Perkins Gilman is a short story as chilling and relevant today as it was upon its initial publication in 1892. The story is regarded as an important early work of American feminist literature for its depiction of the attitudes towards the mental and physical health of women in the 19th century. It is also lauded as an excellent work of gothic and horror fiction.
Diagnosed by her physician husband with a "temporary nervous depression—a slight hysterical tendency" after the birth of their child, a woman is urged to rest for the Summer in an old colonial mansion. Forbidden from doing work of any kind, she spends her days in the house's former nursery, with its barred windows, scratched floor, and peeling yellow wall-paper.
New England Magazine published "The Yellow Wall-Paper" in January 1892, after it had been rejected by nearly all leading magazines of the day. Gilman's view of a woman's place in traditional marriage, along with the spotlight she placed on society's attitude towards the mental and physical health of women in the 19th century, were considered radical at the time of its publication. Gilman herself was an intellectual voice and staunch supporter of women's rights, who frequently used her writing to explore the role of women in America. Today, "The Yellow Wall-Paper" is one of the most famous and most analyzed short stories of all time. Through her work, Gilman paved the way for writers such as Sylvia Plath and Virginia Woolf.
A condemnation of the patriarchy, "The Yellow Wall-Paper" explores with haunting accuracy the oppression, grave misunderstanding, and willful dismissal of women in late nineteenth-century society. With a profound relevancy as terrifying as the tale itself, Gilman's 6,000 words beg us to ask of ourselves how much in over a hundred years has changed.
---
About The Edition
Our fine press edition of The Yellow Wall-Paper by Charlotte Perkins Gilman is limited to three hundred sixty-six copies presented in two states: Numbered and Lettered. The edition measures 6¼" x 9¼" and features three wood engravings by Chris Daunt which are printed from the original blocks. The wood engravings are multi-block color engravings requiring four blocks per image, one for each color.
Included in this edition of "The Yellow Wall-Paper" is a new, exclusive afterword by Pulitzer Prize winning author Alice Walker (The Color Purple) on the importance of Gilman's story. Also included in the edition is the essay "Why I Wrote 'The Yellow Wall-Paper'" wherein the author reveals the semi-autobiographical nature of the story and how it came to be.
The book is designed, cast in metal and printed letterpress on mouldmade Somerset Book and handmade Twinrocker papers by the Ascensius Press for Suntup Editions. The typeface is Monotype Baskerville, and the press work was accomplished on a Heidelberg Cylinder. Both states are signed by Alice Walker and Chris Daunt.
Numbered Edition
The Numbered edition of 340 copies is a Millimeter style binding covered in Hahnemühle Bugra paper with goatskin leather trim on the spine and foredges. This style of binding is well suited for thinner books, featuring small squares which create an extremely elegant and precise binding. The cover wrap is printed letterpress with a design cast in Monotype ornaments. The leather is Chieftain Goatskin from J Hewit & Sons; the historic leather merchant which was founded in 1823 and continues to manufacture the finest quality leathers for bookbinding. Endbands are handmade with leather and the endsheets are Hahnemühle Bugra.
Each copy is bound by hand and housed in a clamshell enclosure covered in Dubletta cloth, a luxurious woven cotton fabric with a subtle duo-tone appearance, and velour lined floors. This state is printed letterpress from metal type on mouldmade Somerset Book paper.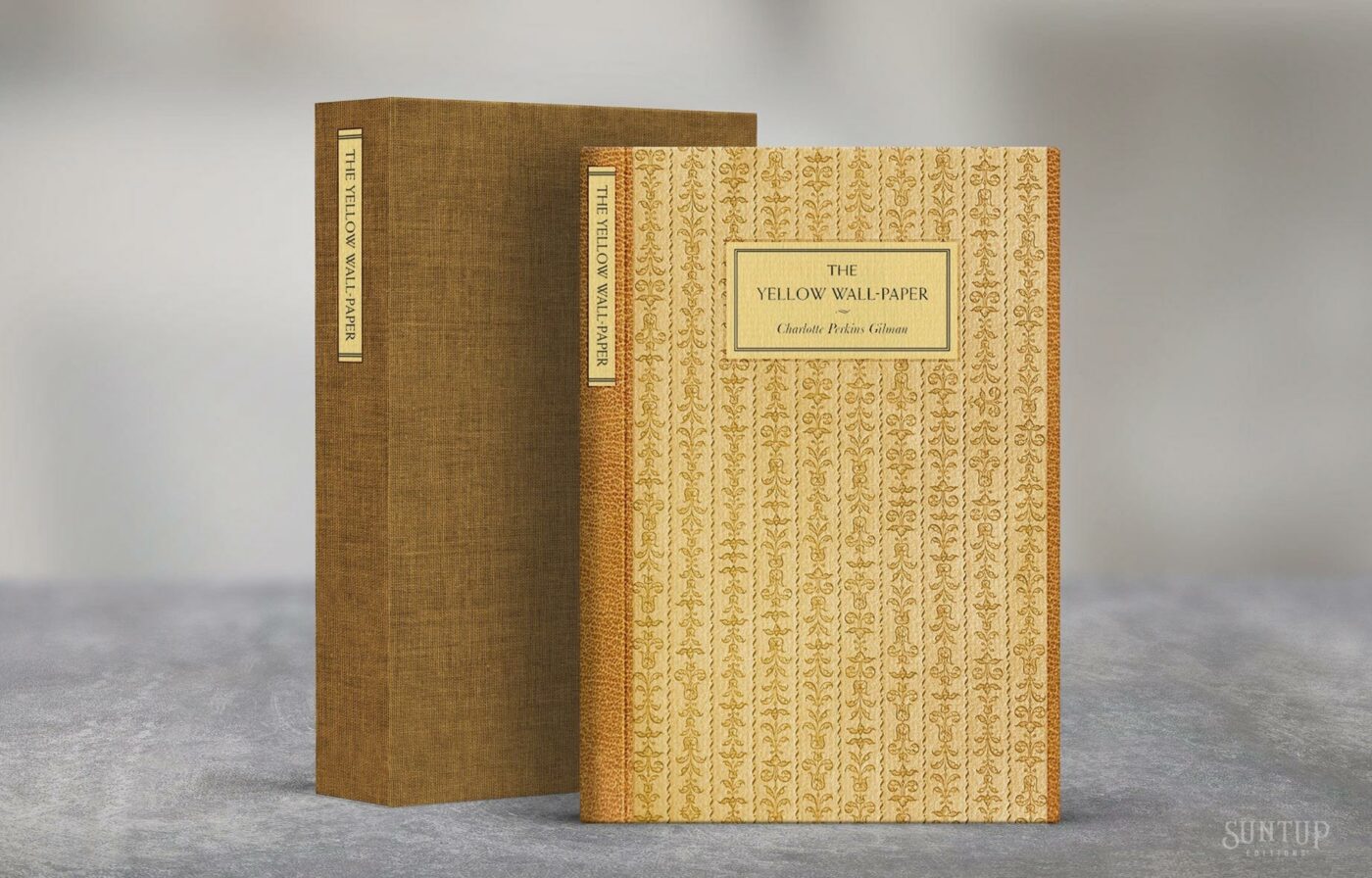 Lettered Edition
The Lettered edition is limited to 26 copies and is hand sewn with linen thread, rounded and backed and made on a hollow before being full bound in J. Hewit & Sons yellow Pentland goatskin with black embossed leather onlays in terracotta and leaf green. Onlays have been pared before covering, and are designed to match the style of the wood engravings. A terracotta leather title label is embossed in gold foil and placed between two raised bands on the spine. Endbands are handmade in leather and endpapers are Canson Mi-Teintes with leather onlays at the front.
Housed in a clamshell enclosure covered in Dubletta cloth with velour lined floors, this state is printed letterpress from metal type on handmade Twinrocker paper; one of the finest handmade papers being produced today. Established in 1971, Twinrocker was pivotal to the renaissance of hand papermaking in America. This state of the edition is handbound by Rosy Gray in the United Kingdom.
---
"The Yellow Wall-Paper" Limited Edition Wood Block Print Set
Available to purchase is a limited edition set of four original prints, which are hand pulled from the wood blocks by Chris Daunt on Arches Velin Cuve BFK Rives mouldmade paper. Of the forty hand numbered & signed sets, thirty-two are available for sale. Included with the set is a bonus illustration not featured in the published edition of "The Yellow Wall-Paper". The prints measure 6" x 9⅛" and are contained in a handmade Canson Mi-Teintes paper folder.
About the Collaborators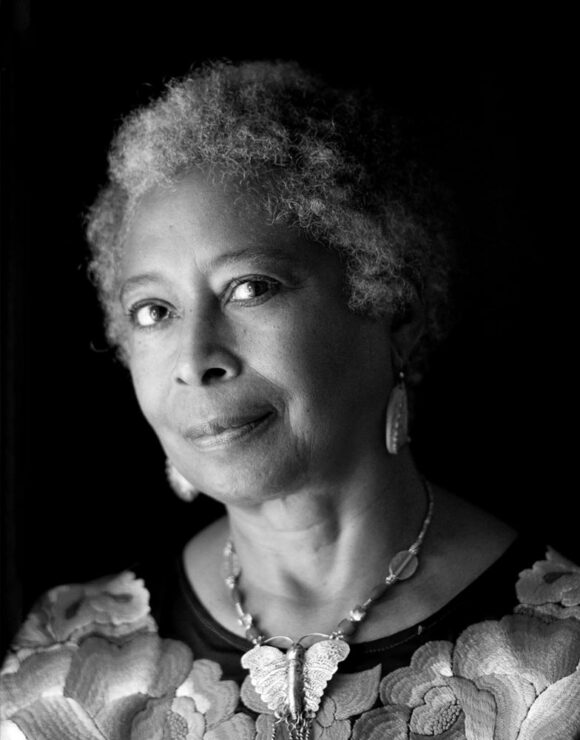 Alice Walker
Alice Walker is an internationally celebrated writer, poet and activist whose books include seven novels, four collections of short stories, four children's books, and volumes of essays and poetry. She won the Pulitzer Prize in Fiction in 1983 and the National Book Award. Her work has been translated into more than two dozen languages, and her books have sold more than fifteen million copies. Along with the Pulitzer Prize and the National Book Award, Walker, in 2006, was honored as one of the inaugural inductees into the California Hall of Fame.
Chris Daunt
Chris Daunt is a blockmaker, wood engraver and teacher of wood engraving and has a close working knowledge of the qualities engravers require from their blocks. He makes traditional endgrain wood engraving blocks in Boxwood, Lemonwood and Maple, and is situated in the heart of Thomas Bewick country. Chris is a former chairman of the Society of Wood Engravers, and an elected member. His work is endorsed by the Society of Wood Engravers.
---
---
Matching Numbers & Letters
A Matching Pre-Order email is sent to owners of our previous publication, The Last Unicorn, as well as to Numbered owners of The Amityville Horror with a designation of 251-340 at 9:00 A.M. PT on the day of announcement. If you did not receive the email, contact us here. If your order is not received before the deadline, your designated number or letter will be assigned to the new owner.
---
Order Limits
Please be aware of the order limits for our editions. You can read more about this in the Order Limits article on our support site.
---
Wood Engravings by Chris Daunt
---
Published editions may differ slightly from mockups and prototype designs.
Lettered edition photography by Yegor Malinovskii.
Illustrations © 2022 by Chris Daunt.
*Payment Plan Options: Learn more
here
.