By turns funny and poignant, whimsical and down-to-earth, The World Doesn't End by Charles Simic is a Pulitzer Prize winning collection by a poet at the height of his powers. Simic masterfully constructs bizarre, unpredictable, and captivating visions in lyrical sentences that pile one incongruous turn upon another, building images that are full of surprise. Much like the river in one poem which flows backward, the power of Simic's inner world derives from turning logic on its head and taking a look from another direction.
Upon its release in 1989, The World Doesn't End was lauded by critics and colleagues. Publisher's Weekly raved, "A master of the absurd and the unexpected, Simic presents a collection of prose poems that will not fail to amuse and delight." The Washington Post called it, "A beautifully designed box of verbal fireworks… a seamless fusion of wild jazz and delicate, moonstruck, European chamber music. Young poets everywhere should read it attentively."
---
ABOUT THE EDITIONS
The signed limited edition of The World Doesn't End by Charles Simic is presented in two states: Lettered and Numbered. The editions measure 6" x 9" and feature four full color images by Wendy Mark. Both editions are signed by Charles Simic and Wendy Mark.
---
LETTERED EDITION
The Lettered edition is limited to 26 copies and is a full Goatskin binding. Endsheets are Italian Bertini paper and the edition is printed letterpress with two colors throughout on mouldmade Zerkall. The clamshell enclosure is covered in Japanese cloth with velvet floors. The edition is signed by Charles Simic and Wendy Mark.
---
NUMBERED EDITION
The Numbered edition of 150 copies is a full Japanese cloth binding with a foil stamped spine label. Endsheets are Hahnemühle Bugra and the edition is printed letterpress with two colors throughout on Teton. It is housed in a Japanese cloth covered slipcase. The edition is signed by Charles Simic and Wendy Mark.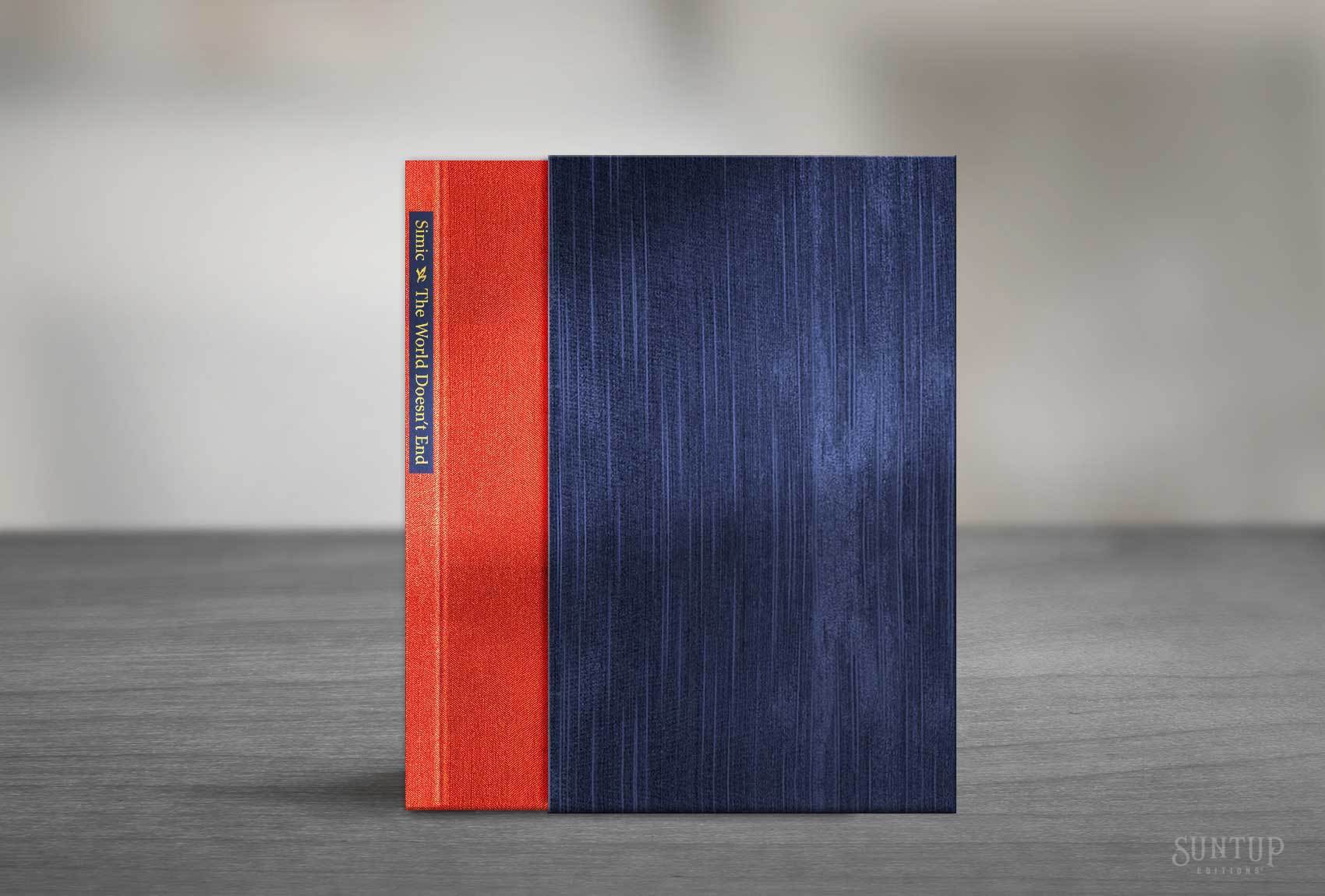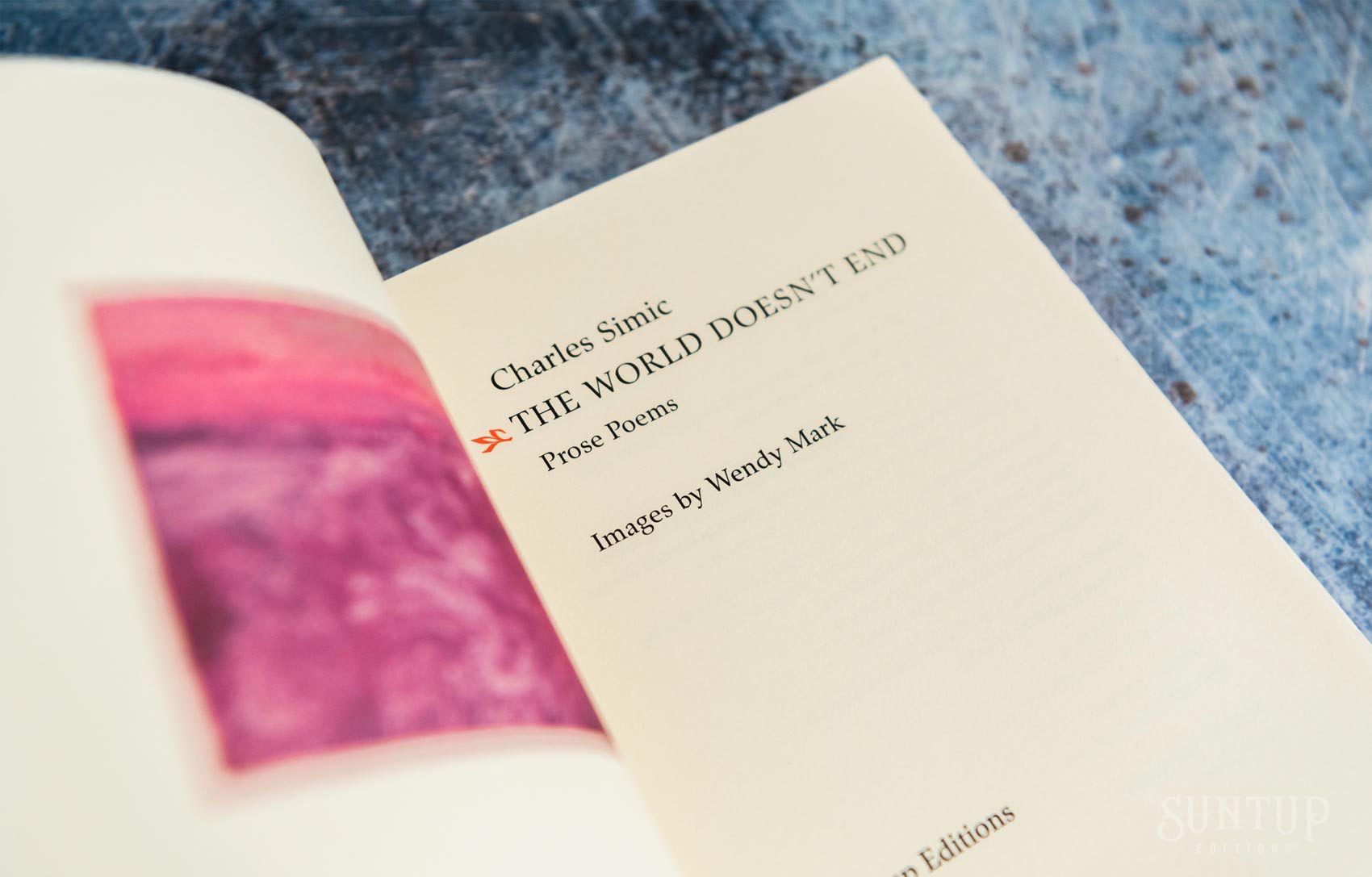 ORDER THE NUMBERED EDITION
---
ABOUT THE AUTHOR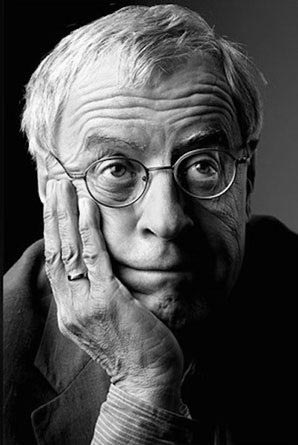 Charles Simic was born in Belgrade and emigrated to the United States in 1954. He is the author of many books of poetry and prose. Among other honors, he received the Pulitzer Prize for Poetry in 1990 and served as the Poet Laureate of the United States in 2007–2008.
---
ABOUT THE ARTIST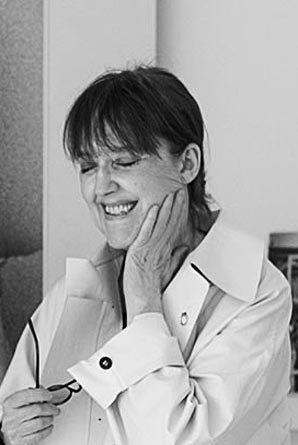 Wendy Mark is an artist known for her monotypes, many of which have been featured in collections at MOMA, the Metropolitan Museum of Art, and the Whitney among several other museums and private collections.
Publication: Early 2021
77 pages
Please note: Payment plans are only available on pre-ordered books. These editions are published and will ship immediately.
PayPal Credit offers 6 months no interest if paid in full on purchases of $99 or more. Choose PayPal at checkout and select PayPal Credit.
Click for details and to apply
.
---
MATCHING NUMBERS & LETTERS
A Matching Pre-Order email is sent to owners of numbers 1-150 of our previous publication, as well as Lettered owners at 9:00 A.M. Pacific on the day of announcement. If you did not receive the email, contact us here. This title does not include rights to a matching number or letter for our November 2020 book announcement. The title announced on October 8th will carry rights to the November 2020 book.
---
ORDER LIMITS
Please be aware of the order limits for our editions. You can read more about this in the Order Limits article on our support site.
---
Published editions may differ slightly from mockups and prototype designs.
Illustrations © 2019 by Wendy Marks
Photography by Yegor Malinovskii
* 5% processing fee applies on installment plans. You can save time at checkout by registering your Partial.ly account in advance by clicking here. (This is the service we use to administer the installment payments.) If you already have an account, there is no need to register again.