The Invisible Man
H.G. Wells
With a New Introduction by Christopher Priest
Illustrations by Florian Bertmer
Described by H.G. Wells as "a grotesque romance," The Invisible Man remains as remarkable and relevant today as it was upon its publication over a hundred years ago.
Originally serialized in Pearson's Weekly in 1897, The Invisible Man arrived on the heels of The Time Machine and The Island of Doctor Moreau, serving to cement H.G. Wells as the grandfather of science-fiction literature.
The story begins on a bitter winter evening, when a mysterious stranger arrives in the remote English village of Iping, his face swaddled in bandages. The stranger is Griffin, a scientist who has discovered the secret to invisibility, but cannot find a way to reverse it. Freed from the constraints of physicality and rejected by a society that fears him, Griffin descends into madness, violence, and brutality. The Invisible Man is as insightful as it is disturbing, exploring the question of morality when one is free to do as they please without risk of being caught.
"And I beheld, unclouded by doubt, a magnificent vision of all that invisibility might mean to a man—the mystery, the power, the freedom. Drawbacks I saw none."
— H.G. Wells, The Invisible Man
The Invisible Man is the second in a three-book set of H.G. Wells novels. Originality was Wells's calling card. The author's ability to, as historian John Higgs notes "create wholly original stories out of thin air" culminated in a three-year span in which he published three of his most influential works; what Wells referred to as "scientific romance novels." The Time Machine, followed by The Invisible Man and The War of the Worlds are editions uniquely crafted and designed to breathe new life into some of the greatest stories ever told. Additionally, each book includes special curated bonus material to create a truly unique set of these beloved novels.
---
About the Edition
This edition of The Invisible Man by H.G. Wells is limited to two hundred & seventy-six copies, and is presented in two states: Lettered and Numbered. The text is set in Dutch Type Library Fleishmann and is printed letterpress by Robert LoMascolo in Aurora, New York on a hand-fed Vandercook Cylinder press. The edition measures 6" x 9" and includes six ink illustrations by Florian Bertmer which are printed letterpress with the text, as well as an exclusive introduction by Christopher Priest. The editions are signed by Christopher Priest and Florian Bertmer.
Bonus Material Included:
Appendix A: The Four Endings of The Invisible Man – The four different versions of Chapter 28's conclusive words originally intended to be the last paragraph of the book.
Appendix B: Invisibility in Ancient Greece and in Nineteenth-Century Fiction – Exclusive excerpts from a collection of invisibility narratives that inspired H.G. Wells's novel.
Appendix C: Technological Context: Röntgen Rays and Radio Waves – A valuable collection of articles that served as scientific inspiration for H.G. Wells's novel.
Lettered Edition
The lettered edition is limited to twenty-six copies and is a full goatskin binding with raised bands and a leather spine label. The cover is stamped with gold foil, and endsheets are hand-marbled in the U.K. The edition is printed letterpress on Stonehenge cotton paper and is housed in a quarter leather clamshell enclosure with cloth boards. It is signed by Christopher Priest and Florian Bertmer.
Numbered Edition
The Numbered edition is limited to two hundred fifty copies and is a quarter cloth binding with custom designed patterned paper over boards, which are printed letterpress. The spine is covered in a vibrant two-toned cloth and endsheets are Hahnemühle Bugra. The edition is printed letterpress on Mohawk Via Vellum and is housed in a paper covered slipcase. It is signed by Christopher Priest and Florian Bertmer.
About the Collaborators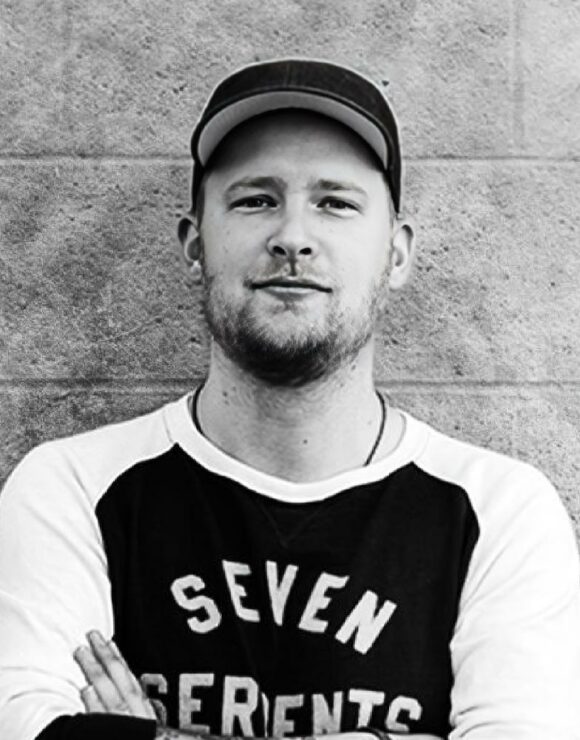 Florian Bertmer
Florian Bertmer is quite an enigma. Little is known about the german-born artist but we do know that he recently moved to Los Angeles, CA. He has a flair for the macabre and a profound knowledge of the occult. His unique and insanely detailed style draws inspiration from traditional pen and ink illustrators such as Alphonse Mucha, Geoff Darrow, Pushead, Mike Mignola and Ed Roth. He recently made his way into the realm of movie posters, creating movie poster art for such iconic films such as Texas Chainsaw Massacre, Swamp Thing and Planet of the Apes.
---
Matching Numbers & Letters
If you did not pre-order the H.G. Wells three-book set with The Time Machine, we cannot guarantee matching numbers on The Invisible Man and/or The War of the Worlds. In addition, The Invisible Man and The War of the Worlds do not include rights to a matching number or letter for our March 2020 book announcement. Only those who purchased Red Dragon will be guaranteed a matching Number and/or Letter to the edition we announce in March 2020. If you previously ordered The Time Machine only, we will do our best to match your number to The Invisible Man and/or The War of the Worlds.
---
Artwork by Florian Bertmer
Published editions may differ slightly from mockups and prototype designs.
Illustrations © 2019 by Florian Bertmer.
*Payment Plan Options: Learn more
here
.