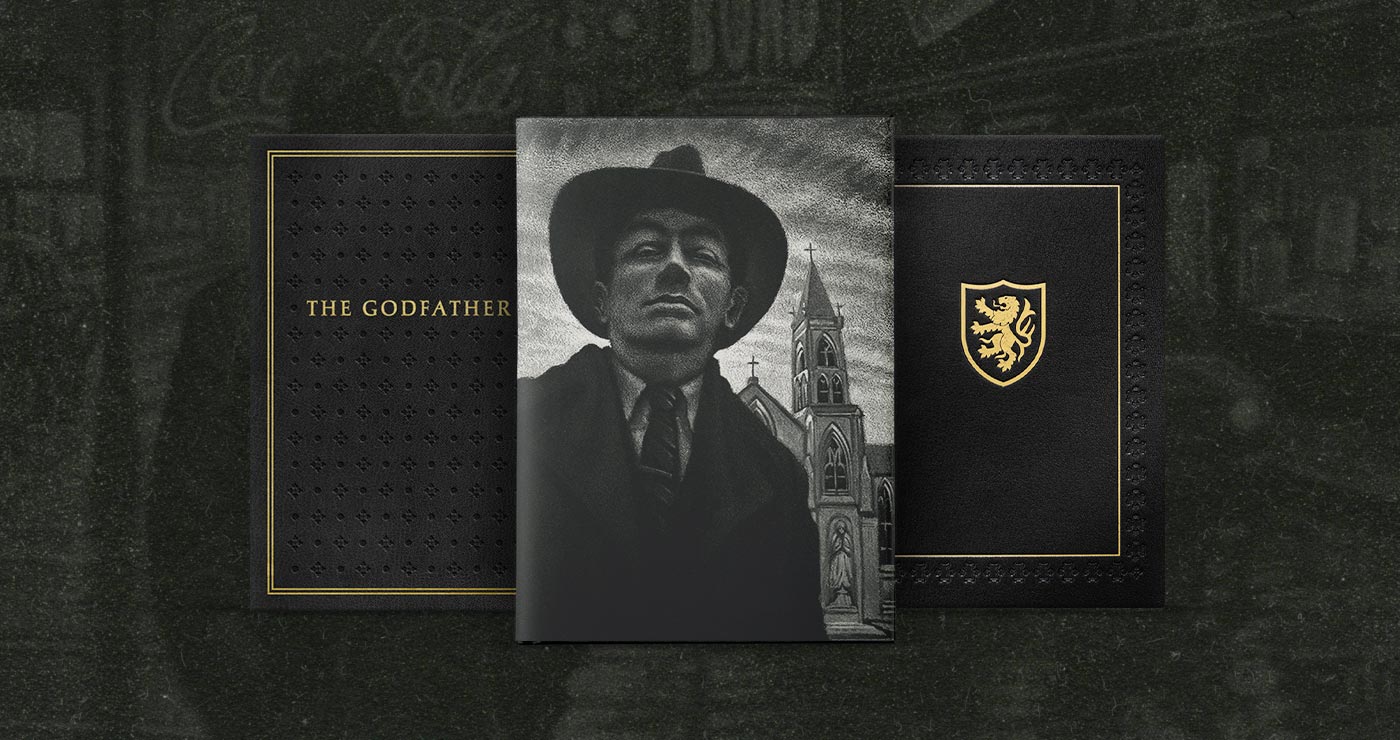 The Godfather
Mario Puzo
Introduction by Francis Ford Coppola
with a note by Anthony Puzo
Intaglio illustrations by Art Werger
With its brilliant portrayal of the Corleone family, The Godfather by Mario Puzo burned its way into our national consciousness as the definitive novel of the Mafia underworld. Don Vito Corleone is the head of a New York Mafia family, presiding over a vast underground empire that includes rackets, gambling, bookmaking and unions from his fortress of a home in Long Island.
His influence runs through all levels of American society, from the cop on the beat to the nation's leading politicians. But he is constantly at war with the four other families of the New York Mafia in their endless fight for power. As Corleone's desperate struggle to control the Mafia underworld unfolds, so does the story of his family.
By the time Mario Puzo's fictional account of the Corleone family arrived on bookshelves in 1969, organized crime had been prevalent in the news for nearly two decades, instilling fear and fascination into the hearts of the American public. When The Godfather first appeared on The New York Times bestseller list, the newspaper reported that the novel was "bound to be hugely successful, and not simply because the Mafia is in the news. Mr. Puzo's novel is a voyeur's dream, a skillful fantasy of violent personal power without consequence."
It remained on The New York Times bestseller list for 67 weeks, and sold over nine million copies in two years. In 1972, The Godfather was turned into the incomparable film of the same name, directed by Francis Ford Coppola, which won the Academy Award for Best Picture.
A tale of family and society, law and order, obedience and rebellion, The Godfather reveals the dark passions of human nature played out against a backdrop of the American dream.
---
About The Editions
The fine press edition of The Godfather by Mario Puzo is presented in three states: Artist, Numbered and Lettered. The Artist and Numbered editions measure 6" x 9", and the Lettered edition measures 6¼ x 9⅜ with a deckle at the fore- and lower-edge. The text pages are set in Requiem with the Numbered and Lettered editions printed letterpress by Bradley Hutchinson and Max Koch on a Heidelberg Cylinder in Austin, Texas.
Included are fourteen copper plate intaglio illustrations by Art Werger, as well as an introduction by Francis Ford Coppola from the 50th Anniversary edition, and a note by Anthony Puzo. The Numbered and Lettered editions are signed by Francis Ford Coppola, Anthony Puzo and Art Werger, and the Artist edition is signed by Art Werger.
The Artist edition is limited to 750 copies, and is the only edition to include a dust jacket with an illustration on the front cover by Art Werger. It is a smyth-sewn full cloth binding with a foil blocked cover. The edition is housed in a durable embossed paper covered slipcase and is printed offset on archival Cougar paper. This edition is signed by Art Werger.
Numbered Edition
The Numbered edition of 350 copies is a full goatskin binding with stamping in blind and gold on the cover. The binding design is inspired by the work of bookbinder, calligrapher and typographer Gudrun Zapf-von Hesse. The text pages are set in Requiem and are printed letterpress on Mohawk Superfine by Bradley Hutchinson and Max Koch on a Heidelberg Cylinder in Austin, Texas. Endsheets are Hahnemühle Bugra and endbands are leather wrapped. Illustrations are printed offset on mouldmade Arches paper, and are tipped in. The edition is housed in a cigar style enclosure covered in Japanese cloth and lined with velour. This state is signed by Francis Ford Coppola, Anthony Puzo and Art Werger.
Lettered Edition
The Lettered edition is limited to twenty-six copies lettered A-Z and is fully bound in black goatskin as a Jan Sobota two coverboard structure, with blind embossed leather headbands. Doublures are black goatskin and endleaves are Fedrigoni paper. The cover and doublures are stamped in blind and gold, and the edition is housed in a quarter leather clamshell enclosure with a rounded spine and gold lettering. The binding design is inspired by the work of bookbinder, calligrapher and typographer Gudrun Zapf-von Hesse, and this edition is handbound by Jacek Tylkowski in Komorniki, Poland.
The text pages are set in Requiem and are printed letterpress on mouldmade Arches paper by Bradley Hutchinson and Max Koch on a Heidelberg Cylinder in Austin, Texas. The deckle is maintained at the fore- & lower-edges and all fourteen illustrations are original aquatints printed on Hahnemühle Biblio, except for the frontispiece which is a mezzotint. The prints are guarded in with Japanese Shiohara handmade paper.
The illustrations in the Lettered edition are all original impressions, hand printed by the artist from the copper plates. Each print requires a separate inking, wiping, and running through the press, and each resulting print is considered an original work of art.
Limited Edition The Made Man Mezzotint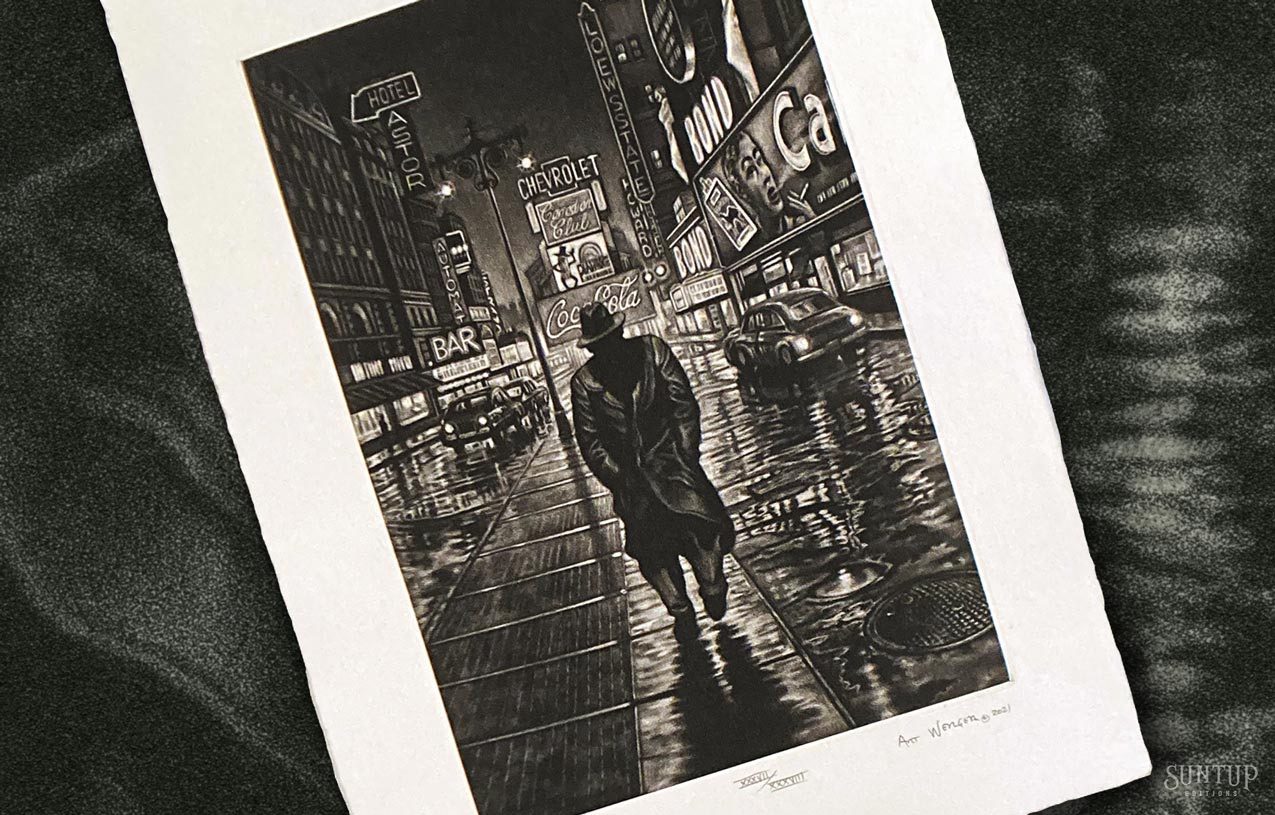 This limited edition print is an original impression, hand printed by the artist from the copper plate. This edition is limited to thirty-eight, of which thirty-two are available for purchase. It is numbered and signed by the artist.
The print is sold out.
Portfolio and Print Offered by Art Werger
Art Werger who created the intaglio illustrations for this edition has put together a limited edition portfolio containing a set of original prints of all fourteen illustrations. This portfolio, as well as a limited edition The Made Man print is being offered for sale directly by the artist. Visit artwerger.com for more details.
Making The Made Man Mezzotint by Art Werger
About the Collaborators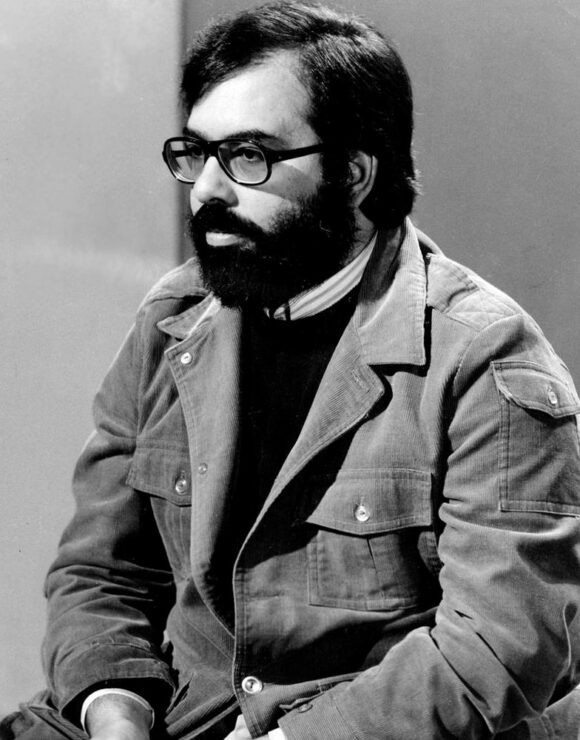 Francis Ford Coppola
Francis Ford Coppola (born April 7, 1939)is an American film director, producer, and screenwriter. One of the pioneers of the "New Hollywood" filmmaking movement of the 1960s and 1970s, Coppola is the recipient of five Academy Awards, six Golden Globes, two Palmes d'Or and a British Academy Film Award. His film adaptation of the The Godfather is considered a cinematic milestone, and it is currently ranked as #2 on AFI's prestigious list of the greatest films of all time.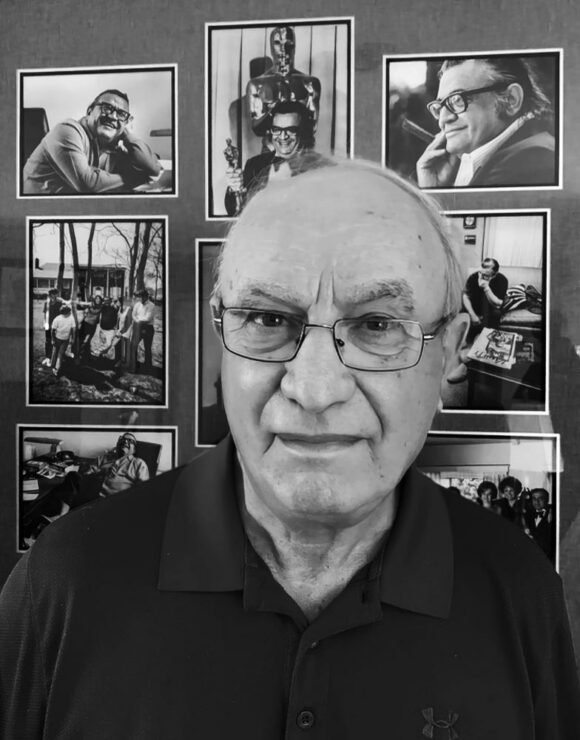 Anthony Puzo
Anthony Puzo is the son of author Mario Puzo. Since his father's passing in 1999, Anthony has served as executor of his estate. During that period he oversaw the successful publication of sequels to his father's books. Prior to that he managed his father's financial affairs.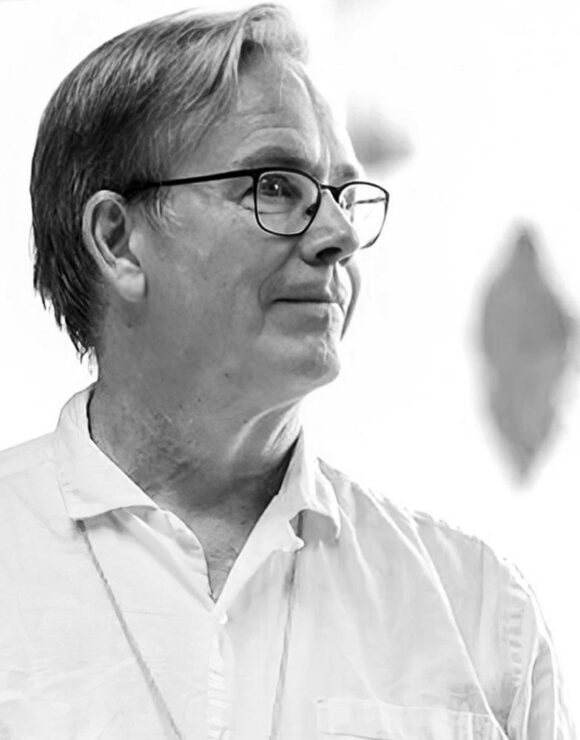 Art Werger
Recently retired, Art Werger was a Professor of Art in the Printmaking program at Ohio University where he was named a Presidential Research Scholar. He also taught at Wesleyan College in Macon, Georgia, where he served as Division Chair of the Fine Arts. Werger received his BFA from Rhode Island School of Design in printmaking in 1978 and his MFA from the University of Wisconsin in 1982.
Over the last thirty years, he has focused on etching, aquatint and mezzotint and has become an internationally renowned artist and master printmaker having received over 250 awards in national and international exhibitions. Werger has works in The National Gallery of Art in Washington, D.C., the Boston Public Library, the Philadelphia Museum of Art, and the Museum of Fine Arts in Boston, to name a few.
---
Matching Numbers & Letters
A Matching Pre-Order email is sent to owners of numbers 1-250 of our previous publication, The Magus as well as to Numbered owners of Hannibal Rising with a designation of 251-350 at 9:00 A.M. PT on the day of announcement. If you did not receive the email, contact us here. If your order is not received before the deadline, your designated number or letter will be assigned to the new owner.
---
Order Limits
Please be aware of the order limits for our editions. You can read more about this in the Order Limits article on our support site.
---
Intaglio Illustrations by Art Werger
Published editions may differ slightly from mockups and prototype designs.
Illustrations © 2021 by Art Werger.
Lettered edition photography by Yegor Malinovskii.
*Payment Plan Options: Learn more
here
.