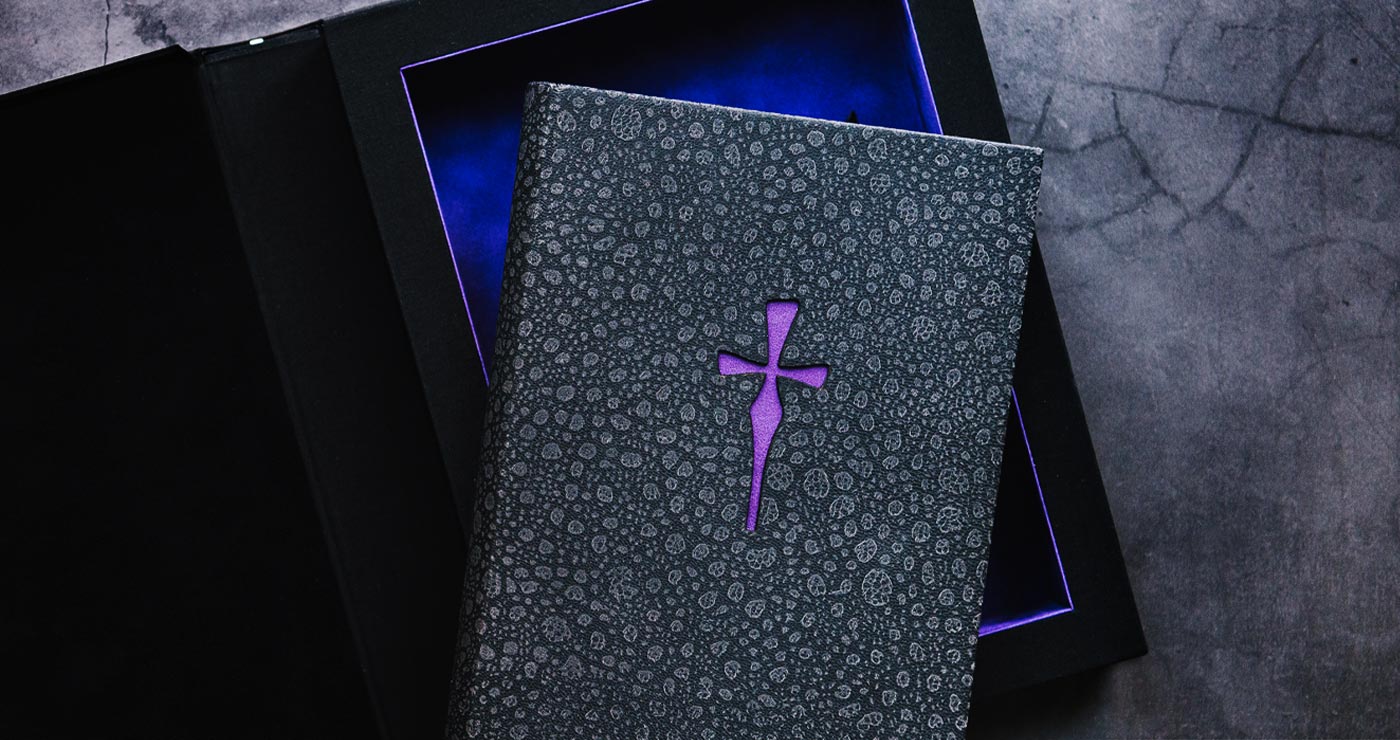 The Exorcist
William Peter Blatty
Introduction by William Friedkin
Illustrations by Marc Potts
In celebration of the 50th anniversary of this iconic masterpiece of horror and paranormal suspense, Suntup Editions is delighted to announce a fine press limited edition of The Exorcist by William Peter Blatty.
One of the most controversial novels ever written, The Exorcist was first published in June 1971, and would go on to become a cultural phenomenon. The book spent fifty-seven weeks on the New York Times bestseller list, seventeen consecutively at #1. Five decades later, the novel retains its power to possess readers with its raw and visceral prose.
Inspired by a 1949 article in The Washington Post in which a Catholic priest recounts his experience performing the ritual of exorcism on a young child, William Peter Blatty's groundbreaking novel details the demonic possession of eleven-year-old Regan MacNeil. When neither medical professionals nor psychiatrists can come to Regan's aid, her mother enlists the assistance of two priests. Overwhelmed but determined, they endeavor to rescue Regan from an unspeakable fate. To do so, they must face a series of terrifying moments that will test not only their strength, but the very core of their faith.
Two years after its publication, The Exorcist, was adapted for the screen by Blatty. The film, directed by William Friedkin, who has penned an exclusive introduction for this edition of the novel, would become a wildly successful motion picture, garnering ten Academy Award nominations. Friedkin and Blatty formed a lifelong friendship, with Friedkin often referring to Blatty as "my brother," and "the most spiritual man I ever met." To both men, The Exorcist was not a horror story, but one of the great mystery of faith. Friedkin's new introduction chronicles the moments of inspiration that led Blatty to write the novel.
On September 27, 2011, The Exorcist was re-released as a 40th Anniversary Edition in hardcover, paperback and audiobook featuring new and revised material. Of this edition, Blatty wrote:
"This will have a touch of new material in it as part of an all-around polish of the dialogue and prose. First time around I never had the time (meaning the funds) to do a second draft, and this, finally, is it. With forty years to think about it, a few little changes were inevitable — plus one new character in a totally new, very spooky scene. This is the version I would like to be remembered for."
We are very pleased to publish the author's preferred text in our fine press edition of The Exorcist.
---
About the Editions
The limited edition of The Exorcist by William Peter Blatty is presented in four states: Roman Numeral, Lettered, Numbered and Artist editions. The editions measure 6" x 9" and feature six full color illustrations by Marc Potts as well as a new exclusive introduction by William Friedkin. The text is set in Copernicus and Popvlvs, with the Numbered, Lettered & Roman Numeral printed letterpress by Bradley Hutchinson on his Heidelberg Cylinder in Austin, Texas.
Artist Edition
The Artist edition is limited to 1000 copies with wrap-around dust jacket art by Marc Potts. It is a full cloth, smyth sewn binding with two-hits foil stamping. It is the only edition of the three with the dust jacket, and is signed by artist Marc Potts. The edition is printed offset on Cougar Natural Vellum and is housed in an embossed paper covered slipcase.
Numbered Edition
The Numbered edition of 250 copies is a handmade lapped component case binding constructed from purple and black Japanese cloth covers and purple folded single folio endsheets. It features foil stamped titling at the spine, a white Plike paper collar, flush mounted and wrapped at the head of the book, and is housed in a cigar-style enclosure covered in Japanese cloth.
The edition is printed letterpress on Mohawk Superfine and is signed by William Friedkin and Marc Potts. Each copy of this edition is sewn and bound by hand.
Lettered Edition
The Lettered edition is limited to 26 copies and is a full pigskin binding with laced-on boards. It is hand bound with an embossed design adorning the front cover. Headcaps are sculpted and the endbands are rolled marbled paper. Endsheets are hand marbled by Claire Guillot in Southern France, and are flexible with a folded hinge at the fore edge.
The edition is printed letterpress on Zerkall Frankfurt mouldmade paper and is housed in a clamshell enclosure covered with purple and black Japanese cloth with an inset leather spine label. The edition is signed by William Friedkin and Marc Potts.
Roman Numeral Edition
The Roman Numeral edition is limited to 10 copies and is bound in embossed grey goatskin. It is a three coverboard structure, with the middle board in purple goatskin visible through the cross cut on the front cover and at the board edges. The top edge is adorned with pigment foils. The edition features leather doublures and sculpted headcaps with leather endbands.
The text is set in Copernicus and Popvlvs, and is printed letterpress on Zerkall Frankfurt mouldmade paper. The clamshell enclosure is full black goatskin with a rounded spine, leather endbands and suede inner linings in purple with black Japanese cloth. The edition is signed by William Friedkin and Marc Potts.
About the Collaborators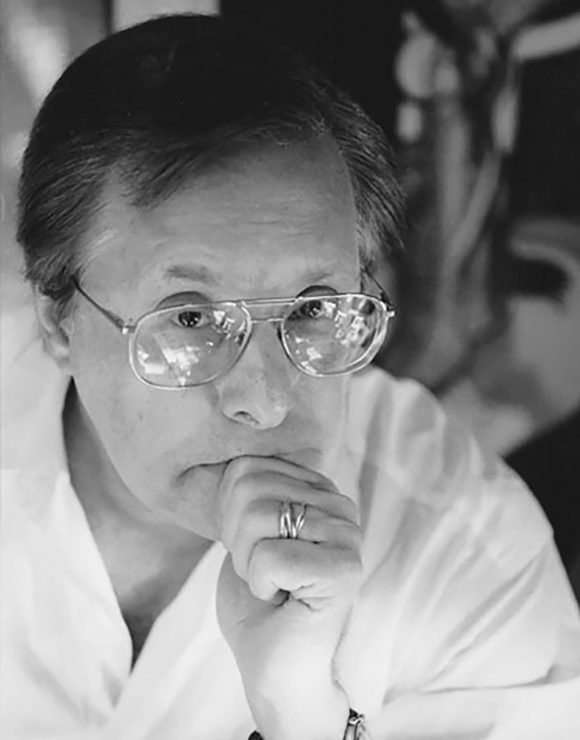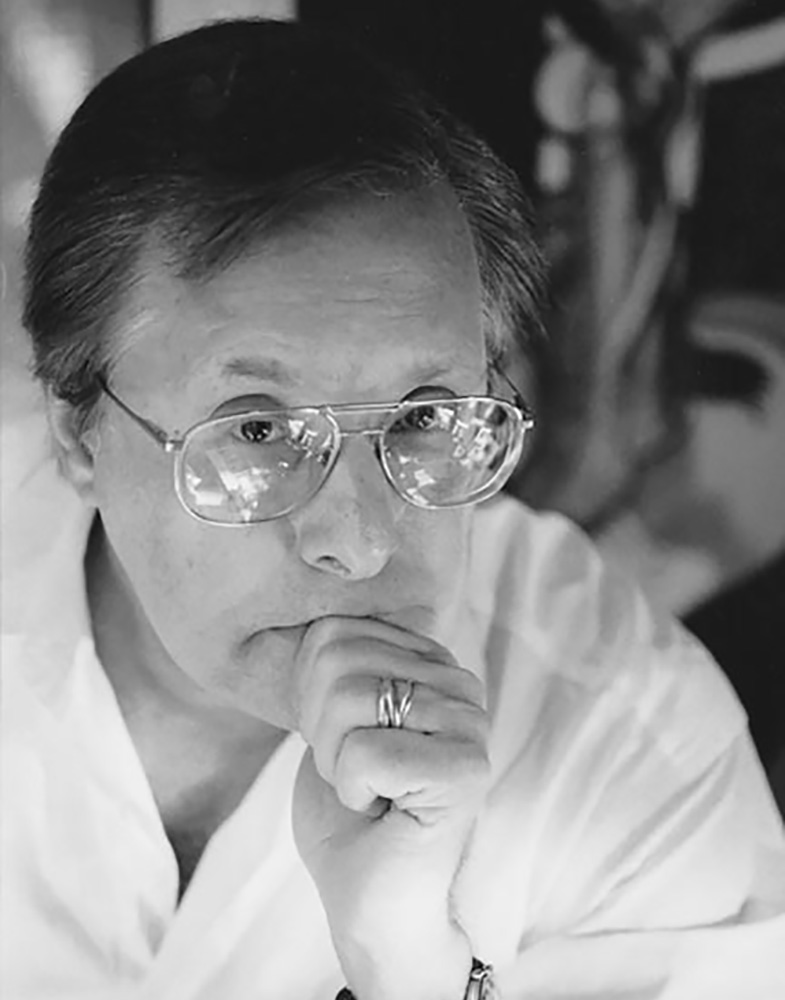 William Friedkin
William Friedkin is an acclaimed director, producer and screenwriter. His 1971 film The French Connection won five Academy Awards, including for Best Picture and Best Director. Friedkin followed up with 1973's The Exorcist which was nominated for 10 Academy Awards. Other films include Sorcerer, To Live and Die in L.A., and Rules of Engagement, The Hunted, Bug, and Killer Joe.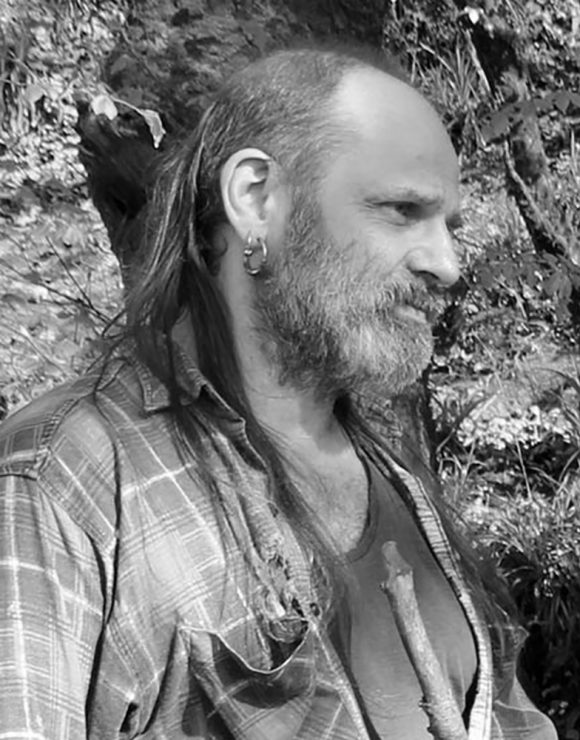 Marc Potts
Marc Potts is a British artist and occasional author, living and working in rural Devon in the South-west of England. The wooded valleys, wild moors and rugged coasts play a part in inspiring the feel of his art, along with a deep abiding love of ancient Northern European history and its folklore and mythology. Marc's art has appeared on many book and magazine covers.
---
Matching Numbers & Letters
A Matching Pre-Order email is sent to owners of numbers 1 – 250 of our previous publication, The Silence of the Lambs, at 9:00 A.M. PT on the day of announcement. If you did not receive the email, contact us here. If your order is not received by the deadline, your designated number or letter will be assigned to the new owner.
---
Order Limits
Please be aware of the order limits for our editions. You can read more about this in the Order Limits article on our support site.
---
Illustrations by Marc Potts
Published editions may differ slightly from mockups and prototype designs.
Illustrations © 2021 by Marc Potts
Photography by Yegor Malinovskii
*Payment Plan Options: Learn more
here
.