Rosemary's Baby
With a New Introduction by Chuck Palahniuk
Afterword by Ira Levin
---
"Across the room, in the one large window bay, stood a black bassinet. Black and only black it was; skirted with black taffeta, hooded and flounced with black organza. A silver ornament turned on a black ribbon pinned to its black hood." — Ira Levin, Rosemary's Baby
---
One of the bestselling horror novels of all-time, Rosemary's Baby by Ira Levin is considered a masterpiece of modern horror. Selling 4 million copies upon its publication in 1967, the novel's success launched a new wave of books in the horror genre, while critics heralded it "one of the most perfectly crafted thrillers ever written." One year after the novel's release, Rosemary's Baby was adapted into an Academy Award winning motion picture directed by Roman Polanski. Author Ira Levin called the film "the single most faithful adaptation of a novel ever to come out of Hollywood."
---
ABOUT THE EDITION
This fine press edition of Rosemary's Baby by Ira Levin is limited to two hundred & seventy-six copies, and is presented in two states: Lettered and Limited. The edition measures 6¼" x 9¼" and features six black & white illustrations by Richey Beckett, as well as an exclusive introduction by New York Times bestselling author, Chuck Palahniuk. Also included is an afterword by Ira Levin which originally appeared in the 2003 New American Library edition. The editions are signed by Richey Beckett and Chuck Palahniuk, and are printed letterpress.
---
"Hail, Suntup – their new edition of Rosemary's Baby will undoubtedly be the most extravagant to date. We can't wait for it to arrive."—The family of Ira Levin
---
Limited Edition
The Limited edition is a quarter leather binding and is limited to 250 copies. The goatskin spine is stamped with silver foil, and the boards are covered in Japanese cloth. Endpapers feature flecks of metallic gold and silver, and the edition is printed letterpress on Mohawk Superfine. It is housed in a cloth covered, foil stamped slipcase.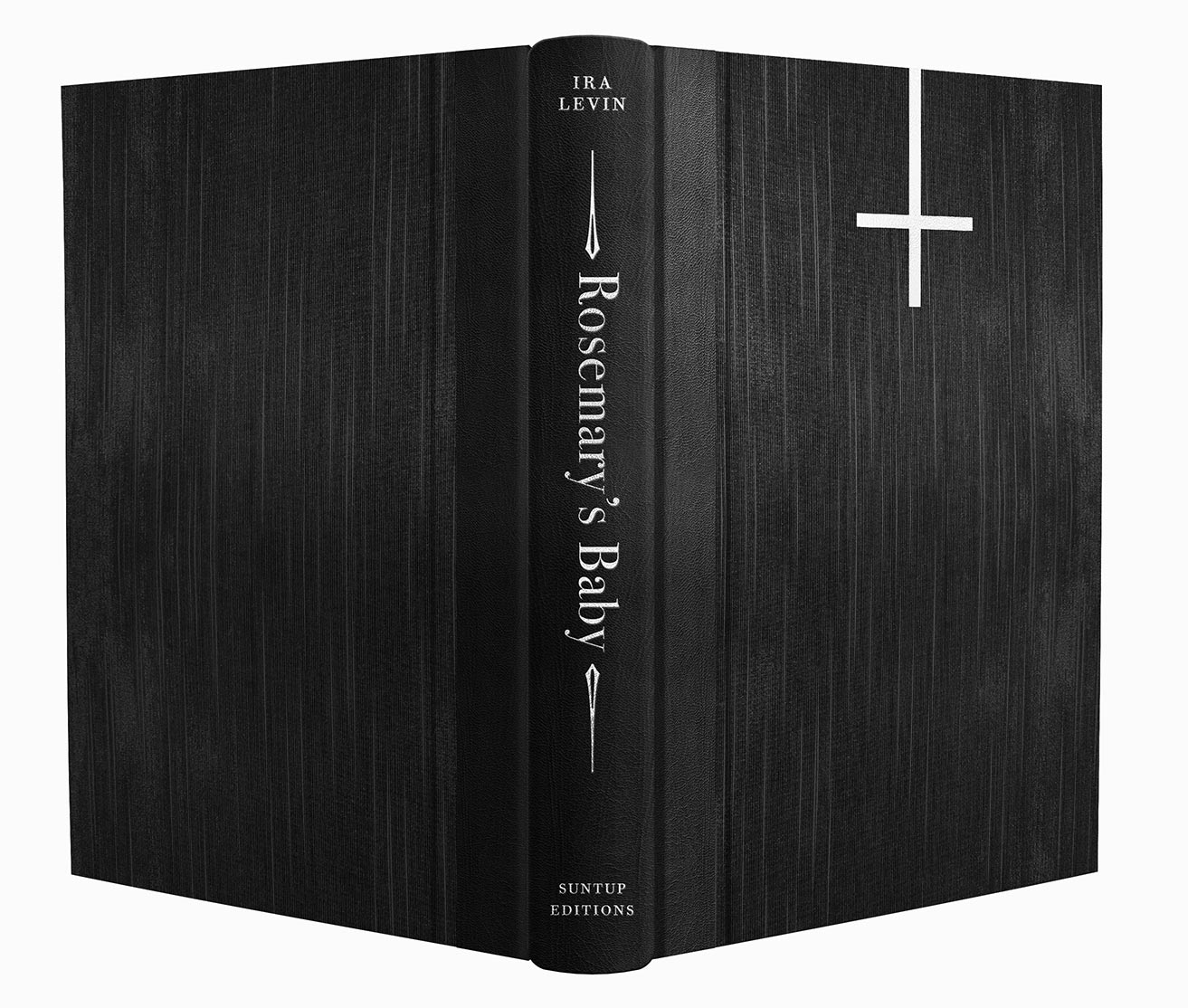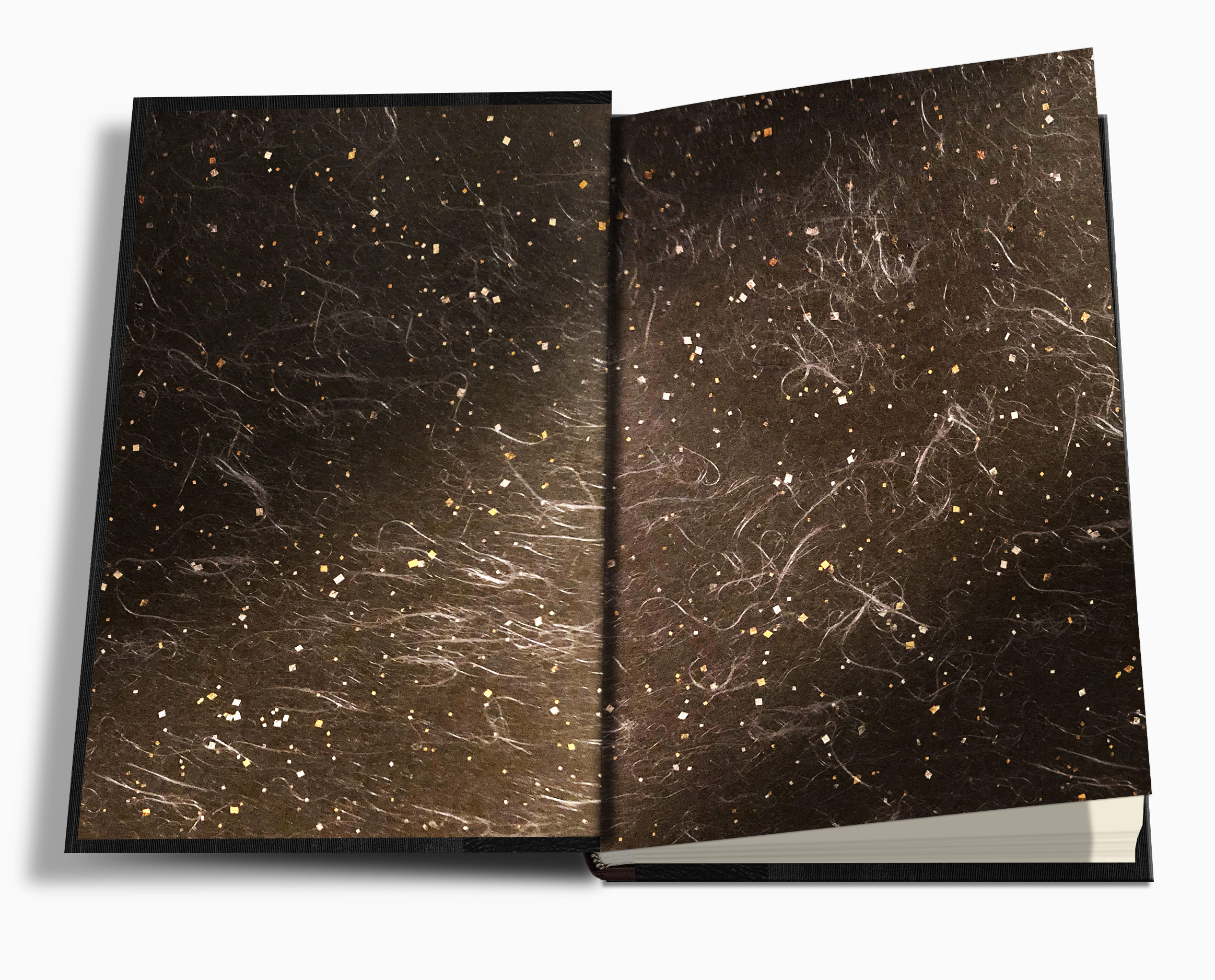 ---
Lettered Edition
The lettered edition is limited to 26 copies for sale, lettered A-Z and is printed letterpress on Moldmade Zerkall paper. It is a full goatskin binding with a foil stamped spine, and glass eyes inset into leather-formed eyelids on the cover. Endpapers are hand marbled in Germany on Hahnemühle Ingres paper. The edition is housed in a custom 'bassinet' enclosure with a rocking bookbed.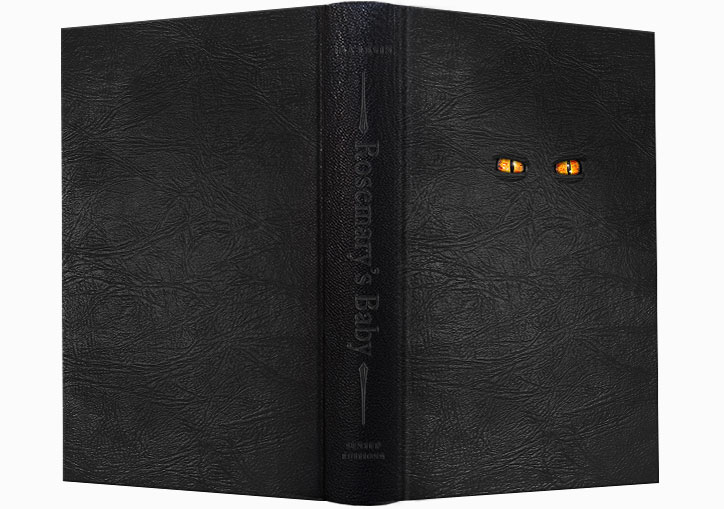 ---
The Bassinet Enclosure
The Lettered edition enclosure is covered in genuine lace-embossed black leather and features an inner bookbed that rocks from side to side. The bookbed is lined with black silk, and a sterling silver cross is suspended from the upper edge of the lid by a black silk ribbon. When the box is opened, the cross hangs above the seated book. The inside of the lid is flounced in black organza.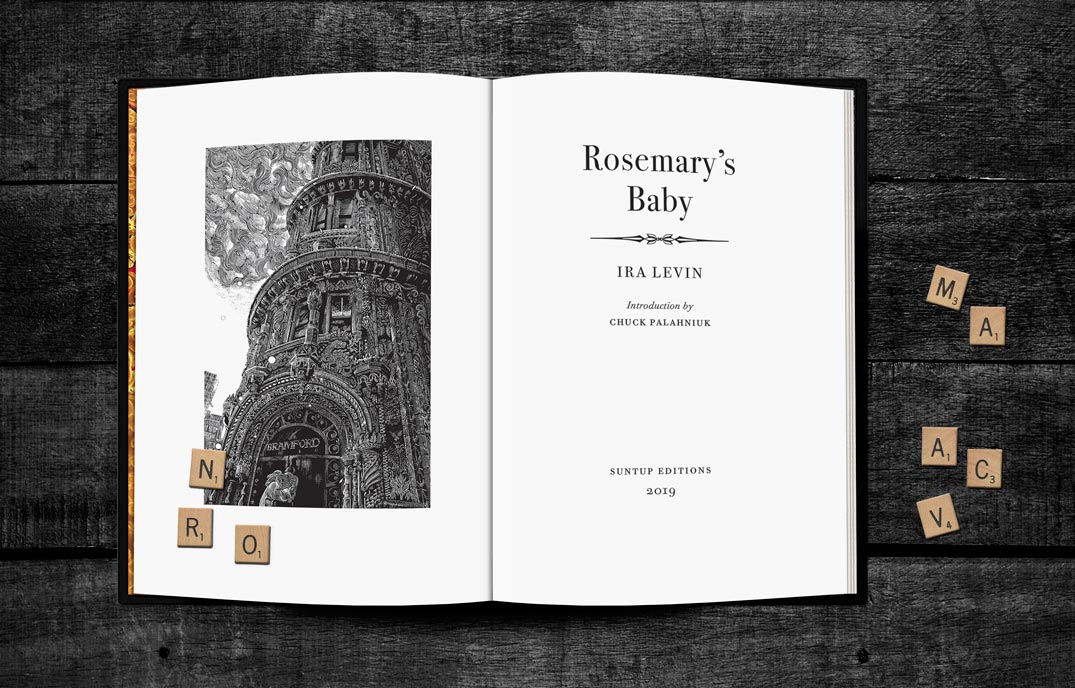 ---
"Ira Levin is the Swiss watchmaker of the suspense novel; in terms of plot, he makes what the rest of us do look like those five-dollar watches you can buy in the discount drugstores."—Stephen King
---
Artist Gift Edition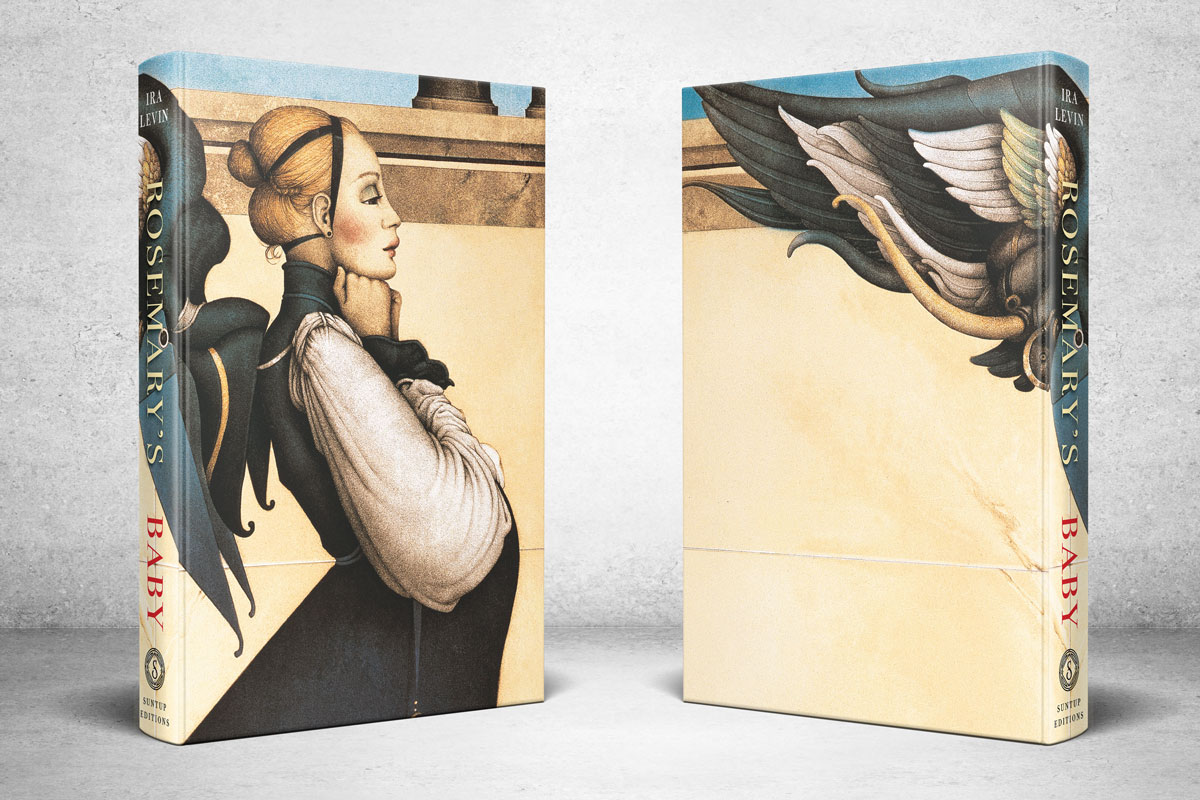 Due to popular demand, an Artist Gift edition is available for pre-order and will be published in the Summer of 2019. This is a full cloth, smyth-sewn binding with a foil-stamped cover and spine. Included are six black & white illustrations by Richey Beckett, and a unique double-sided, full-color dust jacket with wrap-around art created exclusively for this edition. This is the only edition that will have the jacket.
This edition is printed offset, and is signed by artist Richey Beckett. The book is housed in a marbled paper-covered slipcase. All pre-ordered Artist Gift editions will ship with a Rosemary's Baby bookmark. Limited to 500 copies.
---
THE ROSEMARY'S BABY LIMITED EDITION PREMIUMS
— Only Available on Pre-Orders of the Letterpress Editions —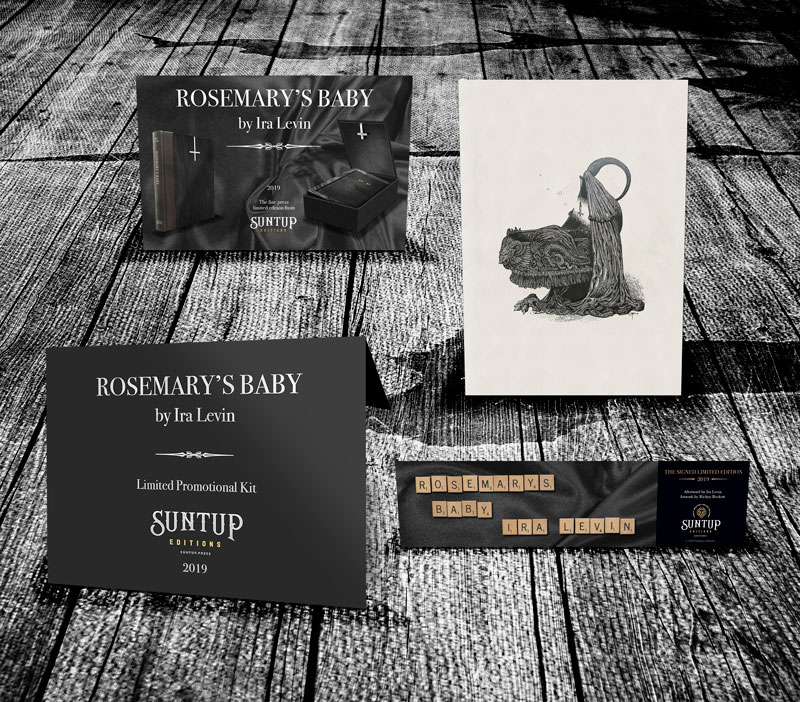 Shipping with every pre-order are these limited edition premiums, which includes a 6" x 9" art print, a 4" x 6" postcard and a UV coated 2" x 8" bookmark, all packed inside a metallic printed envelope.
---
ABOUT THE AUTHOR
Novelist and playwright Ira Levin (1929-2007) was a native New Yorker whose novels include A Kiss Before Dying, Rosemary's Baby, This Perfect Day, The Stepford Wives, The Boys from Brazil, Sliver, and Son of Rosemary. His plays include No Time for Sergeants, Critic's Choice, Veronica's Room and Deathtrap – the longest-running thriller (and fifth longest-running play) in Broadway history. His musical Drat! The Cat! (for which he wrote book and lyrics) yielded the Barbra Streisand classic He Touched Me.
Levin was a graduate of the Horace Mann School and New York University, a longtime Council member of the Dramatists Guild of America, and a frequent contributor to the New York Times letters section, and repeat winner of the New York Magazine Competition. He was the recipient of three Mystery Writers of America Edgar awards (including their highest honor, the Grand Master Award), as well as the Horror Writers Association's Bram Stoker Award for lifetime achievement.
More information on Levin's work can be found at his official website, IraLevin.org, including "Rosemary's Baby Album," an online gallery which celebrates the work's 50th anniversary in 2017, by tracing its development using Levin's own notes, drafts, etc.
rb ornament
CHUCK PALAHNIUK
Chuck Palahniuk is the author of Fight Club and two dozen other works of fiction and/or nonfiction, all of them national or New York Times bestsellers. These include novels, a travel guide, comic books, two coloring books and an essay collection. He's a graduate of the University of Oregon School of Journalism and lives in the Pacific Northwest.rb ornament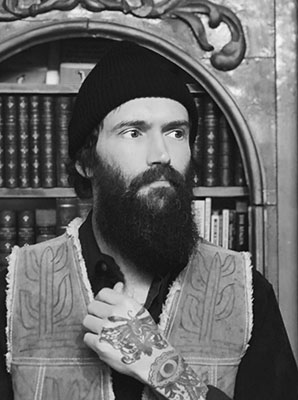 ABOUT THE ARTIST
Richey Beckett is an illustrator, based in rural Wales, UK. Working predominantly in pen and ink, he has gained recognition for his intricately detailed record covers, movie posters, and screen printed artwork.
Beckett uses traditional pen and ink methods to create lavishly detailed pieces of black and white illustration. Taking influence from historic biblical, literary and natural history illustrators and engravers such as Doré, Dürer, Audubon and Bewick, along with the decorative flair of Art Nouveau, he creates his own organic world which expands with each new piece. Richey has created art for Metallica, The Grateful Dead, Mondo (A Game Of Thrones, The Lord Of The Rings, Army Of Darkness), Foo Fighters, Robert Plant, AMC (The Walking Dead) and The British Film Institute.
---
Publication: Summer 2019
Download the Prospectus

Artist Gift Edition

ISBN: 978-1-7328448-3-4
Publication price: $85
Limited Edition

ISBN: 978-1-7328448-1-0
Publication price: $695
(Payment plan available:
Four payments of $173.75*)
Lettered Edition

ISBN: 978-1-7328448-2-7
Publication price: $3,950
(Payment plan available:
Four payments of $987.50*)
---
HOW TO ORDER
Rosemary's Baby will be available for public pre-order on Saturday January 19, 2019 at 9AM Pacific, at which time the order buttons above will be activated. You may also visit shop.suntup.press directly to order.
A payment plan of four monthly payments is available. If you decide to pay with the installment plan, you can save time at checkout by registering your Partial.ly account in advance by clicking here. (This is the service we use to administer the installment payments.) If you already have an account, there is no need to register again.
---
MATCHING NUMBERS & LETTERS
Owners of our previous publication (Horns) will have first refusal rights on Rosemary's Baby. A private pre-order link will be sent to previous owners. If you do not receive the email by the public pre-order date, please let us know. Your order must be received before Saturday January 19, 2019 at 9AM Pacific, at which time ordering will be opened up to the public.
---
---
"The most beautiful book I've ever seen in my twenty-five years in this business." — Claiborne Hancock, Publisher Pegasus Books
---
TEASER VIDEO
---
TRAILER VIDEO
---
Published editions may differ slightly from mockups and prototype designs.
Illustration © 2019 by Richey Beckett
Lettered edition photography by Yegor Malinovskii
* 5% processing fee applies on installment plans