We thought this was too cool to pass up. This month, we are not only releasing Ned Dameron's artwork from THE DARK TOWER III: THE WASTELANDS, but we are also presenting this spectacular mural art by Tony Mauro that graced not one, but eight paperback book covers!
Instead of making a print for all eight covers, and because each of the individual covers form a single wide image when placed side by side, we decided to create a print of each of the two murals!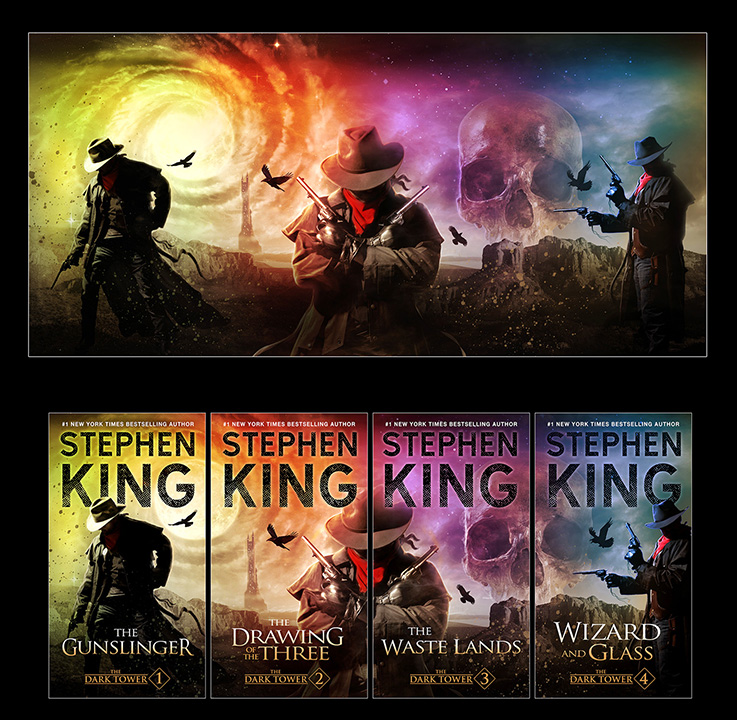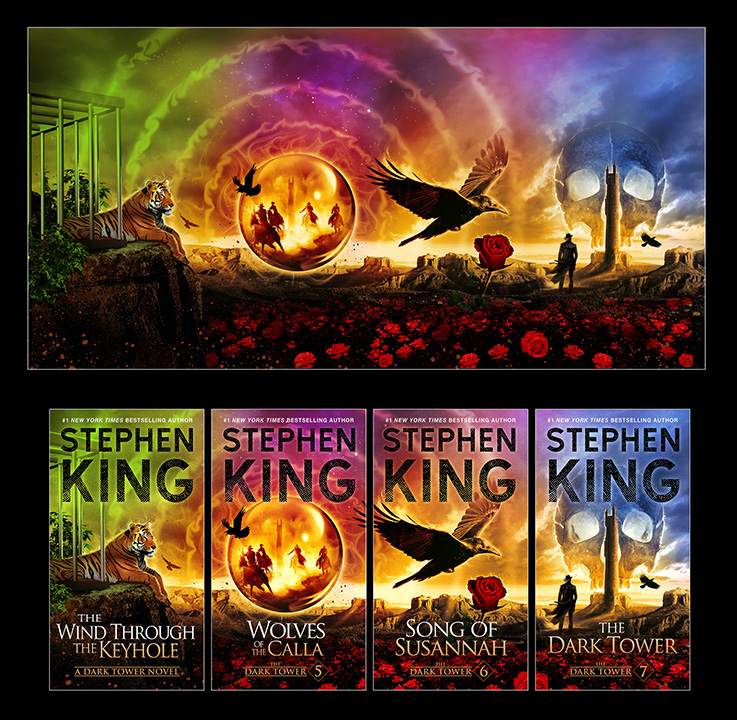 This amazingly vibrant, detailed series was created by Tony Mauro, for the covers of the 2017 paperback re-releases for The Dark Tower I – VII, as well as The Wind Through The Keyhole. When placed side by side, each cover forms part of a wide mural of The Dark Tower goodness! These prints are all SIGNED BY TONY MAURO, and have been sized to fit both the large and small archival folio boxes.
LIMITED TO ONLY 50 COPIES OF EACH SIZE!
The Dark Tower Series Paperback Covers I & II prints are limited to only 50 copies of each size. Both prints are available for pre-order now, and will ship on October 1, 2017.
These prints are a departure from our regular line-up of the cover art from either 1st hardcover editions, or signed limited editions, but they are so great looking that we had to have them as part of the series!
We realize these are being released in the same month as the regularly scheduled print, but the special pricing will make it a little easier on your pocket book!
Large: $120 (Retail), $96 (Subscriber Price)
Small: $65 (Retail), $52 (Subscriber Price)
ATTENTION SUBSCRIBERS
We know you did not sign up for extra prints in the month, so we aren't going to just send them to you and charge you for them.
BUT if you like them as much as we do, and would like to purchase them, simply click here to let us know that you would like the set, and we will bill you for them on August 15th, 2017. They will ship on the release date of October 1st, 2017, together with that month's print.
(As a subscriber, a set of the Large prints will set you back $192, and a set of the Small prints will be $104.)
FREE SHIPPING
We're not going to charge you for shipping on these, because we will include them with your regular print order in October.
Also available for pre-order: The Dark Tower Series Paperback Covers I & II Posters
Free Bonus Print
Tony has designed close to 30 Stephen King paperback covers, and we are including the cover of your choice as a free bonus print with your order! This is a 4″ x 7.5″ giclée print, of the same quality as our The Covers Collection prints. Request the number corresponding to a cover you would like in the notes section when you checkout. Subscribers, submit the contact form and let us know your preference. If we don't hear back, we'll send you one at random.

Available for Pre-Order: August 1, 2017
Release Date: October 1, 2017
Click here to order the Series I print
Click here to order the Series II print
Click here to order the Posters
Illustrations © 2017 Tony Mauro