Bev Vincent has been a go-to source for Stephen King historical context since the earliest days of the Internet. He has authored two books on the subject: The Road to the Dark Tower and The Stephen King Illustrated Companion. In addition to this, he has penned over 200 installments of his News from the Dead Zone, in which he chronicles all forms of King related news. Most recently, Bev has been busy collaborating with King himself, as they co-edit the forthcoming Flight or Fright, a collection of terrifying tales involving air travel that will make even the most seasoned traveler think twice before booking their next flight.
He is also a friend of the King family, a fine writer of fiction in his own right, and a chemist. Bev has been gracious enough to grant us an interview in which he discusses all this and more for our debut installment of Keys to the Kingdom.
---
JS: How did the idea of this collaboration with Stephen King, Flight or Fright come about?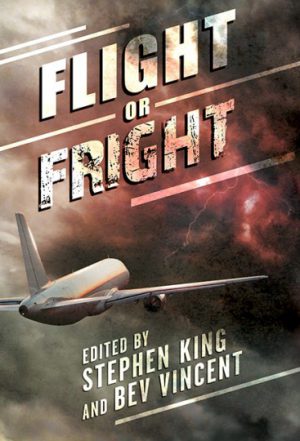 BV: Last summer (2017), radio station WKIT sponsored the Bangor premiere of The Dark Tower. Stephen King's administrative assistant arranged for a group of people to attend, including Robin Furth, Richard Chizmar and his sons, and me. Steve hosted a dinner at a restaurant near the airport and we were all invited to that, too, together with a couple of guys from Sony and some of Steve's friends and family
Attendees flew in from all over, each with a story about their travels. Steve must have heard some harrowing tales, because he approached Rich and me at the long table assembled in the diner and said, "I just had an idea for an anthology: a collection of all the great horror stories about flying. Like the one by Arthur Conan Doyle." He looked at Rich and said, "You can publish it." He paused. "I'll need someone to help me find more stories." To me, he said, "That'll be your job!"
It was one of those moments where we could have said, "terrific idea," and then moved on to something else. But the seed was planted and took root—we did think it was a great idea. We were all thinking "The Langoliers" or "The Night Flier," but I also thought of "Nightmare at 20,000 Feet" by Richard Matheson. Most people know it from the Twilight Zone episode starring William Shatner or the film version with John Lithgow.
I don't think we talked about the idea much more that evening—we were focused on The Dark Tower movie—but when I got back home I started looking for other stories. I soon discovered that googling "scary stories about flying" yielded mostly real-life tales of bad experiences on airplanes, although few are as harrowing as the one Steve recounts in his introduction to Flight or Fright! But I was persistent, and we got suggestions from other people along the way, too.
The anthology took off from there, and now we have this nice collection of stories, most of which I'd never read before we embarked on this project. We originally thought it would be strictly a reprint anthology. Then Steve said he had an idea for a new story and, when he heard about the book, Joe Hill said he wanted to contribute a new story, too.
The response to it has been terrific so far. In addition to the three versions from Cemetery Dance (I can't wait until people get to see the illustrations Cortney Skinner did for the Artist Edition), there's an audiobook in the works from Simon and Schuster audio (I recently recorded my afterword for them, which was a fascinating experience), a trade hardcover in the UK from Hodder & Stoughton, and several translated editions in the works.
JS: What are your personal favorite stories in the collection?
BV: I keep thinking about "You Are Released" by Joe Hill. It's a story that is terrifyingly possible, given recent events. Also, I was struck by the way he handled his characters. We get to see each of them from inside their own heads and then again from the perspective of other characters, allowing us to consider the humanity of someone we might first have considered vastly different from us in attitude or appearance. I was so struck by that approach that I used a variation of it in the next story I wrote.
There's a reason we decided to open the anthology with "Cargo" by E. Michael Lewis. I guarantee that story is going to give people nightmares. It was one of our earliest finds and although I've read it several times in the past year, it creeps me out every time. One of the stranger stories is "Lucifer!" by British author E.C. Tubb. There's a long setup before the main character gets on a plane, but it's worth the ride. He's one of the ugliest, cruelest protagonists I've encountered, but you still feel bad for what happens to him at the end!
JS: Can you tell us a little about the genesis of your own short story in Flight or Fright?
BV: "Zombies on a Plane" was written for the 2010 anthology Dead Set, edited by Michelle McCrary and Joe McKinney and published by 23 House, a small press in Jefferson, Texas. I don't write much zombie fiction, and when I do, there usually aren't many zombies in those stories, just people affected by the apocalypse. Another example of that is my story "Sitting Up with the Dead," about people waiting in a graveyard for loved ones to emerge from the ground.
I can't recall exactly how I came up with this idea, but the title came first. Snakes on a Plane (which I've never seen, by the way) came out in 2006 and Samuel L. Jackson's polysyllabic epithets quickly entered the common consciousness. So I decided to riff on that movie title and the story followed. I don't think I spelled it out in the previously published version of the story, but it's set in and around Halifax, Nova Scotia, where I went to university. Reading it eight years later, I couldn't resist the temptation to revise it a little.
JS: Let's go back to the beginning. What was the first Stephen King book you ever read, and how did it affect you? Were you instantly a Constant Reader?
BV: The first King book I read was 'Salem's Lot. This was in 1979, my first year at university. A mile from campus, there was a second-hand bookstore called Back Pages that I visited almost every Saturday morning. At the time I was reading mostly science fiction and fantasy, not horror, although I'd read Poe at an early age. I was more into authors like Stephen R. Donaldson, Isaac Asimov, Robert Heinlein and Piers Anthony. The paperback caught my eye—it was on a wire rack near the checkout—so I added it to the stack of books I'd selected that day. I vaguely remembered hearing someone talking about the book a year or two earlier, and that black cover with the embossed face and a stark drop of blood intrigued me.
I was swept away by that novel. It was a vampire book that didn't bring the vampires on-stage until well into the story, and it was about normal people living in a town slightly larger than the one where I grew up, not in an Eastern European castle or in gothic, foggy England. The characters were so vivid, even the minor ones. When one of the main characters died, I was heartbroken.
So, yes, I instantly became a Constant Reader. I've always been a completist—when I find an author or a musician I like, I get everything by them. So I went to the library and found all of the earlier King novels—there weren't many in 1979—and I was hooked. It got to the point where I could no longer wait for the paperback to come out: Cujo was the first hardcover book I ever bought—I was a poor undergrad, remember, so it was a luxury. I also wrote a fan letter to King around then, the first time I'd ever done something like that. And he wrote back!
JS: When did you first start writing about King? Can you remember the first piece you ever wrote on his work?
BV: I was a frequent contributor to the USENET newsgroup alt.books.stephen-king. This was the 1990s analog to Reddit (without the up- and down-voting process). There were newsgroups for just about any topic you could imagine. The King group was one of the most active author groups. Often, people would ask questions about characters or events in King's books (no Google back then—search engines were rudimentary at best). I'm the kind of person who, if I don't know the answer and no one else seems to, either, I'll look it up. Stephen Spignesi's massive encyclopedia, The Shape Under the Sheet, was my main reference, and it made me seem like I knew a lot more than I did. So I started getting a reputation as a know-it-all about King, and that blossomed in a number of ways.
I can't remember how he first reached out to me—probably by e-mail—but in 2001 Richard Chizmar was relaunching Cemetery Dance after a hiatus and he asked if I'd be interested in writing the column of Stephen King news, reviews and commentary that appears in each issue of the magazine. Here was a chance to get paid to do what I was doing for free on the newsgroup, and to reach a wider audience, so I leapt at the opportunity. My first News from the Dead Zone essay was 6500 words long—I had a lot of catching up to do! It previewed Dreamcatcher and discussed "The Plant," anticipated the pending publication of Black House and explored what little was known about the fifth book in the Dark Tower series, which King was calling The Crawling Shadow at the time. In addition to a long series of "Zone Notes" about recent and pending King-related news, I debuted a regular feature called "Outside the Zone," in which I mentioned another writer whose work I thought readers of the column might enjoy, starting with Graham Joyce.
I've written over forty News from the Dead Zone essays since then, the first in a pre-9/11 world. A few years ago we added a web-based version. That column gave me a platform and a track record that greatly facilitated my subsequent book-length works.
JS: Have you read every Stephen King book at this point? Be honest, now. We'll know if you're lying!
BV: I have read every single Stephen King book and story in print. I haven't read all the unpublished works—the ones that are archived at the University of Maine—but I have read a few of them. I also have a significant digital library of interviews and essays that comes in handy when I'm working on something like Rich Chizmar's Stephen King Revisited project, where I contribute historical context essays as he writes about each book.
JS: What is your favorite King book of all time and why?
BV: I'm not a "favorites" person. I have a hard time nailing down one or even a handful of favorites, and I couldn't do a top ten list to save my life. How does someone decide that this is number six and not number seven? I don't think that way. When pressed, I usually fall back on 'Salem's Lot, because it was the first, and the one that got me hooked, but I could toss out any number of his novels, citing them for different reasons. Bag of Bones, for example, was a novel I enjoyed immensely and think about often. And, of course, The Gunslinger, which I first read in 1983 and reread several times before the second Dark Tower book came out and countless times since. I love that book's mood.
JS: What are some of your favorite non-King related books?
BV: Again, that's a tough one, and I don't have a ready list of favorites. Even tougher, because you're asking me to narrow down from the thousands of books I've read in my lifetime! I've read somewhere between 50 and 100 books a year for most of my life, so that's a lot to process. If you want to get an idea of what I read, check out my book review blog at onyxreviews.com. It has over 500 reviews and if you look at the listing by author, you'll get an idea of the writers I return to over and over again. In general, I read mostly crime fiction these days, along with straight (or literary) fiction. Not much horror, although I do return to that genre from time to time. I binged on horror in the 1980s, especially after Danse Macabre came out with those great recommended book and movie listings at the back.
Instead, let me mention a few books I've read recently that I enjoyed. Laird Barron is mostly known for horror and dark fantasy, but his latest, Blood Standard, is a noir crime novel that I thought was terrific. I was taken by surprise at how good Krysten Ritter's novel Bonfire was. She's best known as Jessica Jones and as Jessie's doomed girlfriend on Breaking Bad. I'd definitely pick up another book by her if she writes one. Megan Abbott and Sarah Pinborough both have terrific books out this year, as do Michael Koryta and Linwood Barclay. I also enjoyed Michael Ondaatje's new one, Warlight.
JS: Can you tell us a little bit about the first time you met Stephen King?
BV: I was living in College Station, Texas for a few months during the winter of 1987-88. This was after I finished university and before I moved to Switzerland (see below). At that time, I'd been reading King for nearly a decade, but he'd never had a signing anywhere close to where I was living. Not long after I got to Texas, I saw an ad for a signing at the River Oaks Bookstore in Houston, about 100 miles away. I took the day off from work and caught the Greyhound bus into the city. I was quite naïve about Houston back then: I walked from the bus station to River Oaks, crossing some questionable terrain in the process!
The event was part of King's tour to promote The Ideal, Genuine Man by Don Robertson, a book he published through his Philtrum Press. It was the only book King would sign, even though The Tommyknockers had been released recently. There was a long queue outside the store by the time I arrived. I went inside and bought a copy and joined the line. It took hours to get back inside. King and Robertson were at a table upstairs near the railing, looking down on people. I recall King excusing himself to go to the bathroom at one point and loudly announcing, "Everything came out all right!" when he returned.
A store employee was taking photographs when customers reached King, but I didn't have the foresight to arrange for one, so I only have a few pictures of King and Robertson, but none with me in them. I don't recall much about the few seconds I got to spend with the authors, but I still have that signed copy in my collection. One nice thing about King fans is how friendly they are—a guy I'd talked with in line offered to drive me back to the bus station, sparing me that long walk across the city in the dark!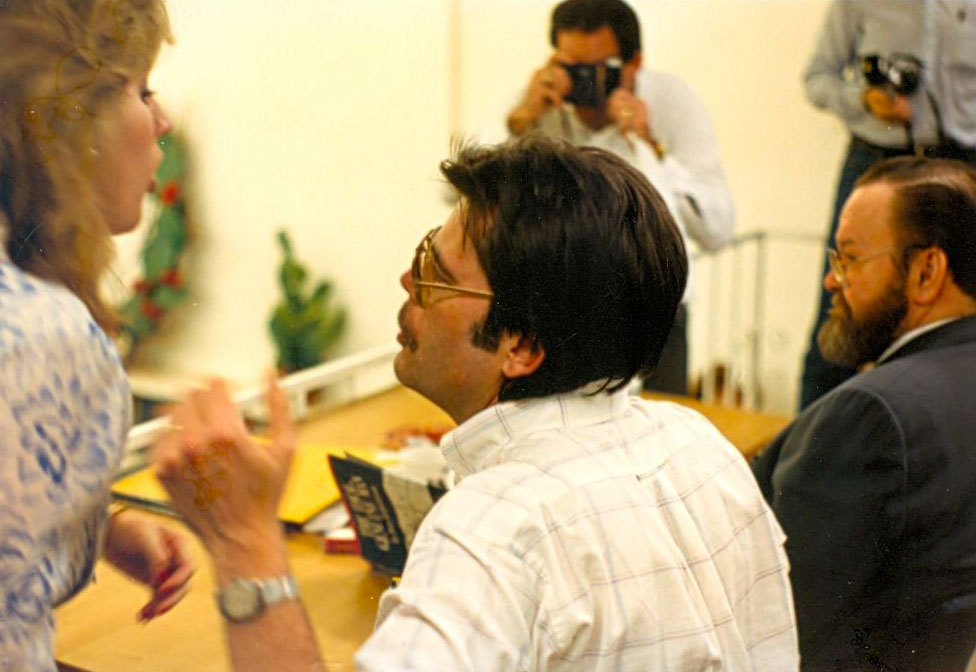 Stephen King (left), Don Robertson (right) taken at River Oaks Bookstore signing on January 29, 1988.
JS: What has been your most memorable experience with King in all your years of knowing him?
BV: About 20 years ago, my wife and I spent an evening with the Kings at their house in Bangor. We were traveling back to Canada to visit my parents and received an invitation to drop in as we were passing through Bangor. At the time, Tabitha King and I were regular email pen pals, so most of the visit was with her (and Marlowe, their Corgi), but Steve—who was out with Owen at a cribbage tournament when we arrived—joined us later and he and Tabby took us on a tour of his office. I also went with him to pick up Owen after the tournament ended, and Joe was around the house, too, dropping in from time to time to talk about something he was reading. It was a night I'll never forget, for sure.
JS: One of your books is The Road to the Dark Tower. In a word or two, how did you feel about the way The Dark Tower series ended, without giving away any spoilers for anyone?
BV: I read the last three Dark Tower books back-to-back-to-back in manuscript. I had audaciously asked if I could read the first drafts so I could complete The Road to the Dark Tower in time to be published shortly after book seven, and Steve graciously agreed. So I had this 2500-page stack of pages that I tore through as fast as I could, transferring sheets from one pile to the other. I must have had 200 or so pages left on that last morning. I didn't expect to finish the book in that reading session, but I couldn't stop—I made myself late for my day job! I remember an immense feeling of satisfaction when I got to the final page. It was as perfect as I could have imagined: unexpected, devastating but ultimately the only way it could have ended, in my opinion.
JS: If someone were to want to read something non-King related by you, some of your own writing — what would your first suggestion be?
BV: My story "The Bank Job," which won the Al Blanchard Award, was published in an anthology of New England crime stories called Thin Ice. I've revisited those hapless characters in a couple of other stories ("Sticky Business," for example), so that would be a good place to start. Or "The Honey Trap" in the MWA anthology Ice Cold—a Cold War caper that was nominated for an ITW Thriller Award. Readers also have a couple of options for samplers: there's a Cemetery Dance Select eBook that has four of my previously published stories, and Dark Arts Books published a collection called When the Night Comes Down that has four stories by me, as well as multiple stories from three other authors.
JS: It mentions on your Wikipedia page that you are also a chemist? Is this true? How did you get into that line of work?
BV: Yes, I have a PhD in chemistry from Dalhousie University. My specialization is a field called X-ray crystallography. After I finished my doctoral degree, I spent a couple of years in Switzerland as a postdoctoral researcher. I've been working for a company in Texas that sells analytical X-ray instrumentation for nearly 30 years. Oddly enough—to me at least—I have never written about a character who is an X-ray crystallographer.
JS: I have some questions from my social media followers if you'll indulge us just a few more queries. Kit asks: What King sequence disturbed you the most, and why?
BV: I have two. The most recent would be the final section of Revival, which really messed with my head. It was such a bleak thing for the main character to realize and have to live with. A terrible image. The other was what happened with Gage Creed in Pet Sematary. Once I realized what Louis was going to do, I had to put the book down for a while. That had never happened to me before, and I can't recall that it has since. I knew where the story was going and I wasn't prepared to confront that right away.
JS: Sandra says your stories are very graphic, and it's true they paint a vivid picture. She would like to know: From where, who or what do you draw inspiration?
BV: Inspiration is a funny thing. Story ideas come from everywhere. They're as prevalent as the molecules in the air we breathe. Hardly a day goes by when I don't see or hear something that makes me think: that would be a neat idea for a story. However, that initial idea isn't enough for me to start a story. It's just a concept. A clothes hanger with nothing to suspend from it. Generally, before I start a story, I need a couple of ideas that somehow work together. Here's an idea: a house that makes sad sounds. This came from a beach vacation we took recently where the filtered water tap emitted a mournful sound every time we used it, and the coffee pot moaned, and a couple of other things like that. The house sounded sad. A neat idea…but where does it go? I'm still waiting for another piece of inspiration to go with it. Then I need to know at least one character: who is she and what does she want? Armed with that, I can usually take off. The rest is a kind of magic—words that appear in my mind out of the ether. I can't explain it any better than that.
JS: One last question, Bev. Both as a writer and as a reader, what keeps you returning to the subject of King over and over again?
BV: As a reader, that's easy—King is one of the best storytellers of the modern era. I often say I would continue to read him if he started writing romance novels, because I know the stories would be entertaining and the characters would be vivid and relatable.
I continue to write about King mainly because people ask me to! I probably wouldn't have written The Stephen King Illustrated Companion if a publisher commissioned by Barnes and Noble hadn't asked me to. Stephen Spignesi asked me to contribute an essay to his upcoming book American Master, and an editor with the Poetry Foundation asked me if I'd be interested in writing an essay exploring King's relationship to poetry. That latter one intrigued me and was a voyage of discovery, and I'm pleased with how it turned out. There are always new angles to consider, like the essay I wrote for Reading Stephen King about King as a crime writer, which arose out of a discussion I had with Hank Wagner. Besides, King keeps gifting us with new books and stories, and we are currently in a new golden era of film/TV adaptations, so there is a lot to explore.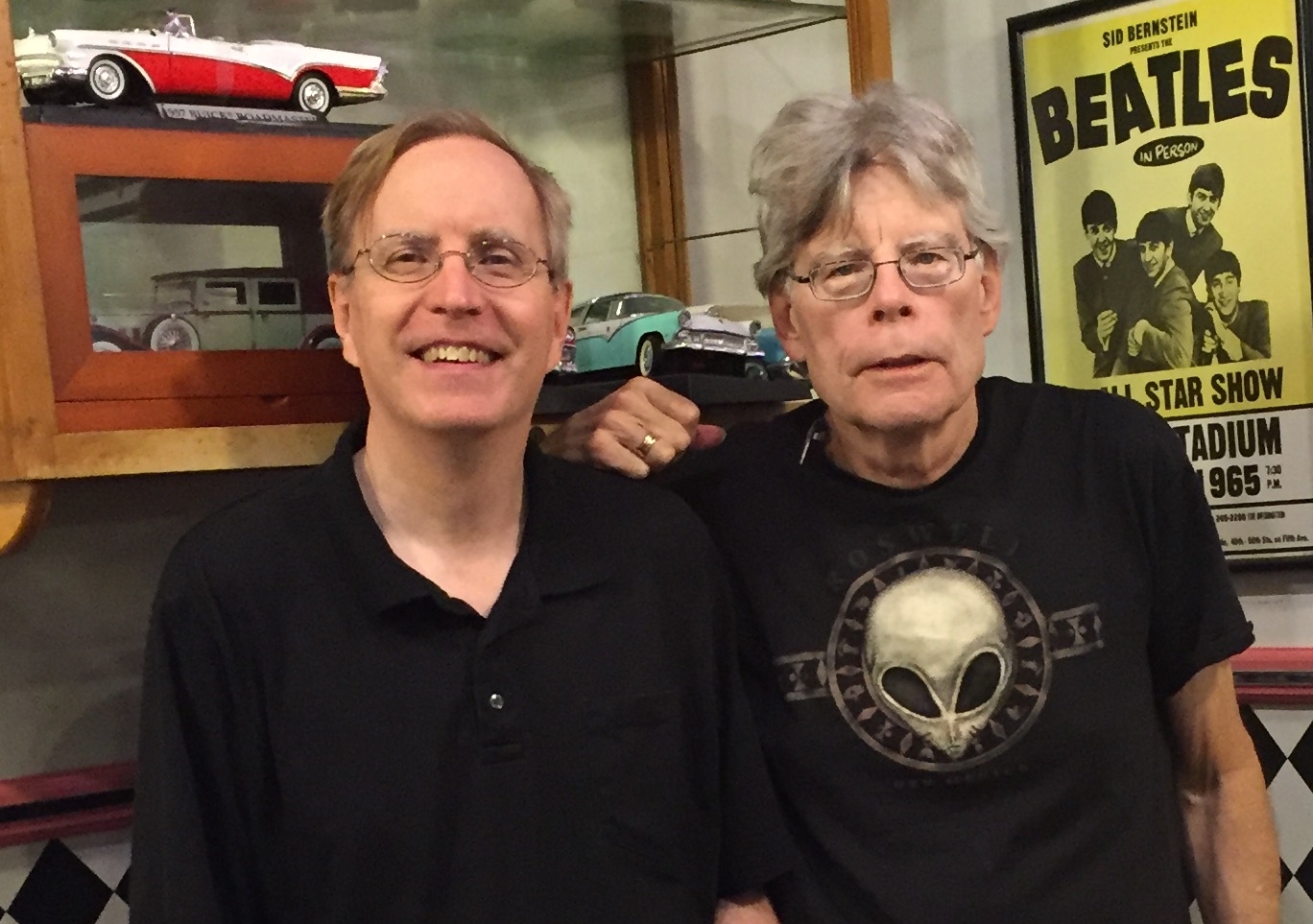 Bev Vincent and Stephen King – Bangor, Maine 2017.
Next month: Stephen Spignesi, author of The Complete Stephen King Encyclopedia, The Stephen King Quiz Book, and more talks about his history as a Constant Reader and his latest book, Stephen King American Master. Stephen will take my questions and yours! Email me your questions for Stephen at sechrestthings@gmail.com.