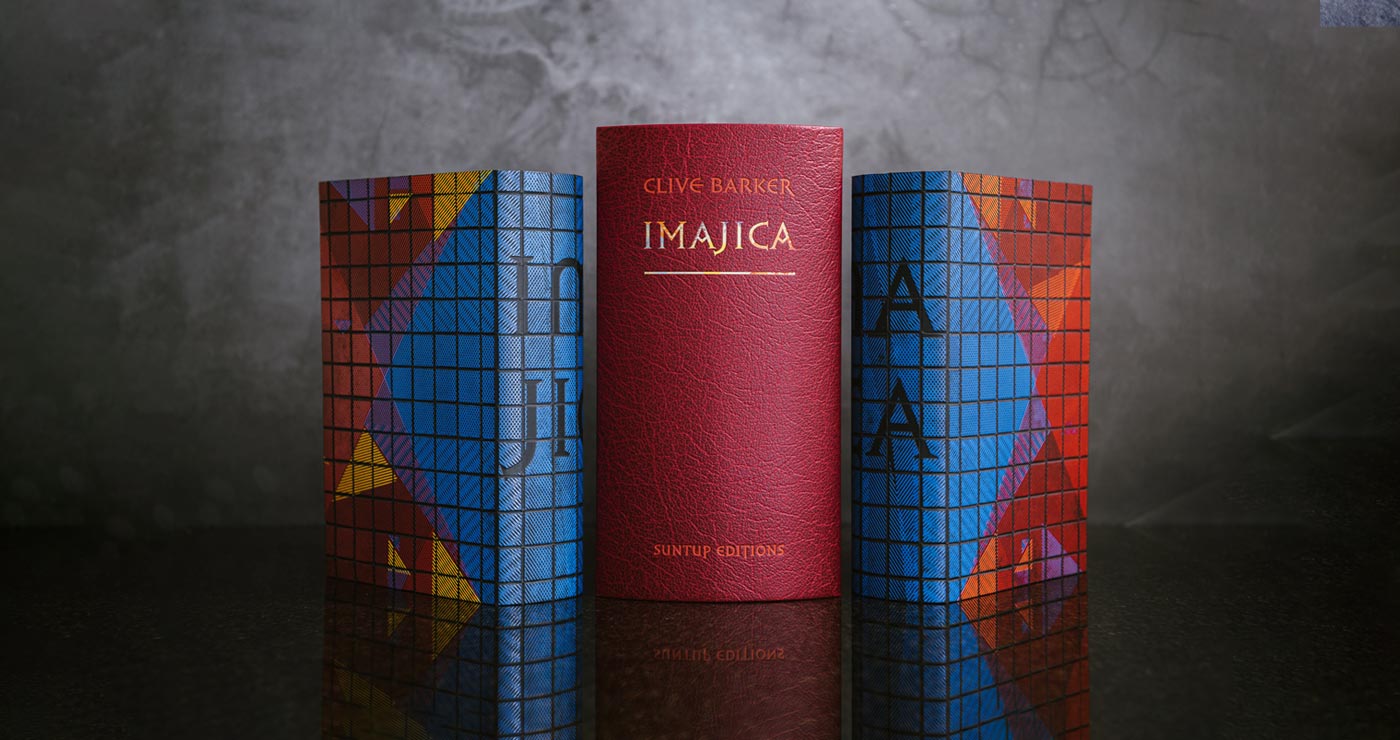 Imajica
Clive Barker
Introduction by Clive Barker
Illustrations by Jody Fallon
Afterword by Phil & Sarah Stokes
An exhilarating journey through sprawling worlds inhabited by wonderfully strange creatures, Imajica is an astonishing feat of the imagination, straight out of the nightmares of Clive Barker. Published in 1991, this year marks the 30th anniversary of this epic fantasy of myth, magic and forbidden passion.
Vast in conception, meticulously detailed in execution, and apocalyptic in its resolution, Imajica is a tale of ill-fated lovers lost among worlds teetering on the edge of destruction. Gentle is a sensualist and master art forger whose life unravels when he encounters Judith Odell, a woman whose power to influence the destinies of men is greater than she knows, and Pie 'oh' pah, an alien assassin who comes from a hidden dimension, one of five in a great system known as Imajica. As Gentle, Judith, and Pie 'oh' pah travel the Imajica, they uncover a trail of crimes and intimate betrayals, leading them to a revelation so startling that it changes reality forever.
Upon its release, the novel received high praise from critics and readers alike. Washington Book World raved, "Rich in plot twists, byzantine intrigues and hidden secrets, Imajica is a Chinese puzzle box constructed on a universal scale. Barker has an unparalleled talent for envisioning other worlds."
Many of the ideas for those worlds came to Clive Barker in dreams. The author was so inspired, he worked at an intense pace to complete the novel in fourteen months, writing up to sixteen hours a day, seven days a week. Barker has frequently named the book his personal favorite of all his writings.
---
About the Editions
The signed limited edition of Imajica by Clive Barker is presented in three states: Lettered, Numbered and Artist. The text is set in Aldus Nova with Sophia for display and the editions measure 6" x 9". Included are seventeen full color illustrations by Jody Fallon, an introduction by Clive Barker from the 1995 edition, and a new exclusive afterword by Phil & Sarah Stokes. All editions feature a letterpress printed title and section divider pages printed on Hahnemühle Bugra with gold foil stamping, as well as 70 pages of bonus content. The Numbered and Lettered editions are signed by the author and all contributors, and the Artist edition is signed by the artist.
Artist Edition
The Artist edition is limited to 1000 copies with a dust jacket illustrated by Jody Fallon. It is a full cloth, smyth sewn binding with four-hits foil stamping. Title and section divider pages are printed letterpress on grey Oxford paper and are foil stamped. It is the only edition of the three with the dust jacket, and is signed by the artist. The edition is printed offset and is housed in a color shifting paper covered slipcase with an acrylic coating.
Numbered Edition
The Numbered edition of 350 copies is a quarter leather binding with Japanese cloth sides. The front cover is adorned with a four-hit foil stamped design and features leather capped fore-edges. The title page, section divider pages and colophon are printed letterpress on Hahnemühle Bugra with gold foil stamping, and the edition is printed offset on premium laid paper. The edition is housed in a cigar-stye enclosure covered in Japanese cloth, and is signed by Clive Barker, Jody Fallon and Phil & Sarah Stokes.
Lettered Edition
The Lettered edition is limited to 26 copies and is published in two volumes. It is a 'Pixel' binding, with hot foil stamping on the covers. The pixel binding is a novel binding structure developed by Ben Elbel in which the boards and spine are made up of multiple squares (the 'pixels'), and allowed to hinge with one another resulting in a semi-flexible feel and excellent opening of the text-block.
The design is loosely based on the Euclidian shapes depicting colored geometric figures which appear throughout the book. Solid color areas are turned into webs of thin parallel lines, and shapes are duplicated and arranged in a composition evocative of a magical gateway to a parallel universe.
Three foil colors are used on the cover, and where they overlap, new colors emerge. The spine features the title in color tooling, complete when both volumes are together. The bindings feature leather headbands and suede-like flyleaves. The title page, section divider pages and colophon are printed letterpress on Hahnemühle Bugra with gold foil stamping. The edition is printed offset on premium laid paper and is housed in a large quarter buffalo clamshell box with a round spine and multicolor lettering.
---
---
Bonus Content
Manuscripts & Notes: 22 pages of manuscript scans and handwritten notes.
Illustrated glossary compiled by Hans Rueffert with illustrations by Richard Kirk.
A Note on the Euclid Diagrams used throughout the text.

---

Diagrams from the Byrne Euclid of 1847

Featured in our edition of Imajica by Clive Barker are some of the colorful illustrations from Byrne's edition of the elements of Euclid. Editions of Euclid had been published for centuries when Byrne's edition of the first six books of Euclid appeared in 1847, published by Pickering. The first printed edition of Euclid's treatise on geometry, printed by Erhard Ratdolt in Augsburg in 1482, is, like Byrne's production of more than three centuries later, often cited by scholars as one of the most beautiful books published in the 19th Century. It includes what are now iconic illustrations of various geometric shapes; colorful diagrams illustrating Euclid's principles. These geometric shapes relate to the author's vision of featuring diagrams representing the characters of the Eternal Three. A more detailed note on the diagrams from the Byrne Euclid of 1847 is included with this edition.

---

---

Matching Numbers & Letters

A Matching Pre-Order email is sent to owners of our previous publication (The Island of Doctor Moreau) at 9:00 A.M. PT on the day of announcement. If you did not receive the email, contact us here. If your order is not received before the deadline, your designated number or letter will be assigned to the new owner.

---

Order Limits

Please be aware of the order limits for our editions. You can read more about this in the Order Limits article on our support site.

---

Illustrations by Jody Fallon