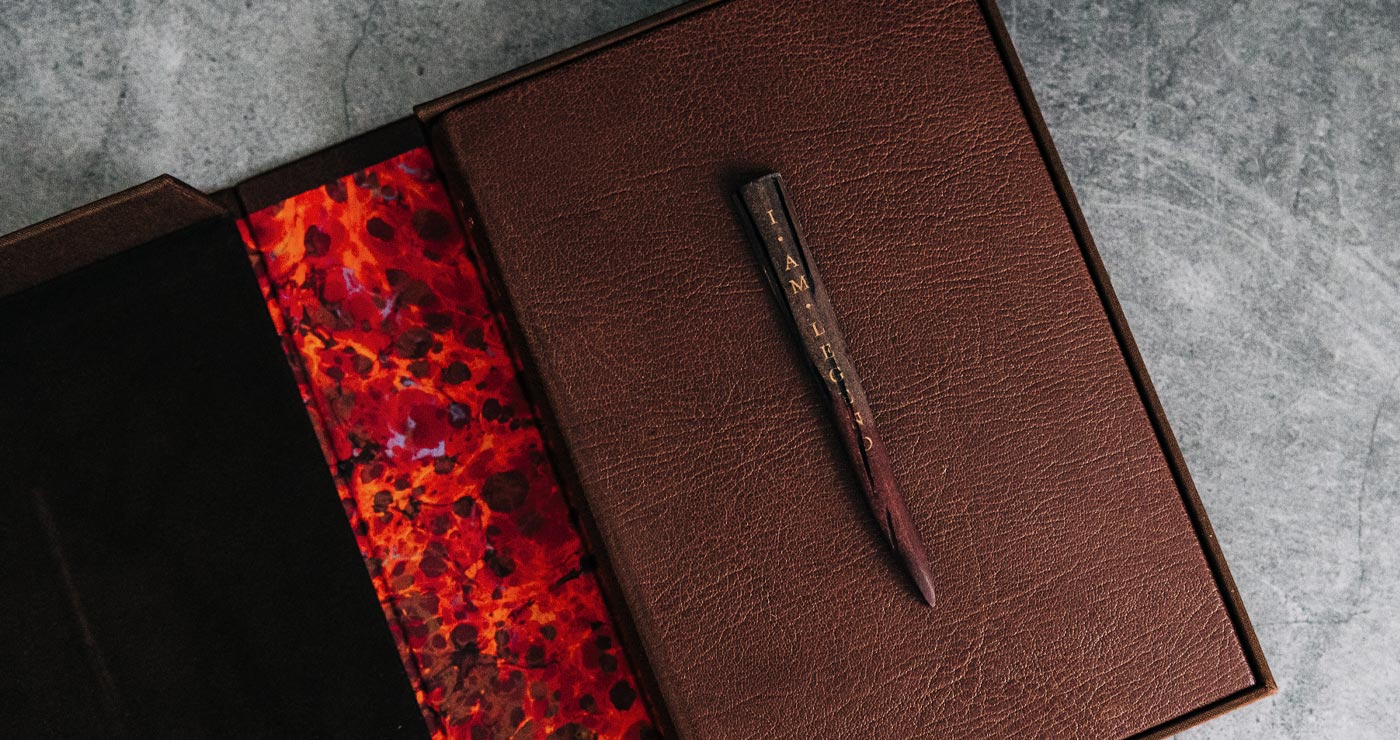 I Am Legend
Richard Matheson
Illustrated by Allen Williams
"This may be the most terrifying novel you will ever read."
This quote from mystery writer William Campbell Gault graced the first edition cover of what would become one of the most influential and adapted works of the 20th century. Originally published in 1954, Richard Matheson's I Am Legend ushered in a different kind of novel, defying and transcending genre to combine elements of horror and science fiction within a post-apocalyptic frame.
I Am Legend is the story of Robert Neville, who appears to be the sole survivor of a pandemic that has turned the human race into a crossbreed of zombies and vampires. Robert must hunt by day, hide by night, and most importantly, survive.
In 2012, the Horror Writers Association gave I Am Legend the special Vampire Novel of the Century Award. The novel and Richard Matheson are often credited for creating the zombie-vampire genre.
---
About the Editions
The limited edition of I Am Legend by Richard Matheson is presented in three states: Lettered, Numbered and Artist Gift editions. The editions measure 6" x 9" and feature six black & white illustrations by award winning artist Allen Williams. The text pages are set in ITC Veljovic with the Numbered and Lettered editions printed letterpress by Bradley Hutchinson on his Heidelberg Cylinder in Austin, Texas. Title, chapter and section pages are printed with an additional spot color, and all copies are signed by the artist.
Lettered Edition
The Lettered edition is limited to 26 copies and is a full goatskin binding featuring a handcrafted wooden stake affixed to the cover which is laser engraved with the title. The spine is foil stamped, and endsheets are hand marbled on acid free Fabriano Ingres. The edition is printed letterpress on Hahnemühle Biblio mouldmade paper featuring a deckled fore edge. Title, chapter and section pages are printed with an additional spot color, and the edition is housed in a quarter leather clamshell enclosure with a marbled paper cover.
Numbered Edition
The Numbered edition of 250 copies is an elegant quarter vellum binding with Spanish marbled boards and foil stamping on the spine. The edition is printed letterpress on Teton paper with a deckled fore edge. Title, chapter and section pages are printed with an additional spot color, and the edition is housed in a unique cloth and paper covered slipcase. Each copy is bound by hand.
Artist Edition
Signed by Allen Williams, the Artist Gift edition is limited to 1000 copies and features a dust jacket with cover art by Stanley Meltzoff (1917-2006) from the original 1954 edition. It is a full cloth smyth-sewn binding with two-hits foil stamping, and printed endsheets. It is the only edition of the three with the dust jacket. The book is printed offset, and is housed in a printed slipcase with cloth on the upper and lower sections.
---
I Am Legend Premiums
Shipping with every pre-ordered copy of the Numbered and Lettered editions of I Am Legend is this limited premium set of a 6" x 9" print, a 2" x 8" bookmark and printed envelope. All Artist Gift edition orders receive the bookmark.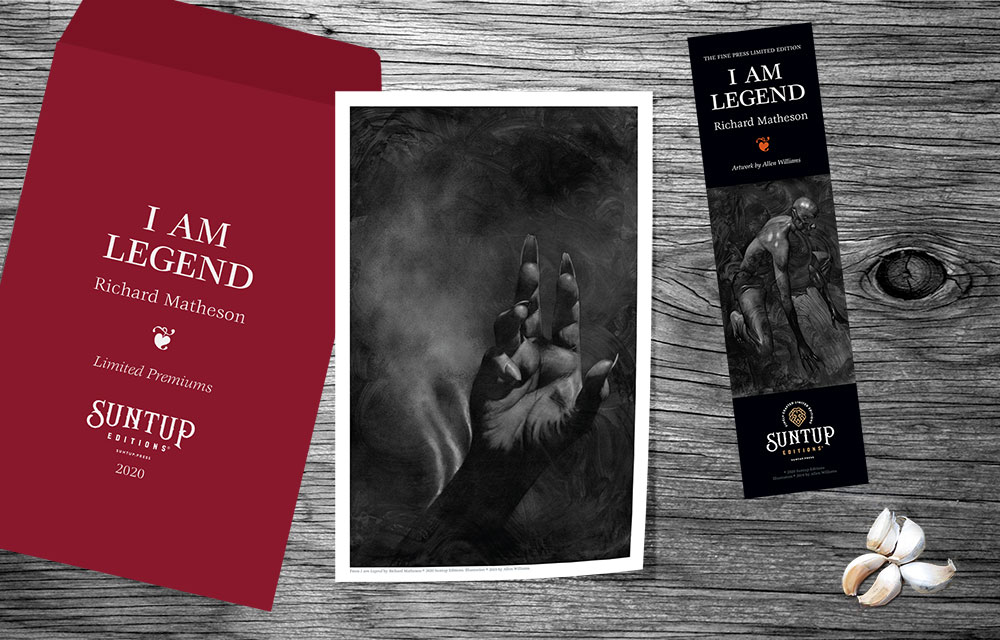 About the Collaborators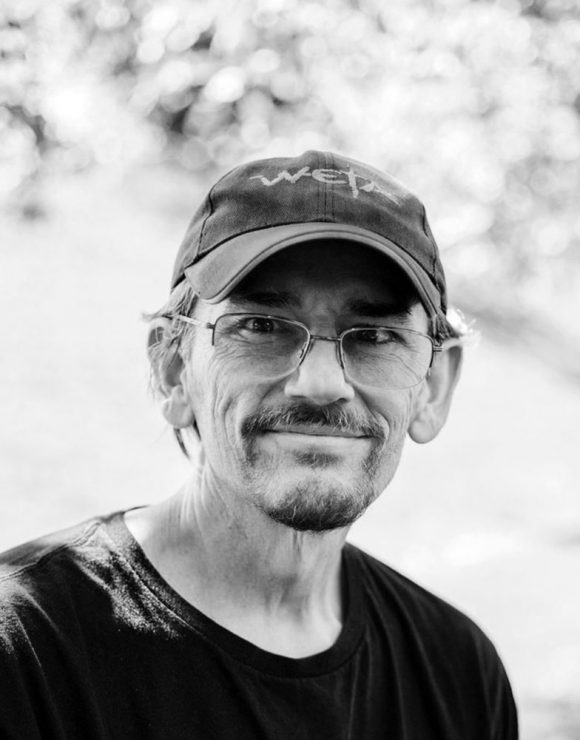 Allen Williams
Allen Williams is an award winning illustrator, concept designer and fine artist. From a young age a pencil and paper was an escape and a refuge for Allen. Now nationally and internationally known, for over 28 years Allen has applied his talents to everything from illustration for gaming companies and book covers, to concept work for major motion pictures and television. His vision for such projects ranges from illustration to concept work and creature and character designs.
---
Matching Numbers & Letters
Owners of our previous publication will have received a private pre-order link. If you did not receive the email, simply place your order before the book goes out of print and we will match your number. To ensure you get matching numbers please make sure that you checkout using the same email address you used on your previous order.
---
Illustrations by Allen Williams
---
Teaser Video
Published editions may differ slightly from mockups and prototype designs.
Illustration © 2019 by Allen Williams.
Artist Gift edition cover art by Stanley Meltzoff © 2020 Silverfish Press.
*Payment Plan Options: Learn more
here
.