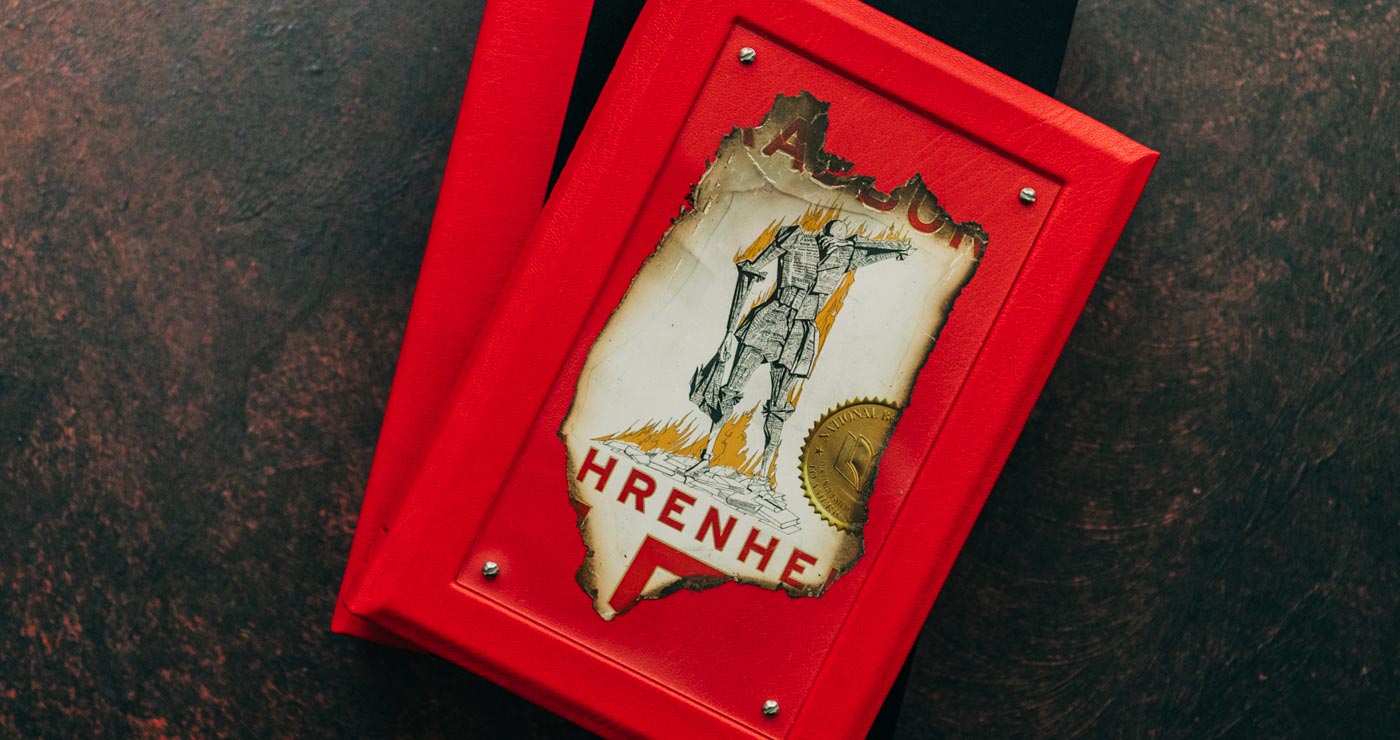 Fahrenheit 451
Ray Bradbury
Introduction by Neil Gaiman
Illustrations by Julia Griffin
Dust jacket art by Michael Whelan
This year marks the Centennial of Ray Bradbury's birth, and to celebrate the life and work of this beloved and visionary author, Suntup Editions is delighted to announce a fine press limited edition of Fahrenheit 451.
Highly regarded as Ray Bradbury's masterpiece, Fahrenheit 451 depicts a dystopian society in which all books are outlawed and burned. The novel follows the personal evolution and journey of Guy Montag, from a fireman for whom it is a pleasure to burn books, to a man disillusioned with the censoring of knowledge and dedicated to the preservation of literature.
In a 1956 interview, Bradbury said, "I wrote this book at a time when I was worried about the way things were going in this country four years ago. Too many people were afraid of their shadows; there was a threat of book burning. Many of the books were being taken off the shelves at that time."
Bradbury has also described the book as a commentary on resistance to conformity, and how mass media can create a lack of interest in reading literature.
Though considered one of the greatest science-fiction novels of all time, much of Fahrenheit 451 has become science-fact. The novel predicted earbud headphones, flatscreen televisions, and 24-hour banking machines.
In 1954, Fahrenheit 451 won the American Academy of Arts and Letters Award in Literature and the Commonwealth Club of California Gold Medal. It later won the Prometheus "Hall of Fame" Award in 1984, and a "Retro" Hugo Award in 2004, one of only seven Best Novel "Retro" Hugo Awards ever given.
Learn more about the Ray Bradbury Centennial.

---
About the Editions
This edition of Fahrenheit 451 by Ray Bradbury is presented in three states: Lettered, Numbered and Artist Gift editions. The text is set in Melior with the Numbered and Lettered editions printed letterpress by Bradley Hutchinson in Austin, Texas on his Heidelberg Cyliner. The editions measure 6" x 9" and feature six full color illustrations by Julia Griffin, as well as an introduction by New York Times bestselling author Neil Gaiman, which originally appeared in the 50th Anniversary edition. The Artist Gift edition features an illustrated dust jacket by Michael Whelan.
Also included is a 77-page bonus section on the history, context and criticism of the novel edited by Jonathan R. Eller; as well as Bradbury's short story The Pedestrian and his novella The Fireman, which later evolved into Fahrenheit 451. The Lettered and Numbered editions are signed by Neil Gaiman, Julia Griffin and Jonathan R. Eller. The Artist Gift edition is signed by Julia Griffin and Michael Whelan.
Lettered Edition
The Lettered edition is limited to 26 copies for sale and is a full goatskin binding. The edition provides a retrospective look at the publishing history of the novel. Each of the 26 copies feature a different original book cover, burned and encased behind an acrylic panel which is affixed to the front cover with stainless steel screws. Covers are allocated to orders randomly.
The spine is hot stamped and endsheets are hand marbled. The edition is printed letterpress on Mohawk Superfine, and is housed in a quarter leather clamshell enclosure with Italian cloth boards.
---
The Covers
Numbered Edition
The Numbered edition is limited to 250 copies and is quarter bound in Italian cloth with decorative French marbled paper covers. The spine is hot foil stamped, and the edition is printed letterpress on Mohawk Superfine. The top edge is gilded in copper and the edition is housed in a dual cloth covered slipcase with hot foil stamping on the spine.
Artist Edition
The Artist Gift edition is limited to 1000 copies with a dust jacket illustrated by multiple award-winning artist Michael Whelan. It is a full cloth smyth-sewn binding with two-hits foil stamping, and is the only edition of the three with the dust jacket. The edition is printed offset, and is housed in a printed paper-covered slipcase. The edition is signed by Julia Griffin and Michael Whelan.
---
Signed Michael Whelan Giclée Print
Limited to 100 prints, this beautiful giclée art print of Michael Whelan's stunning cover art for the Artist Gift Edition of Fahrenheit 451 is available for pre-order. The prints are signed by Michael Whelan.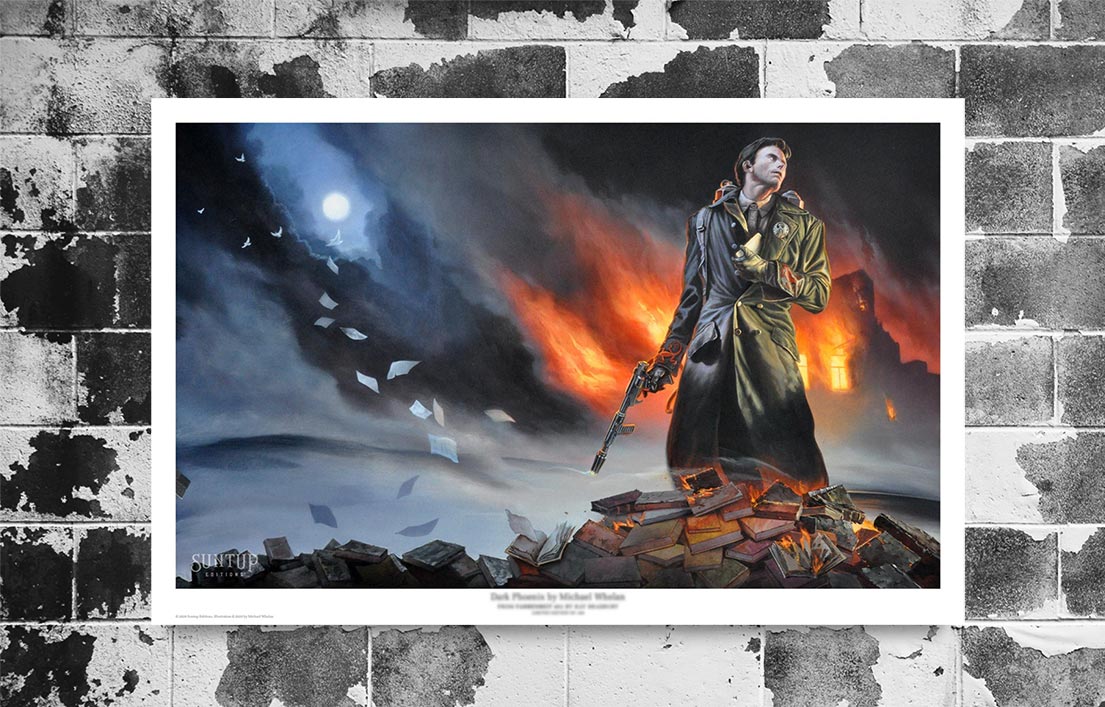 Fahrenheit 457 Premiums
Shipping with every pre-ordered copy of the Numbered and Lettered editions of Fahrenheit 451 is this limited premium set of a 6" x 9" print, two 2" x 8" bookmarks and printed envelope. All Artist Gift edition orders receive the bookmark.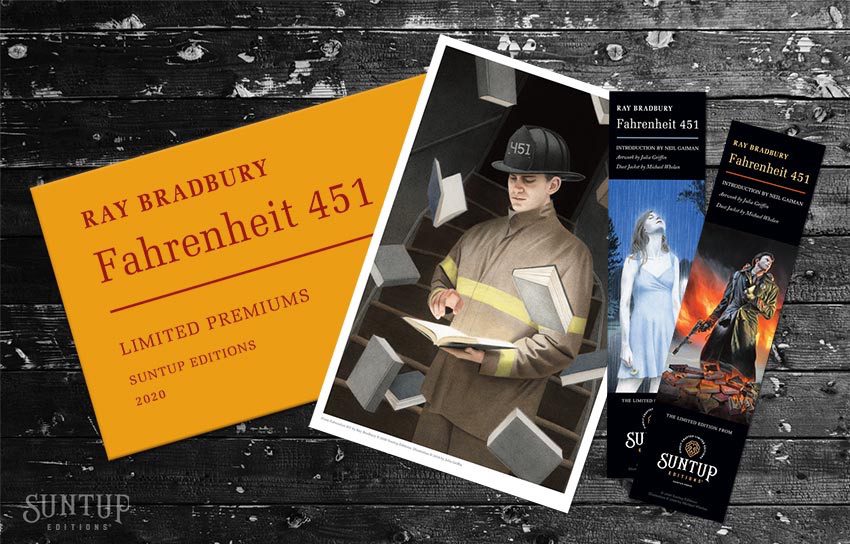 About the Collaborators
Neil Gaiman
Neil Gaiman is the New York Times bestselling author and creator of books, graphic novels, short stories, film and television for all ages, including Good Omens, Norse Mythology, Coraline, The Graveyard Book, The Ocean at the End of the Lane, and the Sandman comic series. His fiction has received Newbery, Carnegie, Hugo, Nebula, World Fantasy, and Will Eisner Awards. In 2017, he became a Goodwill Ambassador for UNHCR, the UN Refugee Agency. Originally from England, he lives in the United States, where he is a professor at Bard College.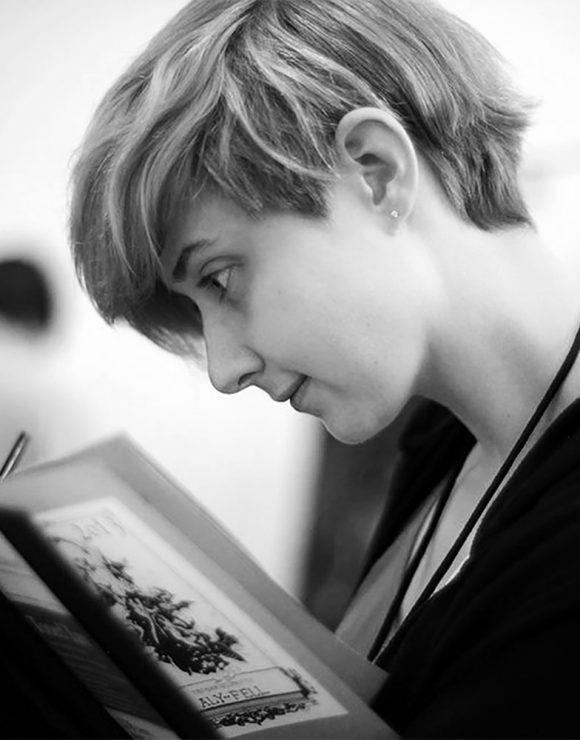 Julia Griffin
Julia Griffin received her BFA in illustration from the School of Visual Arts and lives and works in New York City. She is inspired by mythology and fairy tales and her work focuses on the mysterious and unknowable in the world around us. Her colored pencil drawings play with texture and atmosphere, rendering worlds both ethereal and tangible. Her work can be found in magazines, on book covers, in children's books, and in galleries. She has had work in Spectrum Fantastic Art, Infected by Art, and the Society of Illustrators annual.
Michael Whelan
Michael Whelan is one of the world's premier painters of imaginative realism. For 40 years he has created book and album covers for authors and musicians like Isaac Asimov, Stephen King, Ray Bradbury, Brandon Sanderson, and MeatLoaf. His clients have included every major U.S. book publisher, the National Geographic Society, CBS Records, and the Franklin Mint.
A graduate of San Jose State University with a BA in Painting and a President's Scholar, he soon became known for his dedication to bringing an author's words to life. Whelan covers dominated the science fiction and fantasy field throughout the 1980's and 90's and he was largely responsible for the realistic style of genre covers of that era. He continues to do cover art for bestselling authors, but since 1995 he has also pursued a fine art career. His non-commissioned works are in established collections throughout the world.
---
Matching Numbers & Letters
Owners of Red Dragon by Thomas Harris receive a matching pre-order email prior to the public announcement. If you did not receive the email, simply place your order before the book goes out of print and we will match your number.
---
Illustrations by Julia Griffin
---
Teaser Video
Published editions may differ slightly from mockups and prototype designs.
Illustrations © 2019 by Julia Griffin.
Artist Gift edition jacket illustration © 2020 by Michael Whelan.
*Payment Plan Options: Learn more
here
.