Suntup Editions is pleased to announce the release of The Covers Collection. A extremely limited edition series of fine art prints featuring the cover artwork from Stephen King's most beloved novels, signed by the original artist.
Experience your favorite Stephen King classics like never before. Suntup Editions has been working with the artists of Stephen King's 1st trade edition hardcovers to showcase the cover art in a way previously unimagined. Now, for the first time, Stephen King collectors are able to showcase the classic artwork in the way it was initially intended to be viewed.
Bold, vibrant, up close, and printed on our highest quality paper, experience the full impact of the art. When publishers are presented with the artwork, they often alter the size or tone to fit the printing parameters, and add the title and author text. Now, you are able to appreciate the artwork in a way never before seen, signed by the original artist.
These Collector Grade 1st Edition, original cover art prints are exclusively available through Suntup Editions and are limited to only 100 copies each worldwide. Printed on our finest quality paper, in the highest detail imaginable, you can appreciate every brush stroke and pencil line of the original artwork from your favorite classics.
Museum Quality Giclée prints of the first trade edition cover art.
Signed and authorized by the original cover artist.
Limited to only 100 copies of each size worldwide, plus 10 Artist Proofs and 5 Publisher Proofs for private distribution.
A limited selection of artwork in the series will include an original Remarque on the first 20 prints.
Shipped with a Certificate of Limitation and Authenticity from the publisher.
Printed on 300 GSM, 100% cotton fiber paper that is Acid-Free, Lignin-Free, Chlorine-Free and with No Optical Brighteners.
Prints are embossed with our publisher's mark.
View the artwork as originally intended, before trade publisher's alterations.
Your choice of size: Available in 18"x24" or 11"x17".*
At launch, covers include: The Shining by Dave Christensen, Pet Sematary by Linda Fennimore and Misery by Bob Giusti. Other releases include 'Salem's Lot, by Dave Christensen, Firestarter by Steven Stroud, IT by Bob Giusti, Needful Things, Gerald's Game and Nightmares & Dreamscapes by Rob Wood, and more will be announced.
Also included is a selection of limited edition cover art including those by Ned Dameron, Stephen Gervais and Don Maitz.
Available with or without professional framing (framing has acid-free backing and acid-free mats with picture quality plexiglass which has inherent UV filters.)
In-stock at time of release and ready to ship, no waiting. Prints will be released at the rate of one every month.
Optional archival Art Folio Box
Professionally packaged and mailed safely.
Don't miss this exclusive opportunity to own a complete set of these cover art prints, signed by the original artists.
All prints are expertly printed in-house, so we have full control over printing and quality.
* Or 16" x 24" and 17" x 12.5" for some prints in order to maintain the aspect ratio of the originals.
Collectible Archival Art Folio
We realize many of you will not have the wall space to display all of the beautiful prints in this series. Don't let that stop you from collecting them. We have made available a custom, foil stamped archival Art Folio Box, designed to fit both print sizes. Protect your prints from dust, dirt and other pollutants. These folio boxes shield and protect the prints and are constructed of archival quality board lined with acid-free paper, with the exterior covered in a beautiful buckram cloth. Safely store, view and appreciate your prints in this archival art folio box.
The Covers Collection Kick-Off — Three Spectacular Illustrations
Prints in The Covers Collection series will be released at the rate of one per month. For the launch of this exciting new series, we are starting out with three cover illustrations: The Shining by Dave Christensen, Pet Sematary by Linda Fennimore and Misery by Bob Giusti.
"I was knocked out when I saw these prints.
I have never seen Pet Sematary reproduced to look this wonderful." — Linda Fennimore, Illustrator for Pet Sematary
The Covers Collection Subscription Club
Don't miss out on the opportunity to own all the prints, with matching numbers by subscribing to the series. As a Covers Collection Subscriber, you will receive a 20% discount on all prints purchased, and you are guaranteed a matching number on all releases.* (See below for details.)
* Some prints may have a smaller limitation than 100. So if matching numbers is important to you, you will want to order early and be sure to be within the first 50. The lowest limitation will be 50, and the highest 100.
Here's How It Works:
When you sign up for a subscription to The Covers Collection, you will receive the first print in the series, which is Misery, and then you will continue to be shipped the next print in the series each month thereafter. You can see the order of the print releases here. 
You may also choose to purchase individual prints to "catch up" to the latest release. You can view all of the available individual prints here.
As a subscriber, you may also purchase the optional archival Art Folio Box at a 15% discount off the retail price, and all frame upgrades at 10% off the retail price.
Subscriptions are Limited
There are a limited number of subscriptions available, and once it is sold out, it may not be offered again.
Remarque Print Subscription
A limited selection of artwork in the series will include an original Remarque on the first 20 prints. Your up-front subscription price for a Remarque Print Subscription, at launch, will include the first two Remarqued prints, which are Pet Sematary and The Shining. For subsequent Remarque prints, you will be given right of first refusal on future prints with a Remarque. At that time you will have an opportunity to upgrade your non-Remarqued print for that month, to the Remarqued version.
You must be among the first 20 customers who order a Remarque print or a Remarque subscription in order to qualify. Once 20 individual Remarque prints or Remarque subscriptions are sold, this subscription will no longer be available for purchase. By purchasing an individual Remarque print, or a Remarque subscription, you are guaranteed right of first refusal on future Remarque prints.
Remarques are only available on the large print (18" x 24"), so when you purchase a Remarque subscription, you are subscribing to the large size prints. Limit one Remarque print per order (per print.)
"I think these prints are spectacular. I have not seen better. They're really perfection and have held to the colors well. If I put the print right next to my original of Misery, it's spot on." — Bob Giusti, Illustrator for Misery
Optional Framed Prints
Some of the prints are offered with an option to purchase framing for the print. When offered, two framing options are available. If you would like to make sure all your framed prints have the same frame in order to be consistent, we offer a frame that will be the same for all prints in the series. We also offer a custom frame based on the artwork.
Subscription Basics
Subscription Level
Print Size
One-Time Up-Front Cost
(3 Prints)
Future Prints (Monthly) Billed & Shipped Automatically
Non-Subscriber Retail Price
Subscription Savings
Small Print Subscription
11" x 17"

&


17" x 12.5"
$240*
($300 without subscription)
$80 each
$100 each
$60 on First Three Prints.

$20 each Future Print.

Large Print Subscription
18" x 24"

&

16" x 24"
$420*
($525 without subscription)
$140 each
$175 each
$105 on First Three Prints.

$35 each Future Print.

Remarque Subscription
18" x 24"
$612*†
($765 without subscription)
$140 each (Non-Remarque)$236 each (Remarque - requires manual upgrade)
$175 each (Non-Remarque)$295 each (Remarque)
$35 each (Non-Remarque)$59 each (Remarque)
* Prices exclude shipping
† Includes Pet Sematary and The Shining Remarque prints.
Archival art folio boxes are priced at $149 for the large and $120 for the small
| Frame Type | Non-Subscriber Price | Subscriber Price |
| --- | --- | --- |
| Large Print - Custom Frame | $350 | $315 |
| Large Print - Generic Frame | $250 | $225 |
| Small Print - Custom Frame | $230 | $207 |
| Small Print - Generic Frame | $180 | $162 |
---
Benefits of a Subscription:
20% discount on all current and future prints
15% discount on optional archival Art Folio Box
10% discount on framing
Guaranteed matching numbers on all prints
Never miss a print
Live longer
Print Number Requests
Numbers are assigned in the order in which a completed order is received. This includes both individual and subscription orders. Number requests may be made at checkout, but are not guaranteed.
Golden Ticket
Growing up, Roald Dahl was my favorite author. Inspired by his work, we decided to ship one random order with a Golden Ticket. We'll call it the Super Amazing Golden Suntup Ticket. I know, not as cool sounding as Willy Wonka, but you get the idea. What does the lucky recipient of this ticket win? An original drawing signed by one of The Covers Collection artists. One-of-a-kind. Numbered 1/1. Kapow.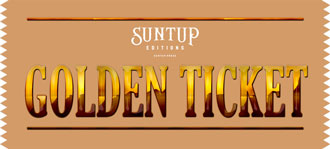 Terms & Conditions:
Up-front subscription cost is non-refundable
You are not locked into anything. Cancel your subscription at any time without penalty.
For subscriptions, all prints will be automatically shipped to you and billed to your credit card. This will continue until you cancel, or the program ends.
Limit one remarque print per customer per print.)
Have fun. Stress less.
"These prints are as good as I've ever seen. They are beautiful. The paper looks like the most expensive quality paper, it's very thick, and I love the watercolor texture of the paper itself." — Dave Christensen, Illustrator for The Shining
Visit our Artist Profiles Page
Image Gallery
Click images for larger view. Images are not in proportion to each other.
The Shining illustration © 1977-2017 by Dave Christensen
Pet Sematary illustration © 1983-2017 by Linda Fennimore
Misery illustration © 1987-2017 by Robert Giusti