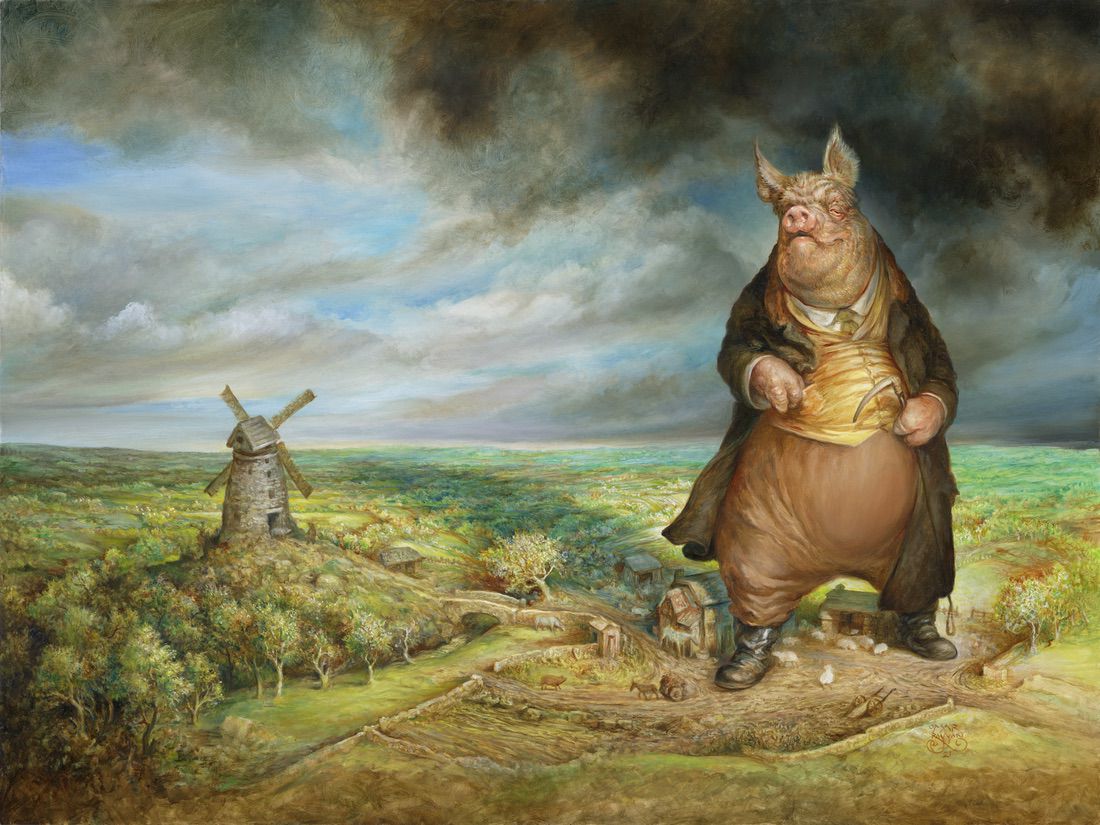 Animal Farm
George Orwell
Introduction by Richard Blair
Illustrated by Omar Rayyan
One of Time magazine's 100 best English-language novels and the most famous of all twentieth-century political allegories, Animal Farm: A Fairy Story by George Orwell is a wise, compassionate and illuminating fable that remains the ultimate satire on the dark side of modern history.
The animals at Manor Farm have had enough of Farmer Jones. He's drunk, reckless and cares little for their welfare. When the boar, Old Major, shares his revolutionary plans, the animals are convinced they can thrive on their own once the despot Jones is overthrown. The barnyard animals revolt against their vicious human master only to submit to a tyranny created by their own kind. For as the pigs vie for power, they begin to bear an uncanny resemblance to the tyrants they have overthrown.
A seminal anti-totalitarianism satire once considered so controversial it was rejected by several publishers, Animal Farm became an instant success upon its first publication in 1945, following the Second World War. The novel has continued to captivate readers of all ages, and has secured Orwell's position as one of the greatest writers of all-time.
Orwell's original title for his novel was Animal Farm: A Fairy Story, and it was first published as such by Secker and Warburg in London, England on August 17, 1945. U.S. publishers subsequently dropped Orwell's subtitle when publishing the novel in 1946, and only one of the translations during Orwell's lifetime kept it.
In a 1946 letter from George Orwell to Dwight Macdonald, the author discusses his intent in writing Animal Farm. Orwell writes, "What I was trying to say was: You can't have a revolution unless you make it for yourself; there is no such thing as benevolent dictatorship."
A timeless, affecting story of revolutions, idealism, power and corruption, Animal Farm: A Fairy Story is Orwell's most renowned work.
---
About the Editions
The signed limited edition of Animal Farm by George Orwell is presented in three states: Artist, Numbered and Lettered. The editions measure 6" x 9" and feature six full color oil painting illustrations by Omar Rayyan as well as a new exclusive introduction by Richard Blair, adopted son of George Orwell. The Numbered and Lettered editions are signed by Richard Blair and Omar Rayyan, and the Artist edition is signed by Omar Rayyan. All three editions are printed letterpress on a Heidelberg Cylinder Press by Norman Clayton of Classic Letterpress in Ojai, California.
---
Bonus Appendices
All editions feature over 50 pages of bonus content, which includes Orwell's proposed preface to Animal Farm, Orwell's preface to the Ukrainian edition of Animal Farm and a photograph of Orwell feeding his pet goat Muriel.
---
A Note on the Typography
What makes Animal Farm so brilliant is that it is a highly political story dressed up as a quaint fairy tale. The illustrations in our edition, too, are beautiful-but-deceptively-wicked. To keep up the facade, we've set the text in Austin. Designed by Paul Barnes for British style magazine Harper's & Queen between 2007 and 2014, the face is a loose revival of the late-18th century typefaces of Richard Austin. Their sharp edges and sweet curves are a study in contrasts and can't help but make a reader feel safe even when they're reading about conniving anthropomorphized farm animals.
Our display face is Will Carter's Klang. Although calligraphic in nature, it was not drawn or written, but cut into card stock, giving it a thick and chunky look. It is perhaps the sort of letter that a pig might write—if that pig could hold a pen and was a celebrated printer, typographer, calligrapher, and carver of wood and slate like Carter was. Designed in 1955—ten years after the publication of Animal Farm—like the Austin types used for the text, Klang is quintessentially British and a fun (and dark) compliment to Orwell's tragically timeless tale.
Artist Edition
The Artist edition is limited to 1000 copies, and is the only edition to feature a wraparound dust jacket illustrated by Omar Rayyan. It is a smyth sewn, quarter cloth binding with Zanders Elephant Hide paper sides and hot foil stamping on the cover and spine. Endsheets are Hahnemühle Bugra, and the edition is printed letterpress on premium Mohawk Via Vellum paper. It is housed in an embossed wood grain paper covered slipcase and is signed by the artist.
Numbered Edition
The Numbered edition of 350 copies is a quarter vellum flatback binding with custom designed patterned paper sides by Laura Serra, which are printed letterpress on Hahnemühle Bugra. The spine is foil stamped in gold, and the edition is housed in a velour lined slipcase wrapped in Hahnemühle Bugra, which is printed letterpress and features European cloth ends. The edition is printed letterpress on premium Mohawk Via Vellum paper and is signed by Richard Blair and Omar Rayyan.
Lettered Edition
The Lettered edition is limited to 26 copies lettered A-Z and is bound as a concave spine binding sewn on paper stubs, which have been attached to a handmade ring structure covered in goatskin at the back of the book. The front and back boards are covered in custom made spotted calf vellum with goatskin rings attached, interlocking at the spine, and finally hinged using an acrylic rod passed through each of the rings.
The hinged rod structure allow the boards total flexibilty and ease of opening, whilst the sewn stub also provides the textblock with greater functionalilty and protection. The concave has been in use since the 1980s in one form or another, know as either piano hinge or door hinge bindings; and examples of rod bindings date back as far as the Renaissance period.
Endpapers are hand marbled by Claire Guillot in Southern France. The book is housed in a Chemise-étui covered in leather and Hahnemühle Bugra paper, and placed in the well of a lipped tray locking quarter leather clamshell enclosure, lined in Japanese cloth and flocked velour. The rounded spine of the enclosure is stamped in 22 Carat genuine gold foil.
An original signed drawing as well as a set of six giclée art prints are included and housed in a custom handmade portfolio with a leather cover label stamped using 22 Carat genuine gold foil.
The edition is printed letterpress on Somerset Book Moldmade paper and is signed by Richard Blair and Omar Rayyan. It is handbound by bookbinder Gavin Dovey in Pound Ridge, New York.
About the Collaborators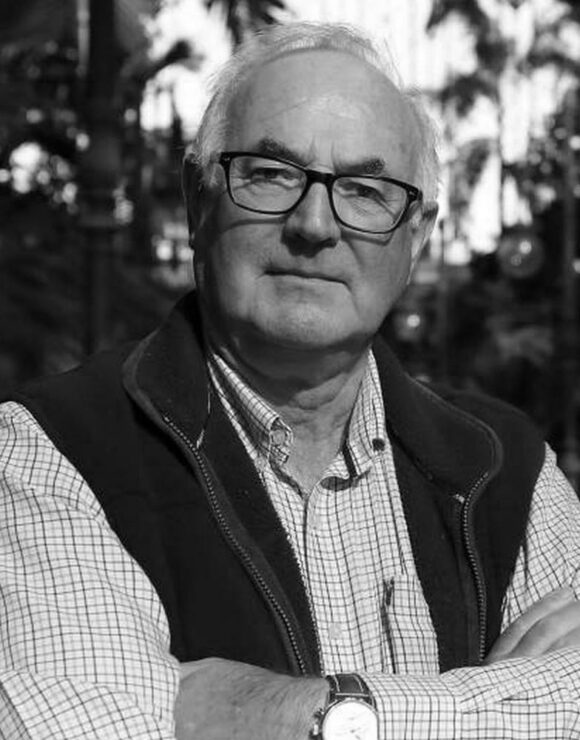 Richard Blair
Richard Blair was born in May 1944 and was immediately adopted by George Orwell and his wife Eileen. Following the passing of his parents, Richard was brought up on a farm and went into a agriculture. In 1986, he and his wife went into business as proprietors of a self-catering complex. Since his retirement in 2007, he devotes his time to all matters relating to his father. He is now Patron and Trustee of the Orwell Society and Trustee of the Orwell Foundation and Orwell Youth Prize.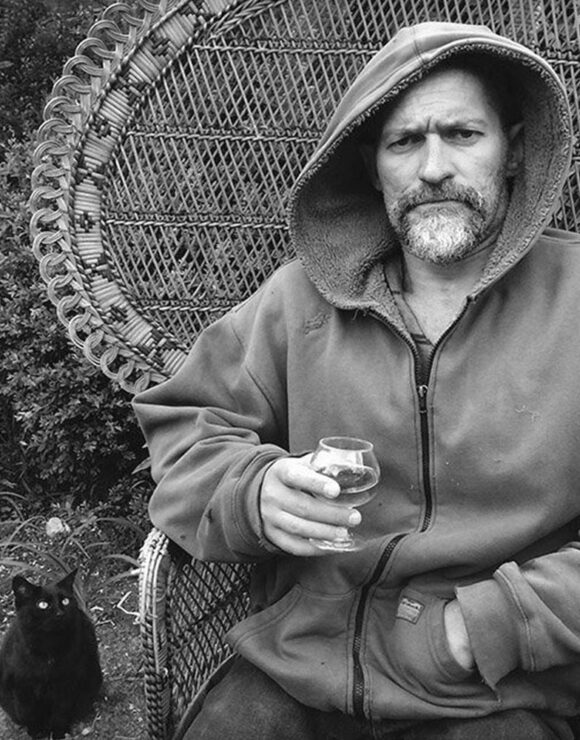 Omar Rayyan
Omar Rayyan has created illustrations for many publishers, including Simon & Schuster, Random House and Hyperion/Disney. His work is often geared towards children's and young adult's magazines and books, doing cover and interior illustrations. In 2016, Omar published an illustrated book, Goblin Market, a culmination of many years of work. Today, Omar is concentrating more on doing personal works and commissions for collectors.
---
Matching Number & Letters
A Matching Pre-Order email is sent to owners of our previous publication, The Handmaid's Tale and to owners of The Butcher Boy with a designation of 251-350 at 9:00 A.M. PT on the day of announcement. If you did not receive the email, contact us here. If your order is not received before the deadline, your designated number or letter will be assigned to the new owner.
---
Order Limits
Please be aware of the order limits for our editions. You can read more about this in the Order Limits article on our support site.
---
Oil Paintings by Omar Rayman
---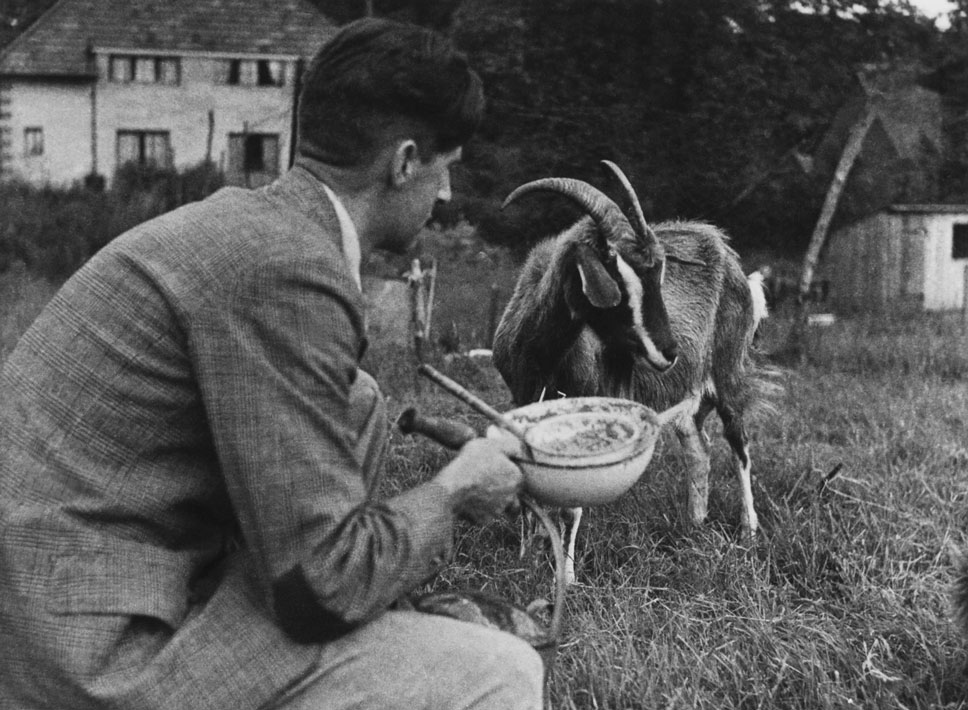 George Orwell and Eileen O'Shaughnessy kept several farm animals at their home in Wallington. This photograph shows Orwell feeding his pet goat Muriel, who was the inspiration for the homonymous character in Animal Farm. (Photo appears courtesy Orwell Archive, UCL Library Services, Special Collections).
Published editions may differ slightly from mockups and prototype designs.
Illustrations © 2022 by Omar Rayyan
Lettered edition photography by Yegor Malinovskii
*Payment Plan Options: Learn more
here
.